Quotation Format
A sales quotation, or simply a quotation, or a quote, or an estimate is a document provided by the seller to a buyer detailing the costs involved in purchasing products/services before an order is confirmed. Suppliers and resellers typically use quotations to initiate a business transaction. However, they might provide a quote only at the request of a customer.
While generating a professional quotation, the seller includes the list of products or services, their associated cost, and the terms of sale, payment, delivery, and others. As mentioned above, a quotation is not a legally binding contract and is just for a mutual understanding between the seller and the buyer about the sale price and its terms.
Also, it is not mandatory to provide a quotation for every sale. However, providing one ensures no mismatch in the terms that both parties have agreed upon.
Even after the introduction of GST, no format has been prescribed for quotations/estimates as they're not considered as official or legal documents of sales. Typically quotations are provided to have an understanding between the seller and the buyer about the price of products/services or the other terms and conditions of the sale. Once the deal is finalised, a quotation holds no value in the books of accounting.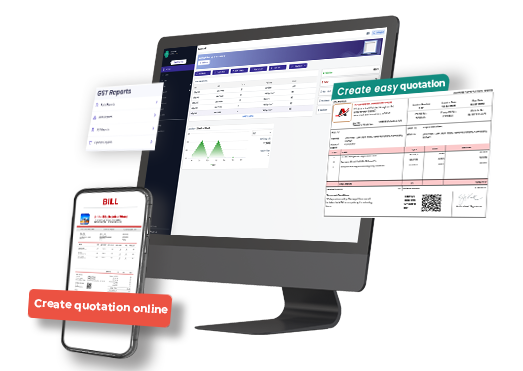 Free Quotation Format Online
Quotation Format – D
etails on the Template
Having a standard quotation format helps businesses save time, so they don't have to search for a new format every time they generate a quotation. While creating a format, make sure all the details below are added to make it comprehensive. 
Seller's Company Name, Address, and Contact Details

Quotation Number

Buyer's Name and Business Contact

Quotation Date

Item Details 

Payment and Sale Terms and Conditions
A quotation looks almost similar to an invoice. However, the purpose for which they are used is different. If you're creating a quotation online using billing software, the same can be converted into an invoice once the buyer agrees to the deal. 
Quotation Format in Word or Google Docs
Using MS Word is one of the easiest ways to create a quotation format. Using the sample quotation format, you can create a similar one in a blank word document. MS-Word also offers some pre-designed templates, which can also be used as a quotation format. Search for Invoice Format in Word, and with slight changes, it can be converted into a quotation format. 
Another method is to create a quotation format from scratch. Using the sample quote format provided above, open a blank Word document, create a similar document with your business details, and save it. Make sure to insert all the contents listed above. 
Whenever you wish you generate a quote, open the quotation format word document, make a copy of it, fill in the details, save it with a different name and use it. Make sure not to do any changes to the original quotation format document. 
If you don't have MS Word, you can follow the similar procedure to create quotation format in Google Docs, which is a free source. All you need is a Google account to access G-Docs. 
Quotation Format in Excel or Google Sheets
MS Excel has the edge over MS Word as it allows tables and formulas to auto-populate information. For instance, the total price of the products in a quotation can be auto-generated by inserting a formula. Similarly, the date, tax rate, discount, etc., can be calculated automatically using an Excel sheet. 
If you want to create quotation format in Excel, you can do it in a blank Excel Sheet or search for some quotation or invoice templates, if available. You can use any sample quotation format as a reference to create it in Excel. 
If you don't have access to Excel, you can also use Google Sheets to do the same. Google Sheets is a free source available to everyone having a G-mail account.
To create a quotation format in PDF, you should first create quotation format in Word or Excel using the above-mentioned details. 
Once it is ready, you can download it as a PDF to view a quotation format in PDF. However, you cannot make any changes once the file is downloaded. Therefore, fill the quotation format in Word with all the required details, and once you're sure that the data entered is correct, you can download it as a PDF. 
One advantage of using PDF quotations is that the data cannot be edited or changed. Especially when sharing online, quotation format in PDF is safer than quotation formats in Word and Excel. However, any quotation format is fine when taking hard copies, i.e., as printouts. 
Also Check Bill & Invoice Format
Use myBillBook Billing Software to Generate Quotations
Generate Quotations Using Billing Software: All the safety and inconvenience concerns of online quotation generators can be eliminated by using reliable billing or accounting software. myBillBook is one such billing platform that provides free quotations, invoices, delivery challans, proforma invoices, and a lot more. Downlaod myBillBook now!

myBillBook provides the following benefits that would make your quotation making easy and safe than ever. 
Pre-defined Quotation Formats:
You don't have to create a quotation format on your own. myBillBook offers more than 6 invoice formats to create both GST and non-GST invoices. You can choose the one that closely represents your brand image.
Add/Remove Fields:
Even while using myBillBook's custom templates, you can still customise the quotation by adding or removing information fields. Based on your business type, you can personalise the quotation.
Print or Share Online:
Once you create a quotation using myBillBook, you will find various options to use it. You can download or print it as a hard copy or share it online through Whatsapp or SMS.
Convert into Invoice:
One more interesting feature of myBillBook accounting software is the 'Convert to Invoice' option. Once the buyer accepts the proposal mentioned in the quote, the same can be converted into an invoice in seconds. The software also allows any changes to the quotation before converting it into an invoice. Thus created invoices can be shared both online and offline as per your requirement.
Reliable and safe:
Another important factor that makes myBillBook more reliable than any other online quotation generator is the safety and security of the information entered during the invoice generation process. All the information entered in myBillBook is end-to-end encrypted and is saved in secured cloud servers accessible only by authorised personnel. Further, the application takes regular backups to prevent any data loss.
Affordable pricing:
By subscribing to myBillBook with a nominal fee, you will experience a lot more benefits than just an invoice creation. myBillBook is a complete billing & accounting software that takes your bookeeping to next level. From GST invoice generation, maintaining product inventory, stock & expense management, POS billing, to business performance report generation, the software has it all.
Available in both desktop and mobile versions, the GST software is accessible from anywhere and at any time. Manage your business on the go and surprise your customers with professional quotations /estimates delivered straight to their Whatsapp. Download myBillBook mobile application today and enjoy a 14-day free trial of India's No:1 GST billing and accounting software.
Know more about  Billing & Accounting Software for Small Businesses