7 Tips for Choosing the Best Billing Software
Efficient billing processes like billing software are crucial for maintaining a healthy cash flow and ensuring smooth financial operations. The days of manual invoicing and labour-intensive bookkeeping are rapidly fading as businesses turn to technology-driven solutions to streamline their billing procedures.
Whether you are a small business owner, a freelancer, or a large enterprise, choosing the right billing software is a critical decision that can significantly impact your business's financial success. With many options available in the market, it can be overwhelming to find the perfect fit for your specific needs. This article helps you with the knowledge and insights to make an informed decision when choosing the best billing software. We will outline seven essential tips considering functionality, scalability, security, and ease of use. By following these tips, you can maximise efficiency, minimise errors, and ultimately boost your bottom line.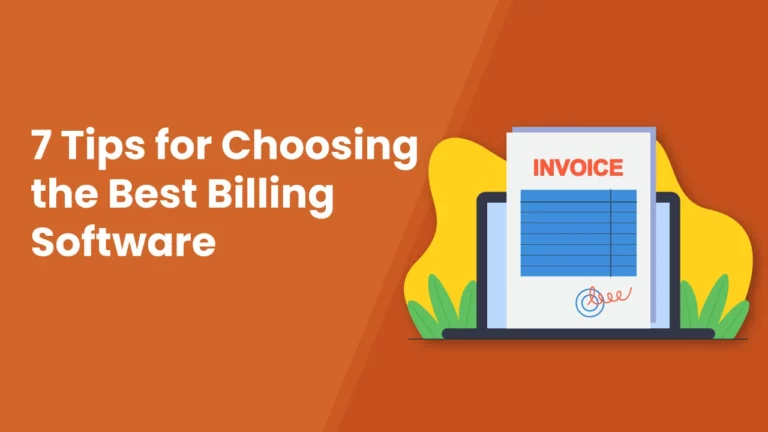 1. Evaluate Your Billing Needs – Let Your Business Choose the Software
Assess your business requirements and identify the specific features and functionalities you need for hassle-free billing in your business. Each business or industry has a specific set of requirements in terms of billing and accounting. For instance, mobile shops might need a feature to track the stock using IMEI numbers, Pharma businesses require product tracking using Batch Code & Product Expiry.
Similarly, for your business, you define what you need for a seamless billing experience. So, make a note of all the features required by your business, and while choosing the billing software, make sure all these are present.
2. Prefer Scalability – A Growing Business Requires Scalable Resources
Most billing software in the market today is available on a yearly subscription. Once you enrol for the software, you need to use it for one complete year. Secondly, business expansion is not always a planned event, you might suddenly plan to open a new branch or expand the existing business.
Hence, every resource in your business, including the billing software, must be scalable. Therefore, while choosing billing software, make sure its features and functionalities are not limited to handling the workload. Ideally, good billing software must offer different plans or packages that suit different business sizes. As the business grows, you can change your plan accordingly to accommodate more transactions or customers.
3. User-Friendly Interface is a Must – Empower Your Workforce
Imagine you found a comprehensive billing software that offers the industry's best invoicing and accounting features. Great! Try using it – enrol for the trial period and try creating sales invoices, proforma invoices, quotations, etc., and check how the software works. Most importantly, check how easy it is to perform all these tasks.
Think from the entry-level employee's point of view while using the software. Ask questions like – Would they be able to find options quickly, can they create invoices without much training or effort, how easy it is to retrieve information from the software, and the like.
Choose the one that meets all your required criteria in terms of usability. Billing software should be easy to use as it is typically used on an everyday basis. A User-friendly interface and ease of use are one of the top features to look for while buying invoicing software.
4. Customisation – Personalised Invoices Make a Difference
Compared to a standard invoice template, which every other business might be using, a customised template adds a professional look to your invoices, quotations, proformas, etc. Look for the software that allows maximum customisation options that would change the look and feel of the invoice. The invoice customisation feature must allow you to add colours, fonts, styles, sizes, new columns, fields, options, and a lot more so that the invoice completely looks personalised. Once the invoice looks in line with your brand image and colour and has all the functional features, you can lock it and use it for all recurring invoices.
5. Automation Makes Your Life Easy
Automation is a key feature in billing software that streamlines and simplifies the billing process. By leveraging automation, businesses can save time, reduce errors, and improve efficiency in their financial operations. The automation feature handles recurring billing, where invoices are automatically generated and sent to customers on a regular basis. This not only eliminates the need for manual intervention but also ensures timely and accurate billing.
6. Security and Compliance
Security and compliance are paramount to protecting sensitive customer financial data. Robust security measures, such as data encryption and user authentication, must be in place to safeguard confidential information from unauthorised access or breaches. Compliance features ensure adherence to industry-specific regulations and standards, including securely storing customer payment information, maintaining data integrity, and regularly conducting security assessments.
Billing software may support features like tax calculation and invoicing compliance with GST regulations, enabling businesses to calculate and report taxes accurately. By prioritising security and compliance, billing software provides businesses with the assurance that their financial operations are protected, mitigating risks and maintaining trust with customers.
7. Customer Support and Software Updates
Research the software provider's reputation for customer support. Check if they offer ongoing updates, bug fixes, and responsive technical support. A reliable support system ensures prompt resolution of any issues or concerns that may arise.
Remember to consider your budget when choosing billing software, balancing the cost with the value and features it provides. Comparing multiple options, reading user reviews, and seeking recommendations from other businesses in your industry can further help you make an informed decision.
Know more about  Billing & Accounting Software for Small Businesses