Billing Software For PC
Most business owners, including retailers and wholesalers, find billing and accounting to be the most challenging business functions that they are required to perform. Thanks to myBillBook, these processes have become so much simpler and faster!
myBillBook free billing software for PC is designed to generate GST bills and make the whole accounting process very simple and easy. As a result, you can speed up everyday functions and increase the employees' overall productivity through a single integrated platform.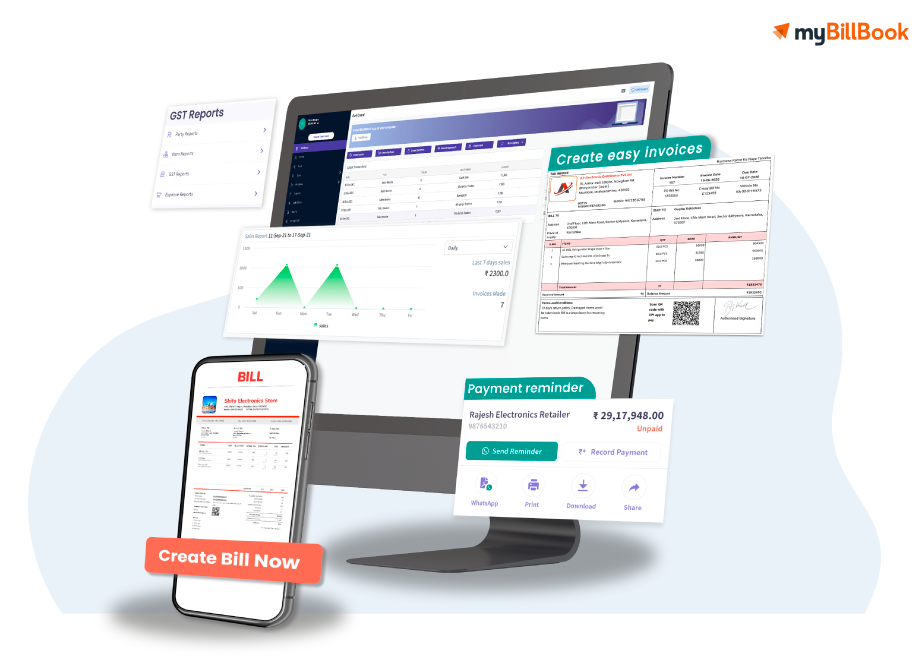 Features of myBillBook billing software for PC
Professional GST bill generation
With the PC Billing software offered by myBillBook, you can generate professional invoices for all your customers. The software generates bills that are compliant with the GST norms of our country, giving your business an accounting edge. You can also customise the GST bills as per your preferences and requirements.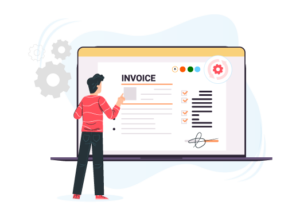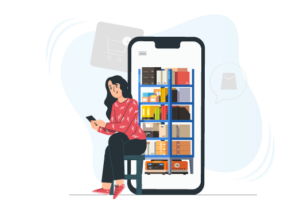 Instant inventory check
With the bar code scanning feature, you can scan the items involved in every transaction and instantly update and manage your inventory. myBillBook PC billing software lets you keep your inventory in check and replenish it before it gets too low. As a result, your business can never go out of stock and never lose a customer.
Data backup and storage
With myBillBook invoice software for PC, you will never have to keep a physical record of all your billing-related documents. This free billing software for windows PC automatically backs up your data and stores all your bills online for future references. Retrieve your bills when you need them and forget about all your documentation worries.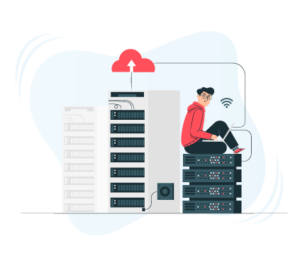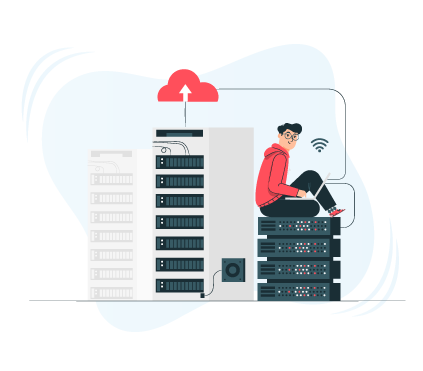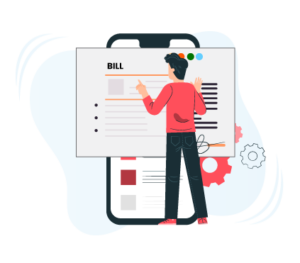 Personalised bill designs
While you take care of the quality of items and services offered by your business, the PC billing software of myBillBook also makes sure your business invoices represent your brand. You can select from a wide range of themes and colours to make your bills look more personalised so that they represent your business in the best possible way.
Business reports on the go
One of the best features of myBillBook PC billing software is that it uses all your data related to sales, GST, and business expenses and convert it into business reports. So you do not have to wait for the end of a business cycle to make necessary changes as you can access these reports at any time, from anywhere.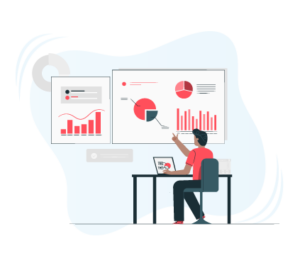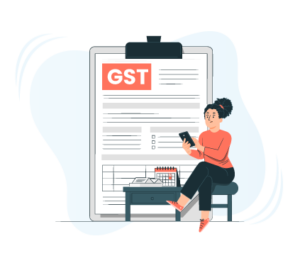 GST filling
The GST billing software for PC by myBillBook comes in handy when you file for GST. As the invoices generated by the software are GST compliant, the same can be used directly to calculate and file the GST for your business. This means you are producing bills as per the standard rules and regulations.
Accounting-payables and receivables
myBillBook PC billing and accounting software allows you to track all your payment schedules in one place. Whether it is receivables or payables, you can set reminders for both parties and make payments with one click. Now you never have to track or forget about any upcoming payments!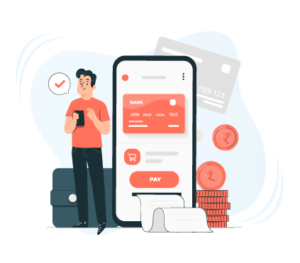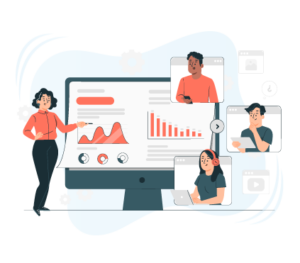 Eco-friendly business accounting
Even though myBillBook PC billing software comes with thermal printer connectivity, you do not need any printed bills when using the software. Instead, go green with your business accounting by sharing bills online through Whatsapp and emails.  You can also manage your inventory digitally as it has in-built inventory management software and send payment reminders through SMS to avoid paper waste.
Link other accounting applications on PC
You can link this PC billing software with various other applications to upload and transfer files. For instance, you can link accounting apps like Vyapar, Tally, Busy, Marg and Miracle. Not just that, you can also upload excel sheets with the list of items that your business deals in.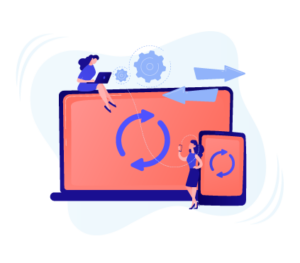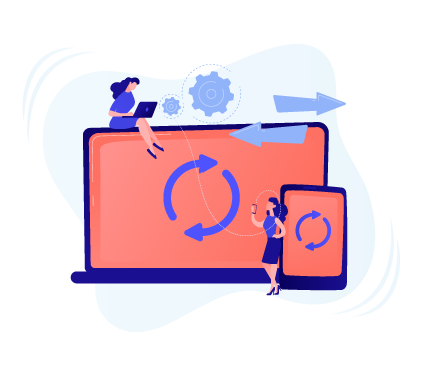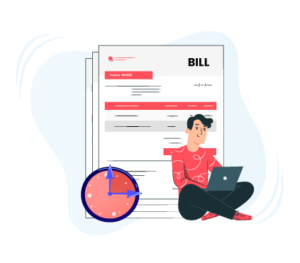 Reduce billing time
With the bar code scanner, you get a dual benefit. You get to manage your inventory on the go, thus reducing your inventory management time and reducing your billing time. And we know that in the field of business, time is money. So, you save both time and money!
Benefits of myBillBook GST billing software for PC?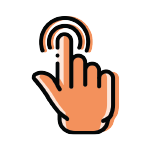 Simple and easy
myBillBook billing app for PCs is designed in the most user-friendly manner.
The interface is very easy to understand and the entries are so simple that anyone can make them.
myBillBook believes in making your job more convenient and your time more productive. It does all the hard work for you so that you can focus on other important functions.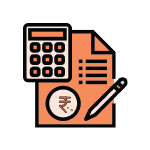 Highly accurate
You can minimise the possibility of accounting errors that usually accompany manual tasks by reallocating the responsibility to myBillBook invoice software for PC.
Using this PC billing software, you can manage all your accounts accurately in an effortless manner.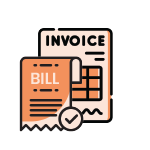 Personalised bills
Using the myBillBook billing app for PCs, you can generate personalised bills for your business.
Not many billing software put so much effort into designing personalised bill templates to suit specific business needs. You can choose from various themes and customise them further with the colours and designs of your choice. Build a relationship of trust and reliability with your customers through our highly personalised bills.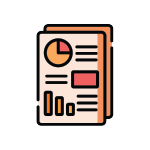 Conduct instant business analysis
By maintaining your accounts on myBillBook computer billing system, you can keep a check on your business performance on the go.
Analyse your business health by keeping a regular check on your business reports, sales and expenditures, and the overall financials of the business.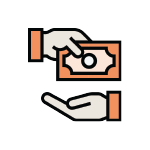 Track and receive payments
With the help of myBillBook accounting and billing software, every payment record is at your fingertips.
You can track all the pending and upcoming payments, get alerts, and also receive payments from multiple parties with one click. With that, you can also manage all your receivables with the best free billing software for your PC.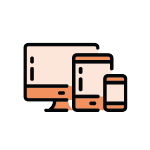 Easy to download and install
The desktop version of myBillBook is free to download on your PC.
Visit mybillbook.in and click on the 'Download Desktop App'. The desktop app will be downloaded in a few seconds. Once installed, you can enter the login details to access the application.
Who can use myBillBook billing software for PC?
myBillBook PC billing software is designed to cater to different businesses.
Small businesses
Usually, small businesses are the ones who are working with a small team or lesser turnover. In such cases, you do not wish to waste a lot of manpower on billing and accounting. Leave that up to myBillBook PC billing and accounting software!
Medium businesses
When small businesses are growing and turning into medium businesses, they are diversifying in many fields. Using the free billing software for PC by myBillBook is a very efficient choice. You can save a lot of money and time and make sure your accounting and billing processes do not get compromised during your growth phase, and allows you to focus on better things.
Types of Industries
myBillBook computer billing software is not restricted to a specific type of business or industry. It caters to various industries like pharmacy, FMCG, electronics, etc.
Types of Businesses
Whether you are a distributor or a trader or a wholesaler or a retailer, or even a stockist, a good PC billing software always comes in handy when trying to grow your business. myBillBook makes your life easy at every stage of your business. And the best part – it is designed to scale with your business.
FAQs about billing software for PC
I am recently starting my wholesale business. What is a good time to start using myBillBook PC billing software?
myBillBook software for billing and accounting is suitable for all small and medium businesses of any industry and type of business (wholesale/retail/distribution). The good time to start using the software is now so that you can focus on the right things from the beginning itself.
Can I use this billing software to generate bills without GST?
Yes, myBillBook billing software for PC can be used to create bills without GST, if required. Otherwise, myBillBook comes with a design that is already GST compliant.
What other accounting products does myBillBook offer, in addition to the PC billing software?
myBillBook GST billing and accounting software allows you to manage inventory, payables, receivables and file GST all in one place. It also provides business reports for analysis, including the GSTR 1, GSTR 2, GSTR3B.
Know more about  Billing & Accounting Software for Small Businesses