Accounting Software

for

Small Business
Easy Accounting | Billing | Bookkeeping
Made with ❤️ in India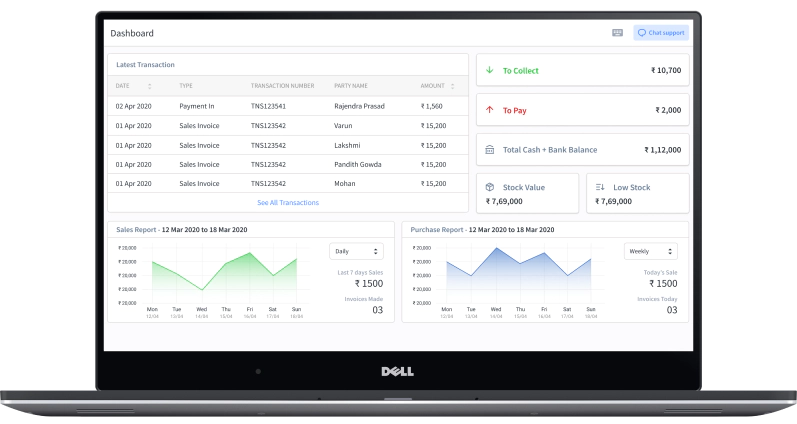 60 Lakh+
Businesses Trust us
7000+
Cities & Towns in India
4.7

Rating on Google Play
Why use
myBillBook

accounting software?

Business accounting Reports
Generate 20+ business accounting reports using this offline accounting software for small businesses & keep a regular check on your business health. These business reports will help you get an overview of your business in simplified charts & make strategic business decisions to boost your business growth rapidly.

GSTR Reports
File your GST returns accurately using GSTR reports like GSTR 1, GSTR 2 and GSTR 3B generated from this free accounting software. This smart bookkeeping software prepares these insights/reports using the accounting transactions recorded & helps you file your GST returns accurately.

Account Receivables / Payables
Manage all your account receivables/payables with our easy offline accounting software. You can keep track of all credit sales, send automated payment reminders and party balances to your customers on Whatsapp to get faster payments. This will also help you maintain a regular cash flow for your business.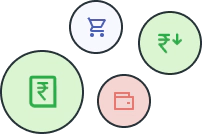 All accounting accurately
Do all accounting transactions like creating professional bills, recording sales, purchases & expenses, keeping track of inventory, etc., accurately using this free accounting software. It helps in smart bookkeeping, maintaining business records & analysing business performance regularly.

Billing and Invoicing
Make professional GST & non-GST bills & invoices using this small business accounting software, customise it according to your needs & share them with your customers in just 3 clicks. This will help you keep track of account receivables & maintain cash flow for your business.

Stock Management
Record, track & adjust your stock using inventory accounting features like upload bulk stock, low stock alert, stock adjustment & detailed stock inventory reports. It will help you reorder stock at the right time & avoid any revenue losses. Also, in case of excess inventory, you can avoid unnecessary purchases.

Multi-user functionality
Add your staff like salesman, delivery boys, stock managers, etc. & give them access to certain features that will help you track multiple transactions with this online accounting software. These staff members can make data entry from their mobile phones & you can track their activities in real-time.

Expense Tracking
Record & track your business expenses easily using detailed expense reports and get an accurate picture of your business profits. This offline accounting software can help you control business expenses by tracking them properly & providing insights on the expense pattern.

Faster Payments
The new Smart Collect option allows you to send invoices with payment links to your customers. The customer can simply click on the link to pay the amount through RTGS, IMPS, NEFT, or UPI. Once the payment is done, you will instantly receive the notification and the ledger also gets settled automatically.
myBillBook
accounting software

is for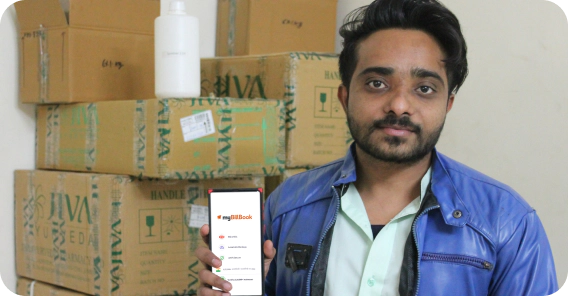 Distributor
With myBillBook accounting software for SME, distributors can seamlessly manage their entire business operations, from receiving stock to creating bills to recording expenses. They can easily track their receivables, send reminders & collect payments faster.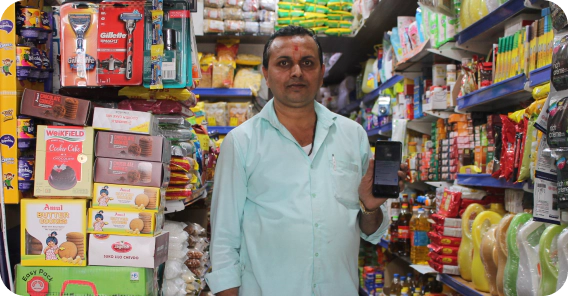 Wholesaler
With this accounting software for businesses, wholesalers can manage their business operations on the go. They can easily create & track invoices, manage accounts receivables/payables, improve cash flow & manage inventory and grow their business by 5X.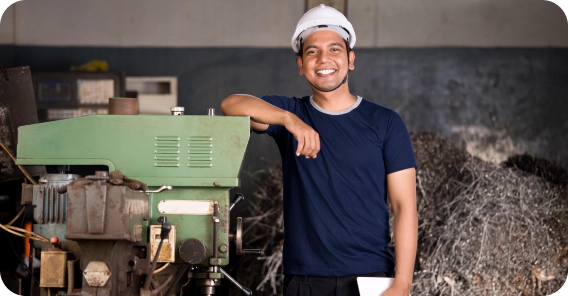 Manufacturer
Using this online accounting software for businesses, manufacturers can digitise their business operations like maintaining stock of raw materials, tracking inventory, creating quotations/estimates and sharing them on WhatsApp, creating e-way bills, recording expenses, filing GST returns, etc.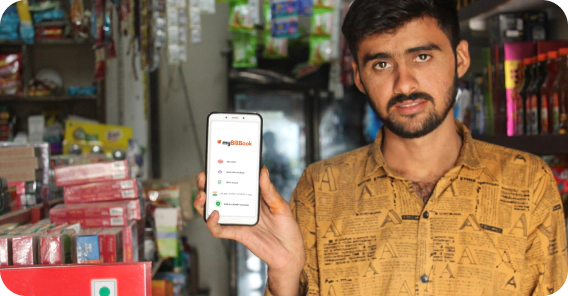 Retailer
This free accounting software for small businesses helps retail shops to bill faster & avoid delays in checkouts. Retail shop owners can make faster bills using keyboard shortcuts, keep track of their customers, manage multiple outlets, and track stock/ inventory.
Benefits of using
myBillBook accounting software

Track business performance
Using myBillBook accounting software, you can track your finances like never before. You can generate 20+ business reports from this software and keep track of your business health. In addition, this software provides an overview of all financial transactions like sales, purchases, expenses, etc. using simplified charts.

Accurate Accounting
With myBillBook, you can keep your accounting books accurate. You can maintain party-wise ledgers, cash ledger, bank ledger, day-wise sales/purchase ledger on this online accounting software for SME. It makes it easier for you to reconcile balances and generate financial records that you can use to file IT or GST returns.

Streamlined cash flow
With myBillBook bookkeeping software, you don't have to worry about delayed payments from customers. You can send payment reminders to your customers on WhatsApp with the payment link & receive your payments on time. This software helps you receive payments using digital methods like UPI, NEFT, RTGS, etc.

Save time & money
Manually recording all financial transactions requires a lot of time and can lead to reconciliation errors, which can cause huge losses to your business. Automating your business transactions with myBillBook accounting software for small businesses will help you save your time & maintain accurate records.

Professional billing
You can create professional bills using myBillBook online accounting software and impress your customers with professionalism. This software streamlines the entire billing process for your business & enhances business identity among your customers. Also, you can customise your bills/ invoices using the 10+ formats available.

Grow business faster
Using this accounting software for small businesses, you can automate & manage your business operations seamlessly on the go. In addition, this software provides simplified & powerful insights/reports on all aspects of business, which you can use to make strategic business decisions for the future.
What
our users
say about us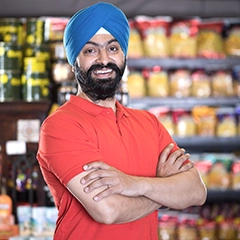 FMCG Wholesaler
"With mobile app, I can manage my billing and stock when I'm on the field. Getting credit payment is 2x faster with use of payment reminders and pay with UPI option. Now I have more money to grow my business. Also, I can give app to anyone to manage, because it is so easy unlike other billing software. Best app myBillBook - Make In India!
- Gurukripa Traders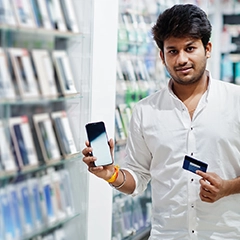 Electronics Distributor
"Very easy to use, I have given the app to all my salesmen for entry. myBillBook team added option for IMEI and Product code for every item in invoice now. I moved all my Tally data to myBillBook, made my business easier.
- JLB Technologies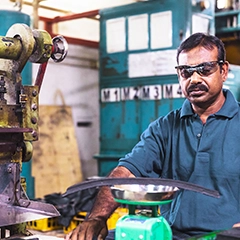 Hardware and Sanitary
"Inventory feature has me saved a lot of hours in maintaining my 1000+ list of items. Now there's less counting and better accounting with myBillBook
- Ashiyana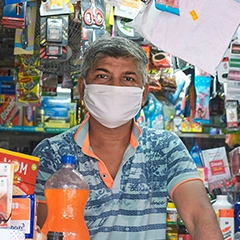 Kirana Store
"Made my business digital by moving from pen and paper to myBillBook. Counter feature is easy to use and saves me time. Thermal printing is good for retail shop. Online store is helping me get more and bigger orders.
- Kailash Kirana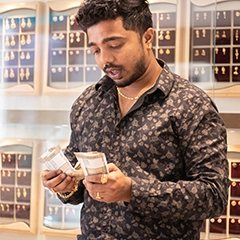 Jewellery Store
"myBillBook has made my business easier to manage. Invoice customisation settings let me add columns like making charges, weight & wastage to my GST Invoices. Inventory is easily managed by recording of item returns and with units for gold, silver, and diamonds
- Swarn Mandir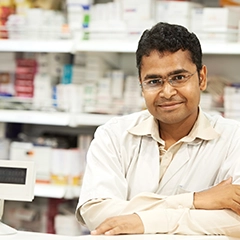 Pharma Store
"Professional Billing with option to add Batch number, expiry date & drug license number. I have used other software for my Vyapaar but haven't ever seen inventory management so easy. Nice for medical business.
- Shree Ji Medicals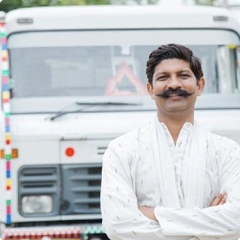 Transportation
"Good and simple app. Now we mention Vehicle No, Driver Contact, total load and number of items in a single invoice, said goodbye to paper bills. Option for Duplicate and Triplicate also added by myBillBook team, thank you!
- Navrang Transport
Common Queries
What is accounting software?

Accounting software is a program/software that helps businesses record, analyse and report their financial transactions. It allows business owners to store the enterprises' financial information and record day-to-day transactions.
What are the features of computerised accounting software?

Makes professional bills or invoices quickly & allows to share it directly with the customers on WhatsApp
Help record all the financial transactions & give a clear image of the business health
Accelerates payment collection through accounts receivable/payable management
Helps record & track expenses and maintain profit/loss account
Helps prepare GST returns, income tax returns, balance sheet & profit and loss statement for the business
Why is accounting software important for business?

Accounting software is important for business because it helps digitise day-to-day business transactions, provides financial reports at one click, helps accelerate the business's cash flow, and manages accounts receivables/payables.
Do I need an accountant if I use myBillBook?

You don't need an accountant or any prior formal training to operate myBillBook accounting software for SME. This product offers a simple-to-use and robust platform to business owners to conduct their accounting operations seamlessly & manage their business from their mobile phones.
What is the best accounting app for small businesses?

myBillBook is the best accounting app for small businesses in India. It is very easy to use software and available on mobile & desktop at affordable prices. The owners can use this offline accounting software for businesses to make professional bills/invoices, maintain party ledger, track inventory, record & analyse expenses, etc.
Why is accounting software important?

Accounting software helps business owners to record, analyze and reconcile their transactions. The software also eliminates the risk of human errors while performing financial transactions. myBillBook accounting software helps businesses to manage & control their business operations through mobile & desktop and gives complete visibility into the business financial health.
Who uses accounting software?

All businesses, especially GST registered businesses should use accounting software.
Why do businesses need accounting software?

Businesses need accounting software to manage their business operations professionally. With the help of an online accounting software, businesses can process their transactions with greater speed than manual methods. The software also gives them a clear picture of the performance & helps generate financial reports like balance sheet, profit & loss account, etc.
What are the common mistakes in accounting?

Improper record keeping methods like recording sales, purchases on pen-paper
Failure to reconcile books of accounts on time
Data entry errors while recording financial transactions
Chances of fraudulent activity
Associations & Memberships