Invoice Format for Taxi Service
With taxi and cab services gaining much acceptance among the common public, there is immense competition among taxi operators. As customer service plays a crucial role in the taxi business, providing professional and accurate invoices is significant. This article discusses a typical invoice format used for taxi services, mandatory components to include, how to create invoices using different formats and the benefits of using myBillBook billing software to generate taxi service invoices.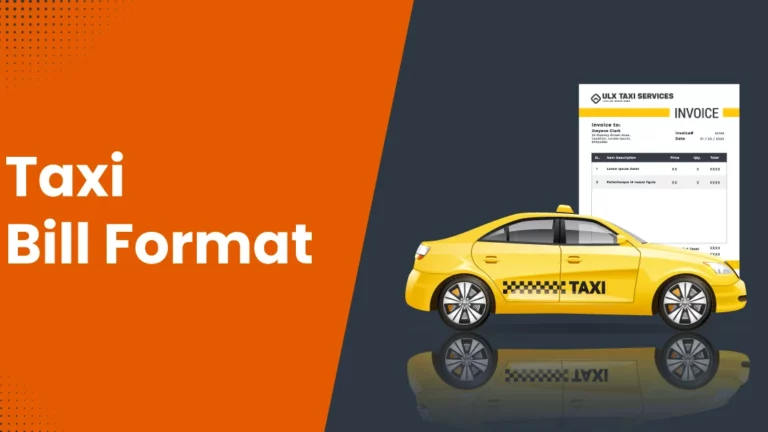 What is Invoice Format for Taxi Service?
An invoice format for a taxi service is a document to provide an invoice for the services the taxi company offers. It includes important details such as the name and contact information of both parties, trip details, fare breakdown, payment terms, and any applicable taxes or additional charges. A detailed and well-designed taxi bill is important for both the taxi company and the customers for various reasons. Hence travel companies must make sure to provide professional invoices to their clients.
Download myBillBook to Generate Bills
Elements to Include in Taxi Invoice Format
Taxi company details
Customer details and contact information
Invoice number and date
Trip details, including date, time, pick-up and drop points, etc
Total fare and a detailed breakdown
Payment terms
Other terms and conditions
Taxi Invoice Format in Word, Excel, and PDF
If you would like to create taxi invoices on your own, using available word processors like Word, Excel, Google Docs, etc., is one of the best choices. Not just are they readily available, but they are easy to work with if you have hands-on experience using them.
Taxi Invoice Format in Word allows you to design visually appealing invoices with your branding.
Taxi Invoice Format in Excel allows you to utilise formulas for automatic calculations.
Taxi Invoice Format in PDF ensures the consistency of invoices across devices.
Importance of Using Invoice Format for Taxi Service
Professionalism: A well-formatted invoice reflects professionalism and reliability, enhancing your taxi service's reputation.
Clarity in Billing: An organised invoice provides clarity to customers regarding the fare breakdown and total amount due, reducing the chances of disputes.
Record Keeping: Invoices serve as essential records for accounting and tax purposes, ensuring accurate financial record-keeping.
Timely Payments: A clear invoice with specified payment terms encourages customers to make timely payments.
Using myBillBook to Simplify Taxi Service Invoicing
myBillBook offers user-friendly invoicing software that streamlines taxi service invoicing. With customisable templates, you can easily input your taxi service details, customer information, trip details, fare breakdown, and payment terms. With myBillBook, you can generate quick invoices, tracking, and sharing, ensuring efficient and hassle-free billing for taxi service providers.
How myBillBook Mobile App Makes Taxi Service Billing Convenient
Utilising a billing software mobile app for generating taxi bills revolutionises the invoicing process, benefiting drivers and passengers alike. With just a few taps on their smartphones, drivers can swiftly create and issue professional invoices, streamlining their billing operations and enhancing customer satisfaction.
Easy and Quick Invoicing: myBillBook mobile app provides user-friendly templates enabling taxi drivers to generate invoices rapidly. They can input trip details, including date, time, pickup, and drop-off locations, and automatically calculate the fare.
Real-time Fare Calculation: The app allows real-time bill calculation by including various billing elements like distance, waiting time, and additional charges, ensuring accurate and transparent fare calculation.
Customisable Templates: Travel companies can personalise invoice templates with their company logo and contact information, enhancing their professional image and brand identity.
Automated Payment Calculations: The app automatically calculates the total fare, including taxes and surcharges, saving drivers time and effort in manual calculations.
Digital Payment Options: Integrate digital payment options into the app, enabling passengers to pay using credit cards, UPI, mobile wallets, or other electronic methods, promoting cashless transactions.
Paperless Invoicing: myBillBook mobile app enables drivers to issue digital invoices, reducing paper usage and eliminating the need for paper bills.
Easy Sharing: Taxi drivers can share invoices instantly via email or Whatsapp, allowing passengers to receive their invoices promptly for seamless payment processing.
Digital Record-Keeping: The app keeps a digital record of all invoices issued and payments received. The travel company can access all the invoices generated by different drivers and manage everything from a single account.
Offline Access: myBillBook mobile app allows drivers to access and create invoices even in areas with limited or no internet connectivity, ensuring uninterrupted service.
24/7 Accessibility: Drivers can access the billing app anytime, anywhere, making it a versatile tool for their on-the-go profession.
FAQs on Taxi Service Invoice Format
Can I include additional charges in the invoice later in myBillBook software?
It's recommended to provide a comprehensive invoice upfront. However, you can update the invoice with valid reasons for additional charges if necessary.
Can I customise the invoice templates in myBillBook?
Yes, myBillBook allows you to customise templates with your company logo, colours, and other branding elements.
Can I send invoices directly to customers through myBillBook?
myBillBook allows you to share invoices directly with customers through email and Whatsapp.
Can I include multiple payment options on the taxi service invoice?
myBillBook enables you to have various payment options like a credit card, cash, UPI, QR code, internet banking, etc.
Can I generate and send taxi service invoices on the go?
With myBillBook's mobile app, you can conveniently generate and send taxi service invoices from anywhere. The app lets the drivers quickly input trip details, customer information, and fare breakdowns. Once the invoice is ready, you can instantly share it with your clients via email or Whatsapp.
Know more about Billing Software & Billing Format