Restaurant Bill Format
If you have a food business and are looking for a food bill format, you have landed on the right page. A well-drafted food bill format helps you create food bills quickly and more efficiently.
Quick bill generation is quite essential to enhance your customer's dining experience. Especially during rush hours, accurate bill generation becomes tricky. Many dishes, many orders, and many customers, and everyone is in a hurry to get their check. Not providing the right bill to the right customer might lead to poor customer service. To help ease the food bill generation process, here is the typical food bill format, tips to create food bills quickly and accurately and the advantages of using automated billing software for efficient bill generation.

What is Food Bill Format?
Food bill format, food invoice format, or restaurant bill format, is a pre-designed template to quickly and easily create food-related bills. As there is no specific format to create bills, food businesses are free to choose a format that includes all the necessary details as required by their business and customers.
Food Bill Format – Fields to Include
A typical food bill format contains the following fields the restaurant should fill in.
Name and contact details of the restaurant or the food business
Date of visit
Bill number or reference number
List of food, beverages, and other products ordered, along with quantity
Price details of the items served
GST, discount, promotional offers, and other charges
Total bill amount
Accepted payment methods
Name and signature of the biller
Special notes from the business
These are the basic details to include in the food bill. Restaurants or food business owners are free to include or remove the details as required.
Sample Food Bill Format
For your reference, here is the sample food bill format. You can download it or use it as a reference to create a new bill template.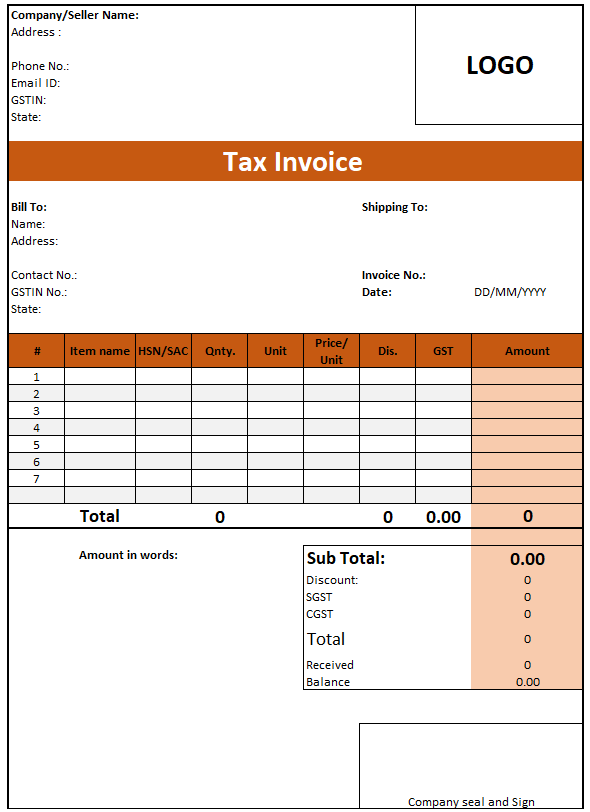 Automated Billing for Food Business
Billing software, or automated billing software, is a new entrant in the industry that is helping lakhs of businesses in India automate their billing operations. Food businesses can also benefit from replacing their traditional billing practice with billing software in the following ways.
Accurate & Faster Billing: Billing software eliminates manual errors in calculating the bills, ensuring that guests are charged accurately. It generates bills quickly and efficiently, reducing the wait time for guests and freeing up staff to attend to other tasks.
Customizable Billing Templates: Billing software typically provides customizable billing templates, enabling hotels to create professional-looking bills that match their branding and include relevant details.
Automated Tax Calculations: The software can automatically calculate taxes, reducing the likelihood of errors in tax reporting.
Seamless Integration: Billing software can be integrated with other hotel management systems, such as property management systems (PMS) and accounting software, to streamline the billing process and improve overall efficiency.
Enhanced Customer Experience: Faster, more accurate billing can enhance the guest experience, reducing the likelihood of billing disputes and ensuring that guests leave the hotel satisfied.
Also Check: Free Restaurant Billing Software
FAQs on Using myBillBook to Create Food Bills
Can I install myBillBook on my PC?
myBillBook is a cloud-based software available as a downloadable desktop and mobile app. You can download the app from the respective app store and install it on your PC, tablet, or phone.
Does myBillBook generate GST invoices for my food business?
Yes, with myBillBook, you can generate both GST & non-GST invoices based on your business turnover. You just need to select the type of invoice, GST or non-GST, before creating your first invoice using the billing software.
Does myBillBook support accounting operations?
myBillBook also helps manage various accounting operations like expense tracking, multiple bank accounts management, ledger management, etc.
Can I add my other food outlets in myBillBook?
myBillBook supports multiple businesses and branches of the same food chain. You can add all your outlets and manage them with a single software.
Do I need to take a separate myBillBook subscription for each business?
No, you don't have to take a separate subscription for every business you add to myBillBook. However, you need to choose the plan based on the number of businesses you would like to manage using the app.
Know more about  Billing & Accounting Software for Small Businesses