A medical bill format is used to create medical bills in hospitals and other medical-related facilities. A medical bill format is essential to quickly create bills in a fast-paced business environment. The manual creation of medical bills may not be the right idea as it makes the medical services look unprofessional and is also time-consuming. You must either have a medical bill book format or have billing software that can accurately generate medical bills on time. Let's explore both options separately to choose the one that fits your business needs.
What is a Medical Bill Format?
A medical bill format is the layout of a list of details regarding any patient who visits a hospital to consult a doctor. A medical bill typically contains the name of the medical organisation, fields to enter various details about the patients, physician details, and other information regarding the medications administered, services provided, tests done, etc.
A medical bill typically records patients' information, and such records are maintained for current and future use. Such templates can be utilised by any doctor's office, hospitals, clinics, healthcare organisations to show patients the cost they have incurred from the medical consultation.
Sample Medical Bill Format
Every organisation can have their own medical bill format. However, a sample format would help you understand the key fields that must be created in a hospital bill format. Here is a sample medical bill format.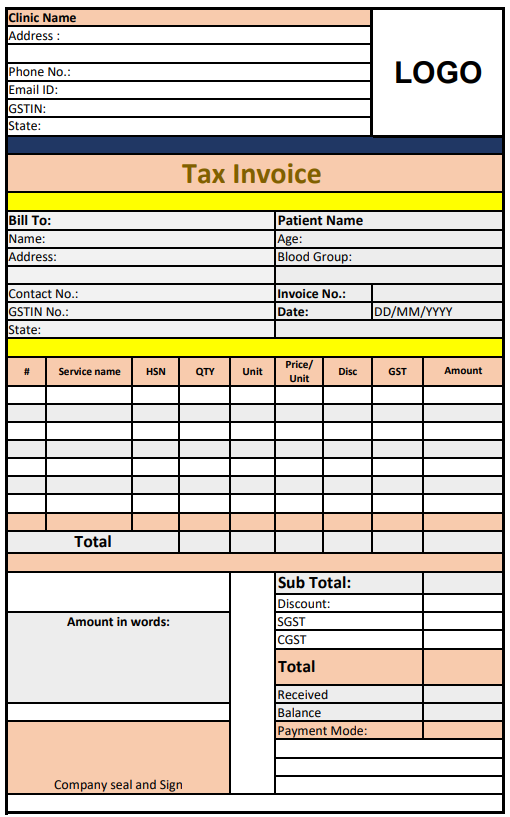 Also Check: Medical Billing Software
Medical Bill Format – Fields to Include
The following details must be included in a hospita bill format to make sure every detail is covered.
Information about both the service provider and the patient.
Description of services/medicines/products

Procedure
Medications prescribed
All interventions carried out, etc.

Total cost – mention in detail as a separate charge for each procedure done.
Subtotal due, taxes due, and the total balance due
Terms of payment such as payment in cash, debit card or credit card, etc.
Medical Bill Format in Word
Word is one of the easy-to-work tools available to everyone. Using Word, you can create a medical bill format that would be suitable for your organisation. Simply take a blank Word document, insert the required fields that are mentioned above, and once you're sure, save the document. Whenever you wish to create a hospital bill format in Word, make a copy of the main document, fill out the details in the fields and take a printout.
Medical Bill Format in Excel
After Word, Excel is another tool that helps you to create medical bill formats without much effort. With pre-defined rows and columns, Excel allows you to create medical bills easily. Just highlight the rows and columns you need, enter the field names and save the sheet. Whenever you wish to create a hospital bill format in Excel, make a copy of the main document, fill out the details in the fields and take a printout.
Medical Bill Format in PDF
To create a medical bill format in PDF, you either need a PDF creator or a format in either Word or Excel. If you have access to PDF creator, you can simply create a medical bill format in PDF. If you don't have one, you can use any one of the above templates – medical bill format in Word or medical bill format in Excel, download it as PDF and use it. PDF medical bill formats make your medical bills look more professional.
Benefits of Using Downloadable Medical Bill Formats
You can use it whenever you want. You just have to download the medical bill format to your computer and use the same template for all medical invoices.
Medical invoice templates are free to use. You do not have to pay for it.
An electronic medical invoice template always looks professional compared to a hand-written copy.
Saves your time while billing the patients and also makes the invoice accurate and consistent.
You can take a printout of the medical invoice, hand it over to the patients or you can even mail the invoice.
However, you need to select any downloadable free medical bill format that has all the required fields to fill in the information. Once you have the template, you can add the company logo to the invoice template.
Benefits of using myBillbook to Generate Medical Bills
myBillbook is a comprehensive billing and accounting software that helps medical organisations create medical invoices or medical bills more efficiently. Listed below are the features offered by myBillBook invoicing software.
myBillbook helps you in calculating GSTs, due dates, discounts, total price, and other values in seconds.
Users can search for medical products by barcodes and names.
Both the cash received from the patient, and the outstanding payment will be displayed on the invoices.
The billing staff can also add a signature to the invoice before sending the invoice to the patient.
myBillbook is a cloud-based software that is compatible with the web app, windows, and android.
It can support multiple languages like English, Hindi, Gujarati, and Tamil.
Using myBillbook Medical bill format, you can create and share bills on mobile anytime.
You can also collect payment through UPI and can add and manage staff and their activities.
It also offers 24/7 customer support in case you have any queries or requests to make.
Know more about other Billing Templates