Export Invoice Format in Excel
An export invoice is a document that records transactions between a seller and a buyer for goods or services being exported from one country to another. The invoice is a critical document that serves as proof of the sale and is used for customs clearance and to claim any applicable tax refunds or exemptions.
Unlike the proforma invoice, which acts as a quotation before payment, an export invoice is recorded in the books and charged to the receiver's account.
Export Invoice Format in Excel
An export invoice format in Excel is a pre-designed template that can be used to create export invoices. The template is created in Excel and can be easily edited to include all the necessary information required for invoicing. In addition, the invoice can be printed or exported to a PDF for easy sharing and storage.
Why Choose the Excel Format for an Export Invoice
Choosing an export invoice format in Excel is a smart choice for several reasons. Excel is easy to use and customisable, has built-in functions for calculations, and allows for the creation of visual aids. Plus, it is a digital format that is easy to store and share, especially with international customers. Excel files can also be password-protected for added security.
Export Invoice Format in Excel: Details to Be Included
The following is a list of the details that should be included in an export invoice format in Excel:
| | |
| --- | --- |
| S.No | Detail |
| 1 | Company Information |
| 2 | Customer Information |
| 3 | Invoice Details |
| 4 | Product/Service Details |
| 5 | Totals and Taxes |
Sample Export Invoice Format in Excel
A sample export invoice format in Excel can be found attached below. This sample invoice can be used as a guide when creating your invoice. It includes all the necessary details and can be easily customised to meet the needs of your business. Using a sample invoice can help ensure that all the necessary information is included and that the invoice is formatted correctly.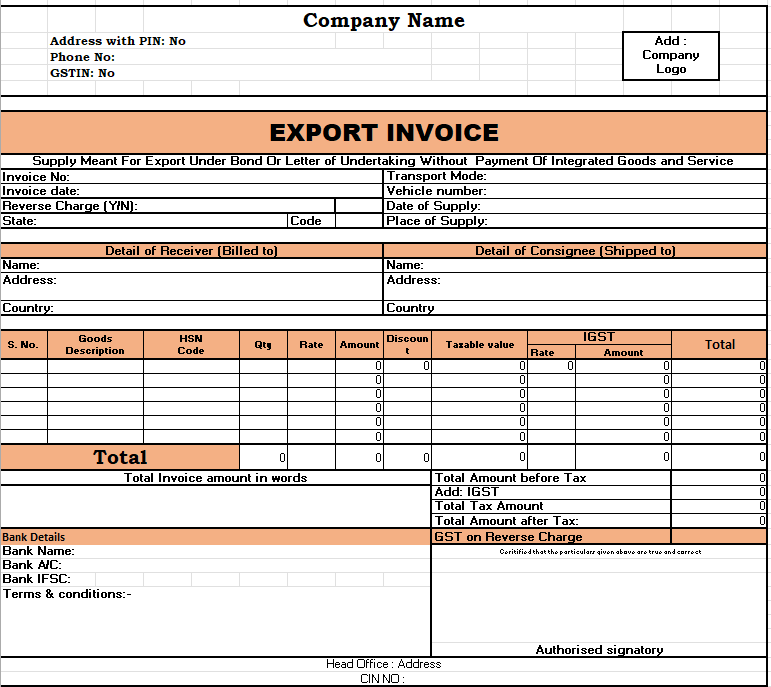 Download Free Export Invoice Format in Excel
Using Excel for export invoices makes the process more efficient as it allows for easy personalisation, calculation automation and data organisation. Additionally, export invoice Excel formats can be easily shared and printed.
myBillBook offers free export invoice templates that you can download in Excel. These templates are expertly crafted and contain all the important information that an export invoice should have, saving you time and effort. Having accurate export invoices handy can also aid you with your inventory logistics.
How to Create Export Invoice Format in Excel
Follow the below-given steps to create an export invoice format in Excel.
Start by opening a new Excel document and creating a table with appropriate columns for the invoice information, such as item description, quantity, unit price, and total amount.
Include a header row with the company's name, contact information, and a unique invoice number.
Include a section for the customer's information, including their name, address, and contact details.
Add a section for the shipping details, including the date of shipment, shipping method, and destination address.
Add columns for any taxes or additional charges that may apply to the invoice.
Make sure to include a calculation for the invoice total by adding up all the charges.
Add a footer with additional information, such as payment terms and instructions.
Save the document as a template for future use.
myBillBook for Generating Export Invoices – Sign Up for Our Free Trial Offer Right Now!
myBillBook is a GST accounting & billing software tool that assists in creating polished and professional export invoices easily. Here are some advantages of utilising myBillBook:
User-friendly interface
Customisable export invoices
Automated calculations
Secure data storage
Online access
Available in multiple languages
Sign up for our free trial offer and explore how myBillBook can streamline your export invoice generation process.
FAQs about Export Invoice Format
What is the standard format for an export Invoice in Excel?
The standard export invoice Excel format typically includes the following information: invoice number, invoice date, buyer and seller data, description of goods, quantity and unit price of goods, total amount, shipping information, and applicable taxes or discounts.
Can you provide an Excel sample export invoice format that I can use for my business?
You can find many sample export invoice formats in Excel templates online that you can use for your business. Some of these templates can be customised according to your needs and preferences.
Are there any legal requirements for the export invoice format in Excel that I need to be aware of?
Depending on the country of export and import, there may be specific legal requirements for the export invoice Excel format that you need to follow. So, it is best to check with your local government's trade department or consult a trade lawyer to ensure compliance.
How do I include shipping information in my export invoice format in Excel?
You can include shipping information in your export invoice format in Excel by adding a section for the shipping details, such as the carrier, tracking number, mode of transport, and estimated delivery date.
Can software or tools help me create an export invoice format in Excel?
Yes, there are several software and tools available that can help you create an export invoice format in Excel. Some popular options include invoicing and accounting softwares like myBillBook, and spreadsheet software such as Microsoft Excel.
Know more about other Billing Templates