What is e-invoicing under GST?
An e-invoice under GST, also known as an electronic invoice, is a digital document sent between a supplier and a customer and verified by the tax portal of the government. An e-invoicing is the system in which business-to-business (B2B) creates invoices digitally, and the Goods and Services Tax Network (GSTN) verifies them.
The e-invoicing system lets the Invoice Registration Portal (IRP), managed by the GST Network (GSTN), assign an identification number to each invoice. This e-invoice portal will send all invoice information to the GST and e-way bill portals in real-time.
This e-invoicing method ensures that all companies produce invoices to the GST site using a consistent format. Furthermore, because the information is passed directly from the IRP to the GST portal, manual data entry will be eliminated when filing GSTR-1 returns and generating Part-A of e-way bills.
To whom is e-invoicing applicable?
E-Invoices under GST have been phased based on the companies' aggregate yearly turnover, fiscal year, entity kinds, and transaction types.
Concerning e-invoicing and input taxes, AATO stands for annual aggregate turnover. It is the total value of all taxable supply estimated on an all-India basis but excluding the central tax, state tax, union territory tax, integrated tax, and CESS is referred to as aggregate turnover.
FY stands for Fiscal Year.
GST Notification No.
Effective Date
Applicable to tax-paying citizens who meet the e-Invoicing Criteria of
AATO
FY
Entity Type
Type of Transaction
61/2020 – Central Tax and
70/2020 – Central Tax
01.10.2020
AATO>INR 500 Crores
2017-18 onwards
Suppliers
B2B transactions
88/2020 – Central Tax
01.01.2020
AATO>INR 100 Crores
2017-18 onwards
Suppliers
B2B transactions
5/2021 – Central Tax
01.04.2020
AATO>INR 50 Crores
2017-18 onwards
Suppliers
B2B transactions
1/2022 – Central Tax
01.04.2020
AATO>INR 20 Crores
2017-18 onwards
Suppliers
B2B transactions
To summarise, if your total revenue in a fiscal year exceeds 50 crores, you must issue e-invoices for supplies made by you as per e-invoicing under GST, beginning April 1, 2021.
Now that we know who is required to give an e-invoice, the next question is how you can obtain an e-invoice as per the present e-invoicing system.
What is the complete process of getting an e-invoice?
Invoice Creation
Every business requires its suppliers to generate invoices regularly. Therefore, they must complete electronic invoice reporting by adhering to a format, a proper procedure and implementing mandatory conditions.
The required fields are
Transaction specifics
Buyer's details include state code, pin code, location, address, GSTIN, account number, IFSC code, payment mode, and so on.
Supplier's details include a supplier's address, GSTIN, and other information.
Item list information including quantity, GST rate, SI no., rate, assessable value, total invoice value, CGST/IGST/SGST amount, batch name/number, and so on.
Document specifications
Value details
As the first step in e-invoicing, the supplier must create an e-invoice in the prescribed format using billing or accounting software. Furthermore, the software must be able to generate a JSON of the final invoice using the following modes:
This service's billing and accounting system
An offline tool.
After creating the JSON file, the software will upload the file to IRP.
IRN Generation
The seller would then use a standard hash-generation algorithm to generate a unique Invoice Reference Number (IRN). IRN is generated based on four parameters: the seller's GSTIN, the invoice number, the fiscal year (YYYY-YY), and the document type (INV/DN/CN).
If the seller generated the IRN, the supplier would first have the option to create a 'hash' by considering critical parameters such as the supplier's invoice number, GSTIN, and fiscal year. After this hash is validated, it becomes the IRN of the e-invoice.
It is optional for suppliers to generate IRN. In cases where they don't, IRP will do it for them. In both cases, the IRP Portal will perform a duplication check to ensure this IRN is unique.
Invoice Uploading
Now, the seller would upload JSON for each invoice and IRN to the Invoice Registration Portal, either through third-party software or through a GST Suvidha Provider.
Authentication and Signing
If the supplier has not yet uploaded an IRN, IRP will either validate the hash/IRN attached with JSON or create one.
Then, IRP authenticates the file against GST's central registry.
Following successful verification, IRP will update the invoice with IRP's digital signature on the invoice data and add a QR code for the supplier to the JSON file. On the other hand, IRP will notify the supply seller of the e-invoicing via email (if provided in the invoice) after the e-invoice generation.
The previously generated hash will be the new IRN of the E-invoice. Therefore, the e- invoice's unique identity will be for the entire fiscal year.
Data Sharing
The next step is sharing the uploaded data with the E-way bill and the e-invoice GST systems.
Downloading of E-invoices
The portal will return the digitally-signed JSON to the seller, along with the IRN and QR code. And send the invoice to the buyer's registered email address.
How will e-invoicing benefit businesses?
Businesses will benefit from e-invoicing in the following ways:
Limited Errors
The most valuable benefit of e-invoicing is the reduction of errors. E-Invoicing in GST resolves and plugs a significant gap in GST data reconciliation and reduces errors.
Electronic invoice processing solutions in the e-invoice systems lessen the need for manual inputs and improve automation. Furthermore, e-Invoices generated by one software can be read by another. As a result, it enables interoperability and significantly reduces data entry errors compared to paper-based invoices.
Easy Invoice Tracking
Another advantage of e-invoicing is the ease of tracking invoices. The e-invoicing software determines the time of sending, viewing, and paying an invoice and thereby helps in the real-time tracking of invoices.
As a result, it is simpler to confirm the delivery and receipt of an invoice. Furthermore, certain e-invoicing service providers can assist you in determining when the customer viewed the invoice.
Reduced Tax Evasion
The advantages of e-invoicing under GST (Goods and Services Tax) suggest prospects for dealing with tax evasion. E-invoicing software allows real-time access to invoice data and contributes to the faster availability of genuine input tax credit. Hence reduces the possibility of invoice manipulation.
Furthermore, including input tax credit and output tax information in e-invoicing software can assist tax inspectors in detecting fraudulent input tax credits. Hence, e-invoicing systems reduce the risk of false GST invoices while ensuring valid ITC (Input Tax Credit) applications.
Data Integrity
Since the information needed for audits and surveys by the tax authorities is available at the transaction level, e-invoices eliminate the risk of counterfeit bills, instantly certifying their legitimacy.
How will e-invoicing curb tax evasion?
E-invoicing reduces tax evasion in the following ways:
The e-invoice generation must be done mandatorily through the GST e-invoicing system, providing tax officials access to transactions and monitoring them in real-time.
The process offers less room for manipulation because the e-invoicing system prepares an invoice before the transaction occurs.
Taxpayers can no longer create fake GST invoices to avoid paying taxes because GSTN can easily track fraudulent tax credit claims by crosschecking the input credit with the output tax information.
Thus, e-invoicing ensures that only legitimate input tax credits are claimed and reduces the possibility of fraudulent GST invoices.
What are the mandatory fields you should include while creating an e-invoice?
The following are the must-have fields in an e-invoice:
| | | |
| --- | --- | --- |
| No. | Field name | Specifications |
| 1 | Document Type Code | Enumerated List such as INV/CRN/DBN |
| 2 | Supplier Legal Name | String Max length: 100 |
| 3 | Supplier GSTIN | Max length: 15 Must be alphanumeric |
| 4 | Supplier Address | Max length: 100 |
| 5 | Supplier Place | Max length: 50 |
| 6 | Supplier State Code | An Enumerated list of states |
| 7 | Supplier Pin code | Six digit code |
| 8 | Document Number | Max length: 16 |
| 9 | Preceding Invoice Reference and date | Max length:16 |
| 10 | Document Date | String (DD/MM/YYYY) as per the technical field specification |
| 11 | Recipient Legal Name | Max length: 100 |
| 12 | Recipient's GSTIN | Max length: 15 |
| 13 | Recipient's Address | Max length: 100 |
| 14 | Recipient's State Code | Enumerated list |
| 15 | Place Of Supply State Code | An Enumerated list of states |
| 16 | Pin code | Six digit code |
| 17 | Recipient Place | Max length: 100 |
| 18 | IRN- Invoice Reference Number | Max length: 64 |
| 19 | Shipping To GSTIN | Max length: 15 |
| 20 | Shipping To State, Pin code and State code | Max length: 100 for the state, six-digit pin code and enumerated list for code |
| 21 | Dispatch From Name, Address, Place and Pin code | Max length: 100 each and six digits for pin code |
| 22 | Is Service | String (Length: 1) by selecting Y/N |
| 23 | Supply Type Code | An Enumerated list of codes. |
| 24 | Item Description | Max length: 300 |
| 25 | HSN Code | Max length: 8 |
| 26 | Item Price | Decimal (12,3) |
| 27 | Assessable Value | Decimal (13,2) |
| 28 | GST Rate | Decimal (3,2) |
| 29 | IGST Value, CGST Value and SGST Value Separately | Decimal (11,2) |
| 30 | Total Invoice Value | Decimal (11,2) |
What does the e-invoice look like?
The following is the notified e-invoice format: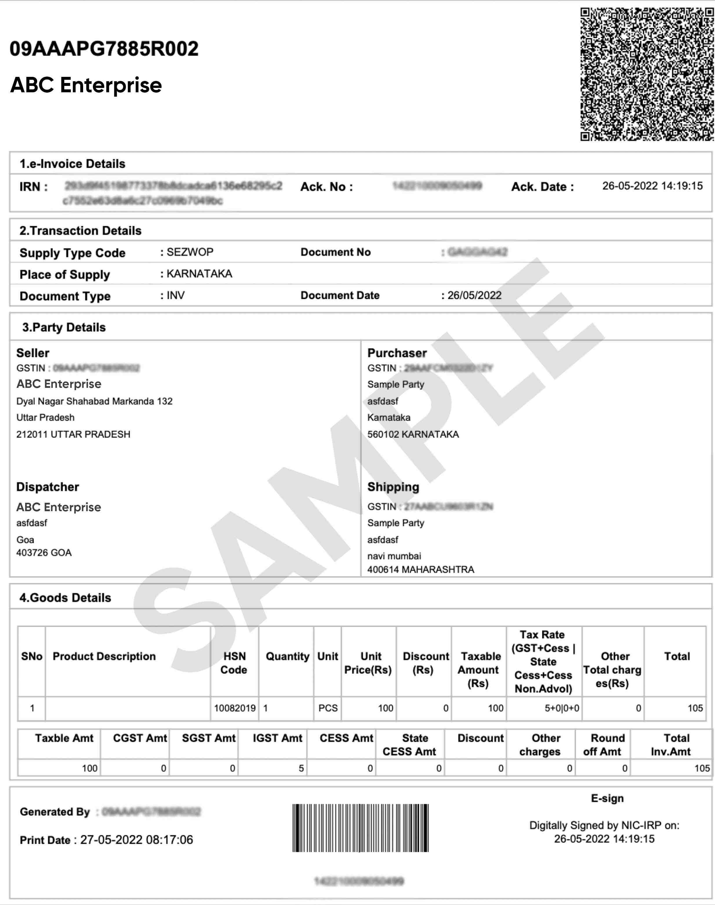 How to register for an e-invoicing system?
Registering on the e-invoice portal is a straightforward process if you are a GST-registered taxpayer with a valid GSTIN number.
Step 1:
To begin e-invoicing, navigate to the invoice registration website (IRP).
Please go to https://einvoice1.gst.gov.in/.
Note:
You can access the e-invoice portal with your credentials if you have registered your company on the e-way bill (EWB) portal.
Otherwise, you can do so immediately through the e-invoicing system.
The taxpayer must have a valid GSTIN, and your mobile phone number must register with the GSTN.
Step 2:
Click the Registration button. Select 'e-Invoice Enablement' under 'Registration.'
Alternatively, open the registration form by clicking on the following link: https://einvoice1.gst.gov.in/Home/UserRegistration
Step 3:
The step redirects you to the E-invoice Registration form. Enter the GSTIN of the firm, enabling the e-Invoicing, as well as the captcha code. To proceed, click 'Go.'
After submitting this request, the e-invoice portal displays an e-invoice registration form. GSTIN data will be auto-populated in this form.
Step 4:
Review the information in the e-Invoice registration form and click the 'Send OTP' button. This OTP will be delivered to the GSTN registered mobile number.
Step 5:
Enter your OTP and then click 'Verify OTP.'
Step 6:
After successfully verifying the OTP, the e-invoicing system will prompt you to input a username and password of your choosing. Enter your username and create a strong password. To save the changes, click the 'Save' button.
Step 7:
You may now use your new login credentials to access the e-invoicing system.
What makes an invoice different from an e-invoice?
An invoice and an e-invoice differ in the following ways: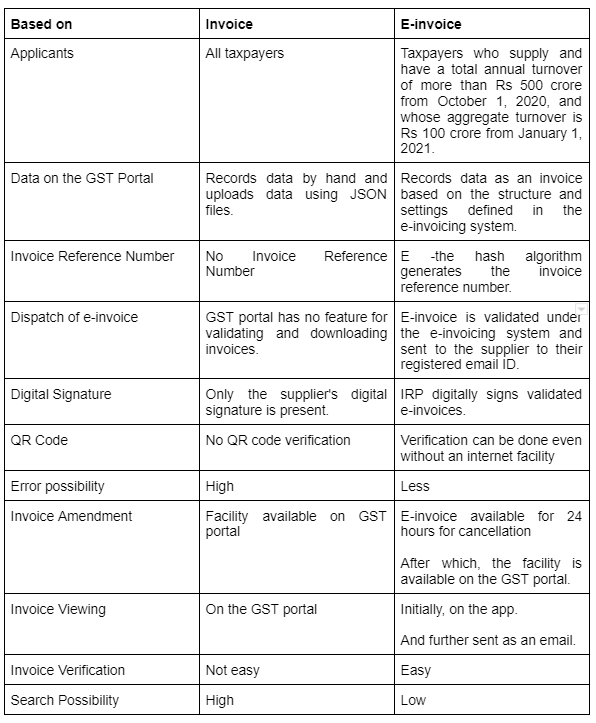 Conclusion
E-invoicing is the best way to track your invoices in real-time and minimise errors. Once you have created an e-invoice, you can submit it to the Invoice Registration Portal (IRP) for approval. And on verification from IRP, digitally sign it, and share it with the associated buyer.
You can keep your e-invoices on recurring mode to upload them to the IRP, auto-charge your customers, and automatically send them to customers using the e-invoicing feature in myBillBook.
FAQ about GST E-invoicing
Is e-invoicing mandatory for a five-crore turnover?
Not yet.
GST e-invoicing will be mandatory for enterprises with an e-invoice turnover limit of Rs 5 crore or more from January 2023, per the CBIC.
The primary purpose of this initiative is to increase compliance and policymaking.
Is e-invoicing mandatory?
The GST Council has ruled that e-invoicing is mandatory for all B2B transactions and that they must use the Invoice Registration Portal (IRP).
Accordingly, since January 1, 2021, enterprises having a yearly revenue of more than 100 crores have been required to use e-invoicing. This obligation has applied to all B2B transactions since April 1, 2021.
What is the rule for the e-invoice in GST?
E-invoicing under GST is governed by CGST Rule 48. (4). Members of the registered person class are required by law to upload a copy of their invoices to the Invoice Registration Portal (IRP) and get the Invoice Reference Number (IRN) as per this rule for e-invoice in GST.
Is a PDF an e-invoice?
No.
As defined in EU Directive 2014/55/EU, e-invoicing is a structured data set. Therefore, a PDF file is not an e-invoice under these standards.
Although PDF invoices are delivered electronically, machines cannot process them, which makes neither the sender nor the recipient benefit entirely from e-invoicing. Finally, a PDF is handled the same way a paper bill is, either manually or through Scan & Capture.
Is QR Code mandatory for an e-invoice?
Yes.
According to Rule 46 (r), an e-invoice must include a QR code. It is one of 18 details on the tax invoice.
Furthermore, the e-invoicing system requires that printed invoices include a QR code area. Therefore, the QR code will also be beneficial in generating tax invoices for exports and RCM supplies.
How do I create an electronic invoice?
Using accounting or billing software, you can generate your invoice in the recommended format (e-invoice schema). However, it must have all of the required information.
After creating the invoice, you can submit it to the Invoice Registration Portal (IRP) for approval, have it verified, digitally sign it, and share it with the associated buyer.
Read more: