Photography Bill Book Format
Photography bill book format is a customised template used by photography businesses to help generate specialised invoices in seconds.
Whether you are a non-GST registered photographer or a GST-registered photography business, having a photography bill book software eases your invoicing process. This further helps you in focusing on your passionate profession.
You have reached the right place if you're searching for a photography business-specific bill format. myBillBook offers free-to-download photography bill book formats and allows you to customise your own invoices using its software. Let's first check the format for photography bills and then explore billing software and how it helps businesses to generate custom invoices in no time.
Bill Book Format for Photography
A photography bill book format or template helps you in creating invoices easily. If you issue similar-looking invoices every time, not only does it look professional, but also builds trust among your customer base.
Having a unique bill book format for your photography business makes you stand out from the rest of the budding photographers. You can still use custom-made invoices even when you are not GST certified. Further, generating electronic invoices helps you keep track of your business effectively.
If you're a GST-registered photography business, you must take care of certain things while creating an invoice. Even though there is no specific format as prescribed by the GST law, it does mandate the inclusion of certain fields on the invoice to be compliant with the new GST regime.
Sample Photography Bill Book Format
The sample photography bill book format helps you to get an idea about invoice creation for your business.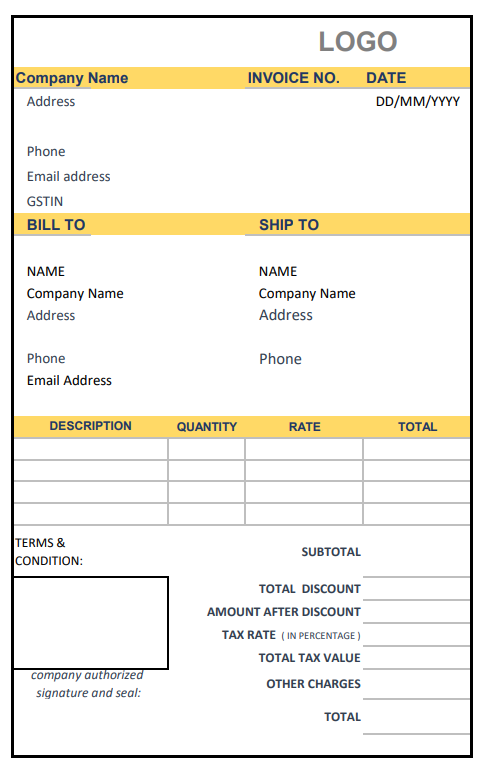 Also Check: Billing Software for Photo Studio
Photography Bill Format – Mandatory Fields
Here are the contents you need to display on your photography business invoice.
Your business name, address and GSTIN (GST Identification Number)
Unique serial number
Date
HSN Code, if applicable
Customer details – Name, address, contact number
Details of the photography package
The total worth of the services
The taxable value of the services
Rate and amount of GST (CGST, SGST, IGST, UTST or cess)
Signature/digital signature of your business
You can also include other fields specific to your photo business. But make sure the above-mentioned details are mandatory to mention.
Photography Bill Book Format in Word
If you have MS Word, you can easily create an invoice format for your photography business. Word is one of the easiest tools for creating invoice formats. Interestingly, it also offers free invoice templates that can be further customised to suit your photo business.
To create an invoice format in Word, take a reference invoice from the internet, try to create a similar one using various options available on Word, customise it as per your business requirements, and once you're convinced, save it as the main format. Whenever you wish to create an invoice for your customers, make a copy of the same, enter data in the fields, print it out and use it. You can also digitally send the invoice across.
Photography Bill Format in Excel
Excel is another excellent tool for creating invoice templates. With pre-defined rows and columns, the software allows you to create invoice formats easily with less effort. You can also insert formulas to auto-populate fields like date, total, price, etc. Once you're all set with the invoice format, save it and use it when required. Make sure to create invoices by creating a copy of the actual format.
Photography Bill Format in PDF
PDF invoice format makes your photography invoices look more professional besides making them safe and secure. You can use any PDF creator tool to create a photography bill format in PDF. You can also use any of the above-mentioned formats – Word and Excel templates, and download them in PDF. However, before downloading the file in PDF, enter all the data as you cannot edit the PDF once it is downloaded.
Billing Software to Generate Photography Bill Book Format
If you don't have time to use all the above-mentioned tools, you can take the help of an invoicing software like myBillBook.
Designed to simplify the invoicing and accounting needs of SMBs and MSMEs like your photography business, myBillBook is one of the best invoicing software available in the market today.
myBillBook provides custom invoice templates that can be customised to every business need.
You can add colours, select text size, add or remove custom fields and create invoices in different sizes.
Automation makes your life easy as it does all the calculation and tax addition part on your behalf.
The app is available on both mobile and desktop platforms.
Try myBillBook for Creating Invoice
Know more about  Billing & Accounting Software for Small Businesses