Invoice Format In PDF
An invoice format in PDF is a commonly used format for creating invoices. It makes invoices look professional and secure. Especially when sending invoices online, PDF invoices are a preferred choice. Professional invoices enable your clients to trust your business and make the payment process easy.
Once the invoice template in PDF is set, businesses can use the same format to create new invoices any number of times. Here is a detailed guide on creating the invoice format in PDF and how online billing software like myBillBook helps generate custom invoices in seconds.
Downloadable Free Invoice Formats in PDF
There are plenty of readymade options to download invoice formats in PDF. All you need to do is find a reliable source and download the invoice format for your perusal. 
myBillBook is one such platform that offers a free invoice generator tool with customisable PDF invoice templates. Depending on your billing needs, you can download invoice templates from the myBillBook billing software.
The free invoice templates can be edited to represent the business theme and brand image. These professional template designs can then be personalised to include the details of your preference.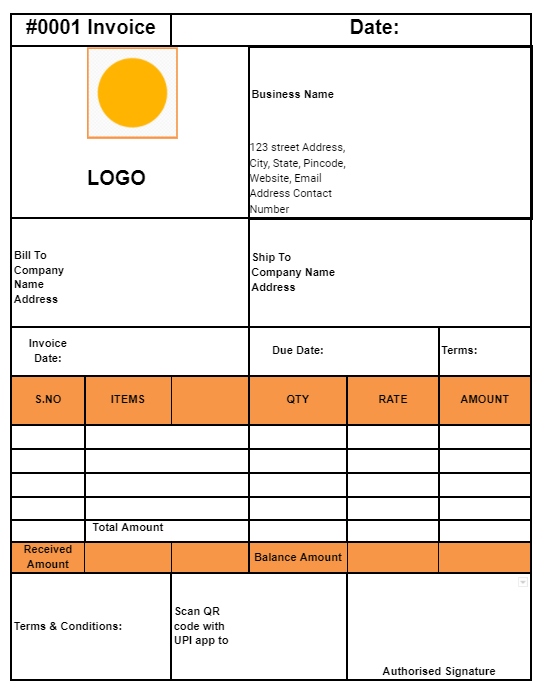 How to Create Invoice Format in PDF
Invoice formats can be created in two different ways. One is to create an invoice format using PDF maker, and the other is to convert an existing invoice template to PDF.
Create Invoice Format in PDF Using PDF Maker
A PDF creator software like Acrobat or other tools is required to use this option. Install the PDF creator and follow the below steps to create the invoice format in PDF.
Open the PDF generator tool.
Click on 'New' to open a blank PDF document.
Take a sample invoice template and try to replicate it on the PDF. You can customise it as per your brand image.
Make sure to insert all the important fields which are mentioned below –

Business Contact Details: Company name, address, phone number, and email
Customer details: Name, address, and contact details
Invoice number, date, and due date
Items/Services details: Description, quantity, price, discount, tax, and amount
Terms and conditions
Add payment options, including bank a/c details, UPI ID, UPI code, etc.
Once all the fields are created, save the file. Whenever you want to create a new invoice in PDF, open the same document, make a copy of the same and use it to generate invoices in PDF.
Create Invoice Format in PDF Using Existing Files
Another easy and simple method to create an invoice template in PDF is using existing files. For example, if you already have an invoice format in Word, Excel, Google Docs, Google Sheets, or any other format, you can simply convert it into PDF using the below steps.
Open the file containing the invoice format
Enter the required information to create a new invoice
Click on File from the menu bar
Click on Download/Export > PDF Document/Create PDF/XPS Document
The file will then download in PDF form
However, do note that once the invoice is downloaded in PDF format, you cannot make any changes. Hence, any entries or corrections must be done in the original file before converting it into PDF.
Alternative Options to PDF Invoice Formats
Though invoices created in PDFs look more professional, creating them directly as PDFs is not as easy as it sounds. It's time-consuming, effort-taking, and requires a dedicated personnel. Let's look at some of the alternatives to PDF invoices.
Invoice Format in Word
Invoice format in Word or Invoice template in Google Docs is one of the easiest ways to create an invoice. Just create a sample invoice format in Word and save it as a template. Whenever you want to create an invoice, make a copy of the same, fill the required details and use it as required. At this point, you can convert the invoice into PDF by downloading it as PDF.
Invoice Format in Excel
Invoice format in Excel or Google Sheets also has a similar advantage. With pre-defined cells, the sheets help you create invoices much easily. Further, using Excel formulas, you can auto-populate certain fields. Create a sample invoice template in Excel and save it. For creating an invoice, make a copy of the same, fill the data and download it as PDF.
Use Online Invoice Generators
Another option to create invoice templates in PDF is to use online invoice generators. While using an invoice generator, you need to visit the page, enter the required information, and click on generate invoice to get the invoice. One major drawback of online generators is that the security of the information is highly compromised.
Use Billing Software like myBillBook
If you don't want to deal with issues like convenience, safety and security while generating invoice templates in PDF, you can simply switch to billing software like myBillBook.
The cloud-based billing application is highly dependable and provides enhanced security while creating invoices. It is available on both desktop and mobile platforms. Using the app, you can create invoices from any place and convert them into any format, including PDF. Online invoice sharing becomes a cakewalk with reliable software like myBillBook.
FAQs on Invoice Format in PDF
Do PDF invoice formats allow customisation?
Editing an invoice in PDF format is not possible. Hence using invoice template in PDF is not a viable option. Instead, you can opt for billing software like myBillBook, in which you can edit an invoice any number of times before converting it into PDF.
How to share invoice formats in PDF online?
Once you create an invoice format in PDF, you can either mail it or Whatsapp it to your customers.
Does myBillBook support invoice format generation in PDF?
Once an invoice format is created on mybillBook application, you will find an option to download it in PDF. You can also directly share the invoice through mail or Whatsapp.
Can I print an invoice template in PDF?
Yes, just like any other invoice format, an invoice template in PDF can be printer using regular printers.
Can I use free invoice templates in PDF?
You might use free invoice templates in PDF if they allow you to edit and reuse the same. Otherwise, the free invoice format serves as a reference document only.
Know more about  Billing & Accounting Software for Small Businesses