Thermal Printer Billing Software
At retail fronts and other small establishments, having a regular printer to generate invoices is not viable. Traditional printing is time-consuming, uses more resources like ink and cartridges, and generates invoices in bigger sizes. On the other hand, thermal printers are specially designed for businesses requiring a faster billing process. 
If you have a thermal printer in place, choosing a billing software that supports thermal printing is essential. myBillBook billing and accounting software provides both regular printing and thermal printing options.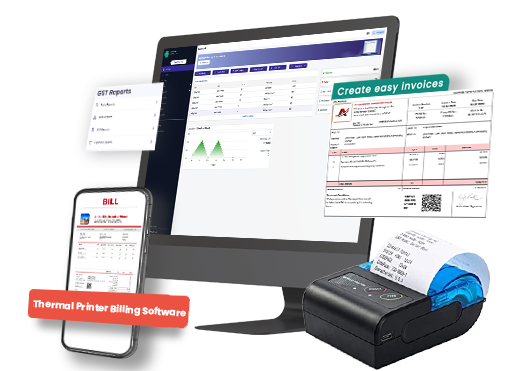 What is a Thermal Billing Printer Software?
A thermal printer is a special type of printer used for the sole purpose of printing bills and invoices at retail fronts. The printer uses a heat-producing print head and thermal paper to print instead of ink and cartridge. Unlike regular printers, thermal printers are compact, print faster, are cost-effective and make lesser noise.
A thermal billing printer software is a billing software compatible with thermal printers. By allowing thermal printing, the software makes it easy for businesses to choose their invoice type. Especially at retail fronts, the thermal printing option is of great help, as businesses need to generate a lot of invoices faster. 
Features and Benefits of myBillBook's Thermal Printer Billing Software
myBillBook billing and invoicing software offers both regular printing and thermal printing options. The thermal printing option is compatible with both bluetooth thermal printers and USB thermal printers. 
Compatible with most billing and invoicing thermal printers
myBillBook Billing Software is compatible with most thermal printers in the market, ensuring maximum efficiency to your billing needs. It is easy to install, and you can connect the printer to both PC and mobile to print the invoices.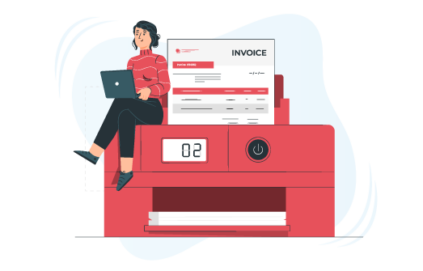 Various themes and customisation
With the myBillBook billing software, you can choose a customised billing template that suits your business needs and represents your business type. For instance, a pharmacy needs a different billing format than an eyewear shop. Hence, based on the business type you can choose from 10+ billing formats available on the myBillBook billing software.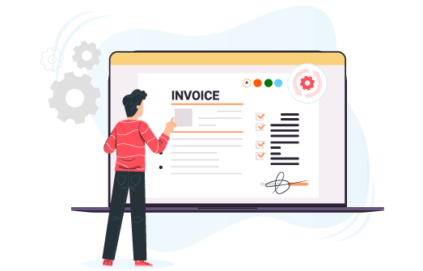 Compatible on myBillBook mobile app and desktop app
Whether you like using the myBillBook application on a PC or a smartphone, the myBillBook thermal printer billing software is compatible with both devices. You can connect the thermal printer to a PC and a smartphone. While using a smartphone, you can connect to the printer through bluetooth or a USB cable.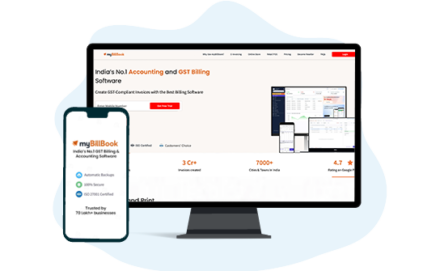 Print in different sizes
Besides the thermal printing option, the myBillBook billing software is also compatible with regular printers. On regular printers, A4 and A5 sizes are supported, and on thermal printers, 2-inch and 3-inch sizes are supported. So you can print according to your needs.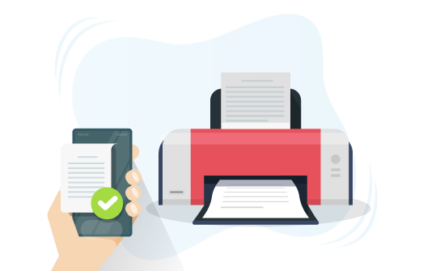 FAQs on Thermal Printer Billing Software
What is a thermal printer, and what is a thermal printer billing software?
A thermal printer is a special kind of printer used by businesses and retail shops to print invoices and bills for clients. A thermal printer billing software is compatible with a thermal printer. While printing bills and invoices, you want software that can be easily integrated with the printer, make the changes necessary in the invoices and reduce the workload. A thermal printer billing software does exactly all the above points.
Can a regular printer be used in billing software?
Yes. The myBillBook billing software is made in such a way that whatever is the printer of your choice for your business is, you can use the software easily without any problem. Be it a regular printer or a thermal printer, you will be able to integrate the software into your business with no hassle.
Does the myBillBook Billing Software also offer barcode options and features?
Yes. Many businesses now add barcodes to their bills and products to scan the products better and faster. myBillBook offers barcode billing options that can be integrated in the billing process.
Is it possible to send the invoices via email or WhatsApp?
Yes. Many times businesses are conducted over different modes or different geographical areas. In such a situation, you can send invoices on the myBillBook software via email or even WhatsApp, whatever your clients prefer.
Know more about  Billing & Accounting Software for Small Businesses