Bill Book Format
Bill Book format, or simply a bill format, is something every business person is quite familiar with. If you're into a business and looking for the latest bill book format, you're at the right place. myBillBook offers a variety of bill book formats that suit every business need. Using the billing app, you can further customise the colours, fonts, and even the information on the invoice to match your company's brand image or your existing invoice.
Bill Book Format – The Must Haves
A bill book records and tracks all sales transactions. The format of a bill book can vary depending on the business's specific needs, but it typically includes the following information:
Date of the sale
Name and contact details of the customer
Description of the goods or services sold
Quantity and price of each item
Total amount due
Payment terms and due date
Any applicable taxes or discounts
GST Bill Book Format
Here is a Bill Book Sample: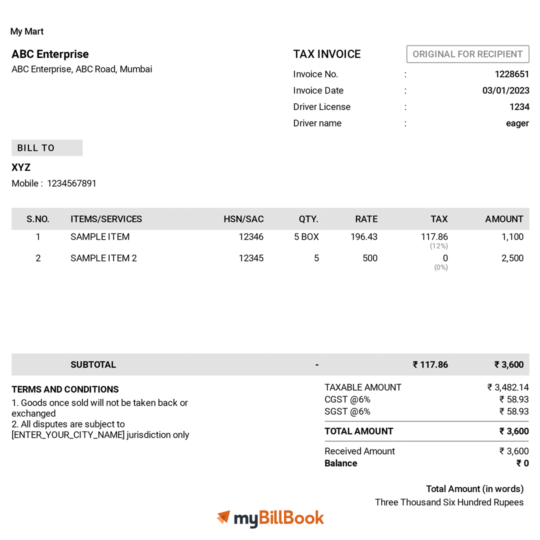 Download Bill Book Templates
Try these easy-to-use bill book formats for your business today. Download bill book format in Word, bill book format in Excel, GST bill book format, bill book format in Google Doc now!
GST Bill Book Format 
Businesses must include additional information in their bill books in countries with a goods and services tax (GST) system. The details consist of the GST registration number of the business, the GST rate applied to each item, and the amount of GST charged on the sale.
Bill Book Format in Word
There are several ways to create a bill book in Microsoft Word. One option is to use a pre-designed template, which you can find in the "Templates" section of Word or through a quick online search. These templates usually include a basic layout and placeholder text, which you can customise to fit the needs of the business.
Alternatively, businesses can create their bill book format in Word by creating a new document and designing the layout from scratch. The document creation may involve adding tables, text boxes, and other formatting elements to create a professional-looking document.
Excel Bill Book Format
Another option for creating a bill book is using a spreadsheet program like Microsoft Excel, one of the best formats. This can be particularly useful for businesses that need to track many sales transactions and generate reports based on this data.
Businesses can set up a new spreadsheet and include columns for the relevant information, such as the date of the sale, customer information, and item details to create a bill book in Excel. In addition, you can use these formulas to calculate the total amount due and other totals. Excel also offers a range of formatting and styling options to make the bill book more visually appealing.
Bill Book Format PDF
Many businesses prefer to create their bill books in PDF format, allowing them to easily share the document with customers and keep a digital record of their sales transactions. PDFs are also less likely to be altered or edited accidentally, making them a secure option for important documents.
Businesses can use a Word or Excel template to save the document as a PDF for creating a bill book in PDF format. In addition, various online tools and software programs can be used to create and customise PDF documents.
Use of Bill Book Format
Bill books is used by businesses to record and track their sales transactions. You can use the bill books for various purposes, including
Generating invoices for customers

Monitoring payments and outstanding balances

Keeping track of inventory levels

Analysing sales data to identify trends and patterns

Filing tax returns and reporting sales to the relevant authorities
Benefits of Using Online Bill Book Formats
Compared to traditional bill books, online bill generators like myBillBook offers the following benefits to the users.
While traditional bill generation involves hand-written bills, bills created online or through myBillBook provide professionally-looking computer-generated bills.
While traditional bookkeeping involves filing and saving a copy of every bill issued, the latest bill generation software digitally records all the transactions making it easy for your to track and manage your finances.
Forget the calculator to total your bills, the billing software has an automated bill generation process that does all the math required for invoice generation. Just add the sold products and their quantity, and the bill generator will calculate the respective GST rate, discount, other charges (if applicable), and the total amount in seconds.
Sending a traditional bill to an out station customer requires time, effort and money. But with billing software like myBillBook, you can simply share the invoice copy through e-mail, Whatsapp, or any other electronic mail.
FAQs about Bill Book Format
Is there a standard bill book format?
No, there is no standard bill book format as specified by law. However, there are certain elements that must be included as per the new GST standards. Make sure to include them and how you format your bill is up to your business standards.
What is a custom bill book format?
A custom bill book format is a template you can modify to create personalised bill books for a specific business.
Where can I get a custom bill book format?
Several online bill book software options allow you to generate and print custom bill book formats. One such software is myBillBook, which offers a variety of features for creating professional bill book formats.
How can I customise my bill book?
To customise your bill book formats, you can start by selecting a reliable online generator such as myBillBook. Then, choose from one of the many free, pre-designed templates and add your company's name, logo, or slogan. You can also upload your design, but make sure the resolution is high quality.
What features can I customise in a custom bill book?
With a custom bill book format, you can modify various technical aspects such as the size and type of paper, the kind of cover (hard or soft), the number of sheets in the book, and the number of carbon copies (duplicate or triplicate).
Which paper sizes are available for print in myBillBook?
myBillBook offers regular printing in A4 and A5 sizes and thermal printing in 2-inch and 3-inch.
Can I create bills with GST on myBillBook?
Yes, you can. With myBillBook, you can create bills with or without GST as per your need.
What else can I create on myBillBook other than bills?
Besides bills, you can create payment receipts, purchase vouchers, purchase orders, quotations, purchase returns, sales returns, expense vouchers, and delivery challans on myBillBook.
Know more about Billing Software & Billing Format