Tips to Manage Multiple Bank Accounts Efficiently
As a business owner having more than one bank account is not uncommon. It's easy to open multiple bank accounts, but managing them is a bit challenging. This article will help you with tips to manage your multiple bank accounts effectively.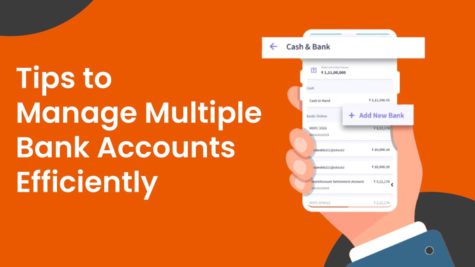 Types of Business Bank Accounts
Before knowing the tips for multiple bank account management, let's look at the different types of business bank accounts.
Current Account: One of the most widely used business accounts is the current account. Businesses can receive and send money to and from the current account without any limits. The account can also be used to manage payroll, expenses and other financial tasks.
Merchant Account: If a company accepts payments through debit cards, credit cards, or other e-commerce channels, it must have a merchant account. When a customer makes a card payment, the money gets transferred to the merchant account first and then to the business bank account.
Credit Card Account: If a business takes a credit card in its name, it will hold a credit card account with the business. It can use the business credit card for emergencies or miscellaneous expenses. Maintaining credit cards effectively leads to better credit score thereby, better credit availability.
Certificates of Deposit Account: Just like a savings account for personal use, the certificates of deposit account is for businesses. However, the latter earns more interest than the former. Also, businesses don't have access to the funds in the account for a set period.
Businesses with excess capital can deposit their funds in a CD account. The bank might levy heavy penalties if the business takes money out of a CD account before maturity.
Trust Account: A Trust Account is used by businesses to deposit their unearned incomes. The type of assets held in the trust account includes stock, mutual funds, cash bonds, real estate, and other investments.
Foreign Currency Accounts: The foreign currency bank account helps businesses transact in foreign currencies. They can pay and receive in any currency using the account. Any onshore or offshore bank or financial institution can maintain the account. Depending on the account type, the funds in the account also earn interest.
Tips to Manage Multiple Bank Accounts
If you have multiple bank accounts registered under your business name, you need to manage them effectively to avoid losing track of your funds. Here are some tips that would help you manage multiple bank accounts efficiently.
If you have multiple bank accounts, take advantage of online banking. Having internet banking access to all your business bank accounts would enable you to access the accounts from anywhere.
Use tools like spreadsheets to keep track of all the critical information of your multiple bank accounts.
Use each bank account for a specific purpose. For instance, use one account for all your business transactions. All the purchases made at your business must go into the account.
Limit the number of transactions between your own accounts.
Use accounting and budgeting apps to manage multiple bank accounts.
Using myBillBook to manage multiple bank accounts
myBillBook is an  accounting and billing software that helps businesses manage their multiple bank accounts efficiently. Users can add multiple bank accounts to the billing software and conduct various transactions using the app. myBillBook allows users to do the following tasks with the multiple bank accounts feature.
Receive payments from clients
Display different account information on invoices
Transfer money among the accounts
Enter payment-ins, add or reduce money.
Share bank account details through Whatsapp.
View account transactions – Day-wise, week-wise, month-wise, quarter-wise, year-wise, within a date range, and entire transactions.
Download account statement
Track payments across different payment modes
To get a better understanding of the multiple bank accounts feature visit the page today. You can also subscribe to our trial pack to experience the app's various billing and accounting features for free. Download myBillBook now!
Know more about Billing Software & Billing Format