Business Loan Documents
Business loan documentation is the list of documents required by banks or financial institutions to apply for or to approve a business loan. The list of business loan documents varies from one lender to another. However, the basic or the main documents related to identity proof, address proof, business proof, financial documents, etc., remains the same. After considering your business or industry type, the bank in which you have applied for the business loan might ask for specific documents for your case. You can hence use the list of business loan documents mentioned here as the primary set of documents required to apply for a business loan.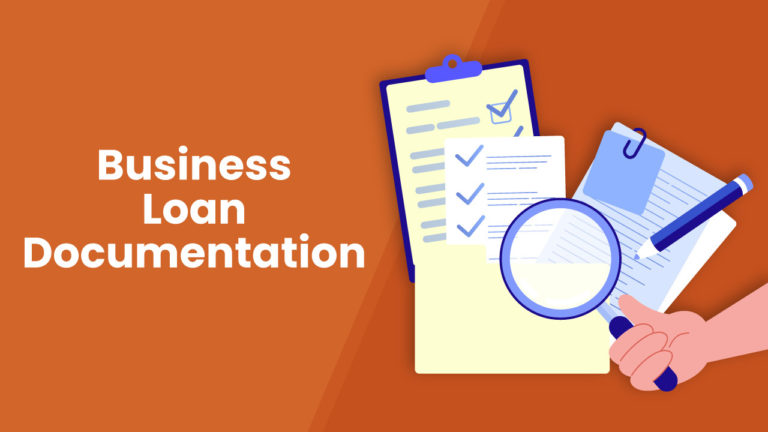 Business Loan Document List
Identity Proof
Aadhaar Card
Passport
Voter's ID Card
Driving License
Address Proof
Aadhaar Card
Passport
Voter's ID Card
Driving License
Utility bills

Electricity
Water
Bank statements displaying the address
Business Proof
Business registration documents 
Sole Proprietorship

Sole Proprietorship registration certificate
Trade licenses or relevant licenses and permits
Sole Prop. Declaration

   Partnership Firm

Partnership Deed
Partnership registration certificate

    Private Limited Company

Certificate of Incorporation//Shops and Establishment certificate
Memorandum of Association (MOA)
Articles of Association (AOA)

     Limited Liability Partnership (LLP)

LLP Agreement
Certificate of Incorporation
– GST (Goods and Services Tax) Registration Certificate
– Business PAN Card
– Business bank statements for the past 6 months
– Proof of Continuation
Income tax returns (ITR)
Trade license
Establishment/Sales Tax Certificate
Financial Documents
Audited financial statements

Balance Sheet for the past 2-3 years
Profit & Loss Statement for the past 2-3 years
Income tax returns (ITR) filed for the previous 2 to 3, including computation of income.
Bank statements (personal and business) for the past 6 months
Proof of Ownership or Collateral Documents (For Secured Loans)
Property documents

Property deed
Sale agreement or possession letter if you are offering the property as collateral
Asset valuation documents (if applicable)
Business Plan (For new businesses)
Detailed business plan highlighting the company's operations, future projections, and how the loan will be utilised
KYC (Know Your Customer) Documents
Passport-size photographs
KYC forms (provided by the lender)
Other Documents
Existing loan statements, if applicable
Trade references (if required by the lender)
It's important to note that the documentation requirements may vary based on the lender, loan amount, and type of business. You should check with your chosen lender or financial institution for their specific document requirements and any additional documentation they may need for your business loan application.
FAQs on Business loan for women
Why do I need to submit a lot of documents for a business loan?
Business loan documentation helps lenders to assess the creditworthiness and financial stability of your business. These documents provide insights into your business operations, financial history, and repayment capacity, helping the lender make an informed decision about approving your loan application.
Can I apply for a business loan without collateral?
Yes, many banks offer unsecured business loans that do not require collateral. However, the eligibility criteria and terms for unsecured loans may vary, and the interest rates could be higher compared to secured loans.
Do I need to submit both personal and business financial documents for a business loan?
Yes, when applying for a business loan, you typically need to submit both personal and business financial documents. While personal financial documents help establish your personal financial stability and repayment capacity, business financial documents provide information about your business's financial health.
How many years back should my financial statements go?
It is common for lenders to request financial statements for the past 2-3 years. This time frame allows the lender to assess your business's financial performance over a reasonable period and evaluate its stability and growth potential.
Can I use projected financials if my business is new?
If your business is relatively new and does not have an extensive financial history, you can provide projected financial statements, including sales forecasts, expense projections, and cash flow statements based on your business plan and market analysis. It helps the lender assess the viability and potential profitability of your business.
Are there any specific documents required for small business loans?
The requirements for small business loans may vary depending on the lender and loan program. Some lenders offer specialised loan products for small businesses, which may have specific documentation requirements tailored to the needs of small businesses.
Are there any additional documents required for specific industries or loan types?
Yes, certain industries or loan types may have specific document requirements. For example, if you are in the healthcare industry, you may need to provide licenses, certifications, or permits specific to your practice. Additionally, different loan types, such as equipment loans or working capital loans, may have additional document requirements based on the purpose of the loan. It's essential to check with the lender or loan program to understand any industry-specific or loan-specific document requirements.
What is document verification in a business loan?
The lender will review and evaluate your business loan documentation as part of the loan application process. The information provided in the documents helps the lender assess your creditworthiness, analyse the risk involved, and decide on your loan application. After the evaluation process, the documents will be handled according to the lender's internal policies and procedures.
Know more about Businesses loans & Ideas