Business Loan
What is a Business Loan?
A business loan or a commercial loan is a financial product offered by banks and other institutions to cater for the capital requirements of a business. It helps organisations to grow and expand in various business aspects. Lenders like NBFCs (non-banking financial institutions), credit unions, and other financial institutions also offer business loans. Like any other loan, the lender would provide a certain amount based on the business's eligibility, and the borrower would repay it (principal+interest) in easy monthly instalments (EMIs) in a pre-agreed fixed period of time (tenure).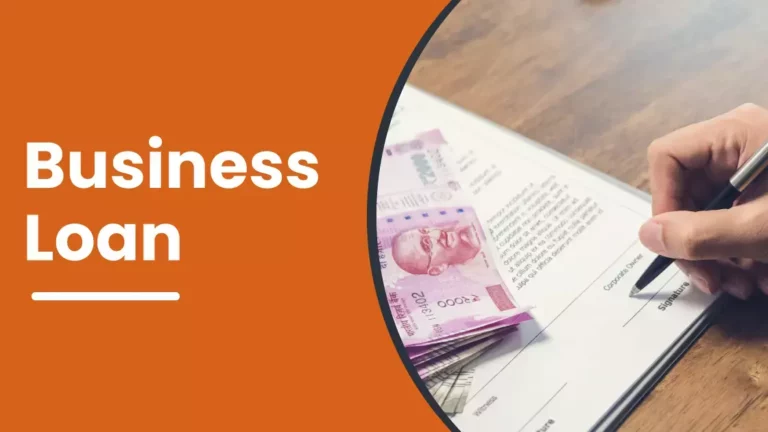 Types of Business Loans
Secured Business Loans
Secured business loans are offered against collateral like company-owned land, property, equipment, commercial property or on a personal guarantee.
Typically offered for start-ups and small and medium businesses to cater to their growing needs.
Secured business loans can be used for working capital requirements, business expansion, machinery purchases, infrastructure development, etc.
Eligible businesses for secured loans include SMEs, MSMEs, proprietorship & partnership firms, limited liability companies, and private or closely held companies.
The secured business loan amount ranges from Rs.2 lakh to Rs.50 lakh.
Offered at longer tenures and lower interest rates
Unsecured Business Loans
Also called collateral-free loans
Lenders do not require security or personal guarantees to issue unsecured business loans.
These loans are provided based on the borrower's creditworthiness and repayment ability.
Typically issued to start a new business, to expand existing business, machinery or infrastructure upgrades, working capital requirements, etc.
SMEs, MSMEs, Private limited firms, partnership firms, LLP, and sole proprietors who meet the criteria are also eligible for the loans.
Attract high-interest rate of interest due to no security
Faster approval
Defaulting on unsecured loans would badly affect the credit score
Working Capital Loan
Working Capital loans are provided for the regular operational needs and short-term financial obligations of a business.
It can be available as both secured and unsecured loans.
Typically used to buy stocks, raw materials purchases, pay staff salaries or rent, daily expenses, inventory management, and other short-term needs.
Not meant for business expansions or asset purchases
Typically issued with a short repayment tenure – 3 to 48 months.
For secured working capital loans – business-owned property, securities, gold, investments or the business itself can be considered as collateral.
For unsecured working capital loans – lender's financial statements, credit score,  tax returns, and business turnover are taken into account
Eligible business types include self-employed, private or public companies, partnership firms, MSMEs, self-employed professionals or non-professionals.
Different types of working capital loans are available, including Overdraft Facility or Cash Credit, Term Loans, Accounts Receivable Loans, Post Shipment Finance, Bank Guarantee Loans, etc.
Term Loan Facility
A term loan is a commercial business loan with a fixed repayment schedule and interest rate.
Both secured and collateral-free term loans are available
A flat interest rate will be charged throughout the tenure
Higher tenures attract lower interest rates
Generally used for large capital expenditures
Interest is a tax-deductible expense
Term loan amount typically varies from Rs.50,000 to Rs. 2 Crore
Tenure up to 7 years
Over Draft (OD) Facility
Also called Cash Credit Limit Facility
Not like a regular business loan
Issued only to current accountholders of the bank
An overdraft facility allows businesses to use funds up to a prescribed limit.
Banks offer a prespecified amount for the OD facility up to Rs.10 lakhs.
The eligibility to apply for an OD depends upon the borrower's repayment history, account value, banking relationship, credit score, and other factors.
Businesses can withdraw the required funds and pay interest only on the utilised amount.
Suitable for short-term business goals and business emergencies
Interest rates are calculated on a daily or monthly basis
Repayments can be made by simply depositing the amount in the borrower's current account
The repayment tenure is typically 3-12 months. Borrowers can repay the principal amount at any time within the tenure, but the interest must be paid monthly.
The OD facility attracts an annual fee, processing fee and others based on the bank's terms
Government-backed Loans
The Indian government has launched various credit schemes to encourage MSMEs. Some schemes include Pradhan Mantri MUDRA Yojana (PMMY), Stand-up India, Credit Guarantee Schemes (CGS), etc.
Features and Benefits of A Business Loan
High loan amounts
Flexible tenures
Minimal documentation
Faster disbursals
No collateral
Easy repayment options
Competitive interest rates
Online application process
Benefits offered by Business Loans
Easily accessible
Flexibility to use
Tax benefits
Convenient repayment
Helps in business growth & expansion
Helps in building your credit score
When should I consider taking a business loan?
To start a new business
To expand existing business 
To procure the latest equipment or machinery
To meet short-term financial needs
For emergency expenses
Which businesses can apply for a business loan?
Self-employed professionals and non-professionals
Proprietorship firms
Partnership firms
Limited liability firms
Private limited companies
Closely held limited companies
What is the age bracket to apply for a business loan?
Applicants must be between 21 to 65 years of age to apply for a business loan.
What type of collateral is required for a secured business loan?
Any physical property owned by the borrower or the company
Personal investment instruments, including mutual funds, stocks, gold bonds, etc
Large machinery and equipment
Gold
What is the maximum tenure of a business loan?
The tenure of business loans varies from 3 years to 72 months.
Know more about Businesses loans & Ideas