Top Government Loan Schemes for Businesses
In today's economy, starting a business from scratch is challenging. Starting up a new business needs a lot of investment and capital. To help business owners with working capital, the government has thus created different schemes to encourage startup owners and businesses to grow and help them out during the initial stages.
Here, we will look at some of the top government loan schemes that people can tap into when starting a new business.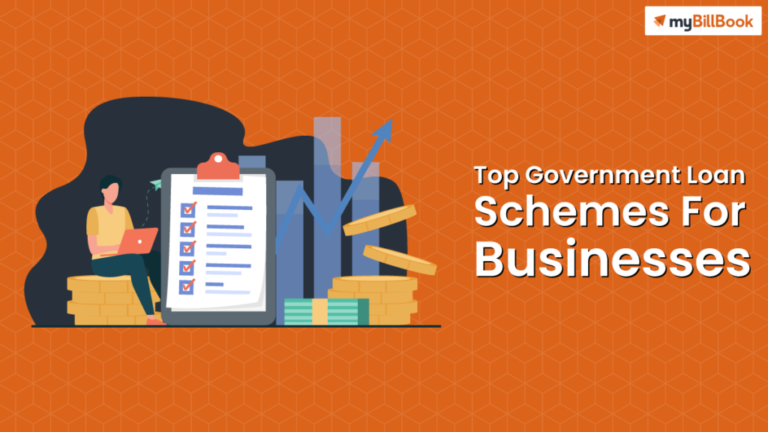 MSME loan in 59 minutes
MSME loan in 59 minutes, also known as PSB loans, was introduced to help businesses complete their loan paperwork within 59 minutes.
The government established this lending program to offer loans to people and enterprises who needed them for working capital.
The two main selling points are the low paperwork needed to apply for this loan and the excellent use of technology to handle loan applications.
Following are a few features of MSME loan in 59 minutes:
Through the scheme, businesses can receive loans upto 1 lakh to 5 crores with an interest rate of 8-8.5% under 59 minutes.
Women business owners are eligible for a special 3% reserve.
It is one of those government loan schemes with the highest security and minimal paperwork.
Pradhan Mantri MUDRA Yojana (PMMY)
One of the biggest and most recognized loans to micro, small, and medium firms is the Pradhan Mantri MUDRA Yojana, also known as the MUDRA credit plan.
Below are the characteristics of Pradhan Mantri MUDRA Yojana(PMMY):
MUDRA offers banks to finance micro units with loan requirements up to 10 lakh, and MFIs refinance help.
There are 3 categories under the PMMY scheme:
Shishu: Offers loans up to INR 50,000 at a yearly interest rate of 1% to 2%.
Kishore: Offers loans with interest rates ranging from 8.6% to 11.5% per year for loans between INR 50,000 and INR 5,00,000.
Tarun: Includes loans between INR 5,000 and INR 10,000 at interest rates between 11.15% and 20% annually.
Credit Guarantee Fund Trust for Micro and Small Enterprises
CGTMSE has been providing collateral-free loans to MSMEs, which has been a great help for small businesses that may not have the necessary collateral to secure a loan from a bank.
Let's explore the features of this scheme:
MSMEs can receive loans upto INR 200 lakhs
A special preference is given to women entrepreneurs eligible for this scheme.
The trust charges 1% of the approved amount in fees annually.
Stand-Up India
The Stand-Up India loan program was created especially for the Scheduled caste and Scheduled tribe communities, which do not have the same level of equality for conducting business.
Stand-Up India's benefits include:
The loan amount is available in increments of INR 10 lakhs up to INR 1 crore.
This loan could cover the cost of working capital, equipment, additional services, etc., for more than 75% of the total project budget.
SIDBI Loans for MSMEs
The Small Industries Development Bank of India (SIDBI) was established in 1990 to meet the financing requirements of businesses in the MSME sector.
Below are the characteristics of the scheme:
SIDBI offers indirect credit programs to NBFCs (Non-Banking Financial Companies) and SFBs and direct loan programs for MSMEs (Small Finance Banks).
The loan amount might range from 10 Lakhs to 25 Crores.
The loan term can be up to 10 years. The best part about this scheme is that loans up to INR 1 crore can be obtained without any security.
SMILE – SIDBI Make in India Soft Loan Fund for MSMEs
SMILE targets companies that want to grow and expand their already successful operations. The Small Industries Development Bank of India, SIDBI, has established a lending program to assist companies in maintaining their debt-to-equity ratio.
Features of SMILE include:
The SMILE Loan program's minimum loan amount is INR 25 lakhs.
The loan has a 10-year payback schedule which must be adhered to.
Under the SMILE loan program, 25 sectors will receive financial support at a reasonable interest rate.
National Small Industries Corporation(NSIC)
National Small Industries Corporation (NSIC) is an Indian government enterprise with ISO certification in the Micro, Small, and Medium Enterprises category. The National Small Industries Corporation is a nonprofit organisation that supports, encourages, and promotes the growth of MSMEs (micro, small, and medium-sized enterprises) across the country.
NSIC provides various schemes to promote the growth of MSMEs.
Marketing Program
One of the key tools for the growth of any business has been recognized to be marketing support.
The National Small Industries Corporation developed several programs to aid businesses in their marketing endeavours in domestic and international markets. These plans are:
Marketing Intelligence
Trade shows and technology events
Tendering and consortiums
Credit Support
As part of the Credit Support plan, NSIC offers:
Financing for the purchase of raw materials
Financing for marketing initiatives
Syndicating loans with banks for financing
Eligibility Criteria for Government Business loan
According to their needs and ability to repay the loans, any registered firm falling under the category of micro, small, and medium enterprises is qualified to apply for a loan under one of these many programs.
Any commercial alliance, including
Sole proprietorship
Individuals
Limited Liability Company
Personal Limited Company
Any additional corporate structure can apply for business loans by the government.
How to Get a Loan to Start a Business From the Government
To make the application procedure quick and simple, any of these loans can be requested through online portals using digital applications.
This lessens the paperwork the business owner must complete and speeds up the loan application process.
Some of the loans have two repayment options, which are
Every month, a portion of the principal + the interest is paid through EMI.
A principal is repaid after the loan term and some interest payments made in EMIs.
Important Points to remember:
A solid credit score is required to verify the credibility of the individual and the business to obtain a business loan at a reasonable interest rate.
Additionally, there should be no default history under either the business name or the entrepreneur's identity.
Aside from this, all other paperwork should be in order, including the PAN card, GST registration, bank records, books of accounts, etc.
After getting everything in order, all that's left to do is complete the online loan application!
Know more about Businesses loans & Ideas