RBI Guidelines on Opening Multiple Current Accounts
In October 2021, the Reserve Bank of India revised the conditions to open Current Account with the banks. If you're a business owner, you must be aware of the new regulations brought in to bring more credit discipline to the country.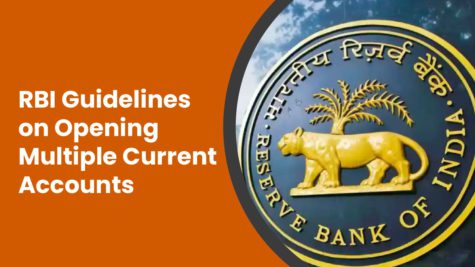 Revised Current Account Opening Instructions – RBI
Banks can offer Current Accounts to borrowers who have availed credit facilities like Cash Credit (CC) or Over Draft (OD) facility with exposure of less than Rs.5 crore.
If the banking system exposure is more than Rs.5 crore, the borrower can have a Current Account with only one bank with which it has CC/OD facility. Also, the bank must have at least 10% of the banking system's exposure to the borrower to avail the account facility.
Other lending banks cannot open any Current Accounts; instead, they can open Collection Accounts, subject to certain conditions. Funds deposited in such collection accounts should be remitted within 2 working days to the CC/OD account maintained by the above-mentioned bank.
If none of the banks has at least 10% exposure of the banking system to the customer, the lender having the highest exposure can open a current account.
Non-lending banks cannot open Current Accounts as per the revised regulations.
Borrowers whose exposure to the banking system is Rs.50 Crore or more – Escrow-managing banks will maintain current accounts.
Borrowers whose exposure to the banking system is between Rs.5 Crore and Rs.50 Crore – No restriction on opening a current account.
Borrowers whose exposure to the banking system is less than Rs.5 Crore – Banks can open current accounts subject to conditions. The borrower must inform the bank officials as and when the credit facility availed by them becomes Rs.5 Crore or more.
No restrictions to open current accounts for those customers who have not availed any CC or OD facility from the banks.
Know more about Billing Software & Billing Format