Dental Bill Format
An organised and professional dental bill format is crucial for dental clinics to maintain transparent communication with patients and ensure seamless financial transactions. A well-structured dental bill not only reflects the clinic's professionalism but also enhances patients' trust in the services provided. There are multiple ways to create a dental bill format. Discussed here are some of the most used and best ways to create a dental clinic bill format. Continue reading and ensure to make the right choice at the end.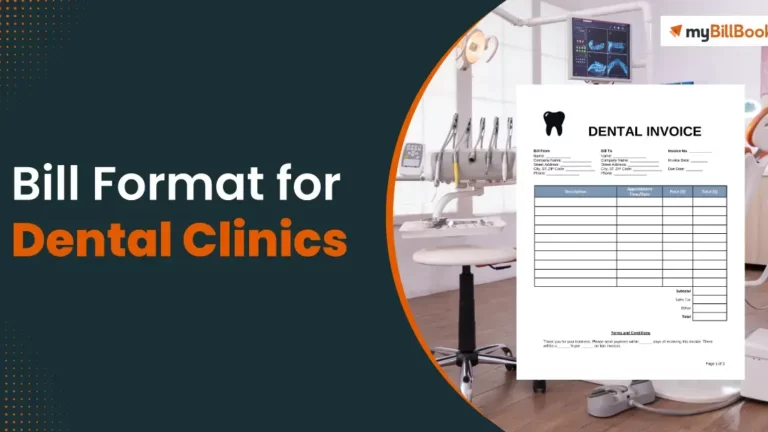 What is a Dental Bill Format
A dental bill format is a template used to create bills for the services provided by a dental clinic. It includes all the fields required to provide details of the patient, dental problem, dental services provided to a patient, their corresponding charges, clinics' and patients contact details, dental procedures performed, payment terms, etc. A well-defined dental format ensures transparency in financial transactions and facilitates clear communication between the dental clinic and the patient regarding the billing process.
Download myBillBook to Generate Bills
Elements to Include in a Dental Bill Format
Here is the list of standard fields that must be included in the dental clinic bill format. Other fields can be included as per the clinic's requirement.
Clinic Information: Start with the dental clinic's name, address, contact details, and any registration or license numbers.
Patient Details: Include the patient's name, address, contact information, and unique patient ID if applicable.
Date and Invoice Number: Mention the date of the dental service and assign a unique invoice number for easy tracking.
Description of Dental Services: Clearly list the dental procedures provided, along with corresponding codes if applicable.
Itemised Charges: Break down the costs of each service rendered, including consultation fees, treatments, and any additional expenses like dental implants or laboratory work.
Taxes: Mention the applicable taxes, such as GST, and show the tax amount separately.
Total Amount: Sum up the charges, including taxes, to provide the total bill amount.
Payment Terms: Specify the payment due date and accepted payment methods (cash, card, online transfer, etc.).
Dental Clinic Policies: Include any relevant clinic policies regarding refunds, cancellations, or rescheduling.
Clinic Seal and Dentist's Signature: Add the clinic's official seal and the dentist's signature for authenticity.
Sample of Dental Bill Format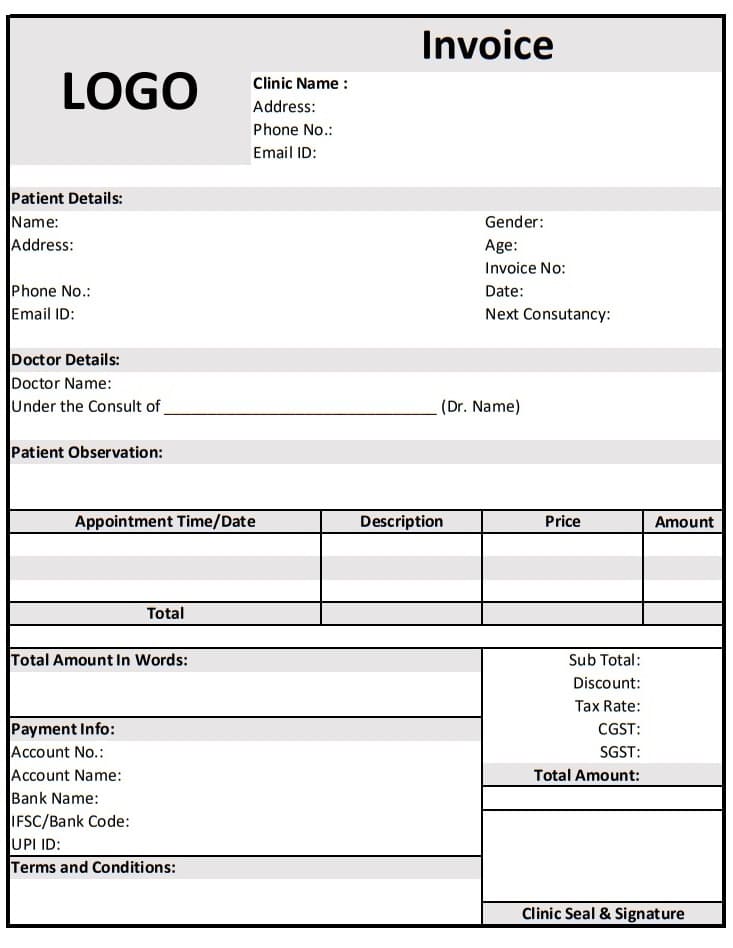 Dental Bill Format in Word, Excel, Google Docs, and PDF
Dental bill formats can be created using popular software like Microsoft Word, Excel, and Google Docs or as PDF templates. These formats allow easy customisation and can be saved and shared digitally or printed for physical copies. Let us see each format in detail.
Dental Bill Format in Microsoft Word: Creating a dental bill format in Word offers the flexibility to design a personalised and professional-looking invoice. You can start with a blank document and add all the necessary elements as mentioned above. Word's user-friendly interface allows easy customisation and the ability to save the final bill as a Word document or convert it to PDF for sharing.
Dental Bill Format in Microsoft Excel: Using MS Excel for a dental bill format provides a structured and organised layout. Excel's grid-like structure enables you to create itemised tables, calculate totals, and automatically generate sums and taxes. You can also add formulas for quick calculations, making it convenient to handle complex billing scenarios. The final dental bill in Excel can be saved as an Excel file or converted to PDF for digital sharing.
Dental Bill Format in Google Docs: Google Docs offers a cloud-based solution for creating dental bill format, accessible from any device with internet connectivity. You can choose from various templates or create a new document from scratch, customising it as needed. Once completed, the dental bill can be saved in Google Docs or exported to PDF for distribution.
Dental Bill Format in PDF: A PDF ensures the dental bill's layout and formatting remain consistent across different devices and platforms. Once the dental bill is created in Word, Excel, or Google Docs, it can be easily converted to PDF for sharing with patients, printing, or archiving. PDFs are a preferred format for official and legal purposes.
It's easy to create a dental bill template in Word, PDF, Excel, and Google Docs. However, there are some potential drawbacks to using these tools, such as limited automation, inconsistent formatting, security risks, version compatibility issues, and lack of comprehensive reporting features. Managing patient data and billing history could also be less organised, and customisation options might be limited.
To overcome these challenges, dental clinics can opt for specialised billing software like mybillbook, which offers automated calculations, secure data storage, professional templates, streamlined reporting, and seamless integration, providing a more efficient and professional billing experience.
Using Billing Software to Generate Dental Bills
With the right billing software in place, you don't have to create any dental bill templates. The software offers a variety of templates from which you can choose the one that suits your clinic's requirements. Billing software like myBillBook also offers an invoice customisation feature that helps you to design your dental clinic invoice template all by yourself. You can add different fields, change fonts, add colours, clinic logos, watermarks, etc., to make the invoice look more personalised. Here are some more features offered by myBillBook that would help your dental clinic to streamline billing and accounting operations.
Features of myBillBook for Dental Clinics
myBillBook is designed to help small and medium business streamline their billing and invoicing processes effortlessly.
Instant Invoicing: With just a few clicks, dental clinics can generate professional invoices in real time, providing patients with detailed billing information right after services are rendered. This eliminates delays and reduces human errors, enabling prompt payment collection and improving cash flow. Dental clinics can share invoices with patients via email or messaging apps for quicker settlements.
Detailed Billing for Insurance Claims: The software provides detailed dental invoices, enabling patients to claim insurance coverage confidently and fostering transparency and trust between patients and dental clinics.
Customisable Templates: Choose from pre-designed dental bill templates and customise them as per your clinic's branding.
Patient Database: Maintain a well-organized patient database for easy access to their billing history.
Offline Access: Work seamlessly even without an internet connection, ensuring uninterrupted billing operations.
Safety and Security of Patient Data: The platform employs advanced encryption and secure servers to safeguard sensitive information from unauthorised access. Compliance with data protection regulations guarantees the confidentiality and privacy of patient records, fostering trust and confidence in the security of their data.
FAQs on Dental Bill Format
Can I include dental insurance details in the bill format?
Yes, dental clinics can include dental insurance details in the bill format, such as the patient's insurance policy number and the amount covered by the insurance.
Can dental clinics generate billing reports with myBillBook?
myBillBook offers reporting features, enabling dental clinics to generate billing reports for insights into revenue, outstanding payments, and financial performance.
Can dental clinics send reminders for overdue payments using myBillBook?
Yes, myBillBook enables dental clinics to set up automatic payment reminders, sending notifications to patients for overdue payments.
Is there a limit to the number of dental bills that can be generated with myBillBook?
There is usually no limit on the number of dental bills that can be generated with myBillBook, making it suitable for clinics of all sizes.
Can myBillBook handle both paper and electronic billing?
Yes, myBillBook allows dental clinics to generate both paper and electronic invoices. You can take a printout of the generated invoice or share the invoice electronically through e-mail or Whatsapp.
Know more about Billing Software & Billing Format