Experience Our All New Canva-Like Custom Invoice Feature
Here is the good news for all the myBillBook users who have been eagerly waiting for the 'Custom Invoice' feature. The feature is now live and accessible from the myBillBook application. Click on the 'Create Your Own Theme' option, and you're all set to personalise your invoice in Canva/Paint-like interface.
Let's look at the feature in detail to help you understand how well you can customise your invoice using the new feature.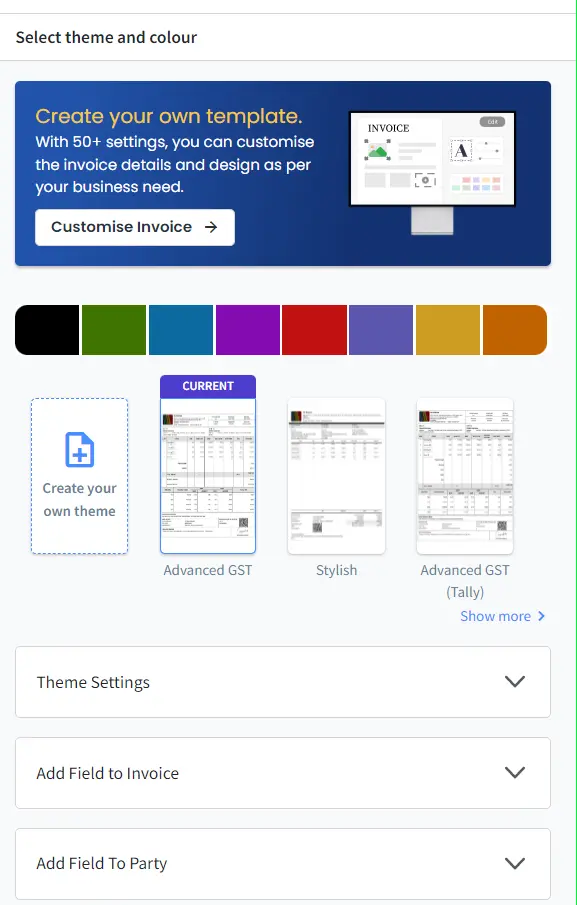 Custom Invoice with 50+ Customisation Options
Custom Invoice is a very useful and powerful feature designed to help small and medium businesses create customised invoices without extra cost and effort. Using the myBillBook application, you can create personalised invoice templates with 50+ customisation options and generate visually appealing and professional invoices that align with your brand identity.
Your business can leverage the Custom Invoice feature to stand out from the competition by creating on-brand invoices that leave a lasting impression on your clients while maintaining a streamlined invoicing process.
Design Your Business Invoice Template Your Way
While the previous version of myBillBook allowed users to choose from pre-designed themes, the current version enables custom theme creation. You can create your business invoice the way you like. Here are the various customisation options available in the 'Custom Theme' feature.
Name of the Theme – Create different templates and save each with a different name
Document Title – Name Your Invoice
Show/Hide Business Slogan – You can choose to display your business tagline.
Show/Hide background watermark – Add your business logo as a watermark
Show/Hide Footer Image – Can include any image at the bottom of the invoice
Choose font colour and style – From 8 different colour options and 6 six font styles
Printer settings – Choose margin width on all sides
Customisations Within the Invoice
Besides the newly added options, you can also customise the fields and columns within the invoice.
Show/Hide

Party Balance
Free Item Quantity
Item Description
Business Phone Number

Add Fields

PO Number
E-Way Bill Number
Vehicle Number
Any Custom Fields

Add Custom Fields to Enter Party Details like birthdays, DL Numbers, etc.
Add Columns to Item Table

Batch Number
Expiry Date
Manufacturing Date
Any Custom Column

Add Bank Account Number
Add Terms & Conditions
Add Signature
Custom Invoice Features At a Glance
50+ Customisation Options
myBillBook offers an extensive range of customisation options to personalise your invoice. These options include various colour combinations, font styles, and font sizes, allowing you to select the one that best represents your brand or personal preference. These options allow you to easily create professional and visually appealing invoices that reflect your unique identity.
Watermark Option
The watermark option of the Custom Theme enables you to add your company logo or any other image as a watermark on your invoices. Placing a watermark on your invoice helps enhance brand visibility and adds a professional touch to your invoices. It can protect your documents from unauthorised use while promoting your brand.
Customisable Item Table
You can easily modify the columns in the item table section of your invoices to include specific details such as item description, quantity, price, total amount, or any other relevant information. Additionally, you can adjust the width of these columns to accommodate the content and ensure a well-organized presentation.
Font Style and Size Selection
Choose from various fonts and adjust the font size to ensure readability and consistency. Customising the font style and size allows you to match your invoices with your brand's typography and maintain a cohesive look across all your business documents.
Printer Margins
Proper formatting and alignment are essential when printing invoices. Hence we provide options to set printer margins according to your printer specifications. This ensures your invoices are printed correctly without cutting off or distorting content.
Click-based Customisation
The Custom Theme offers a user-friendly and intuitive click-based customisation option. With this, you can easily customise your invoices by clicking the field you wish to modify. Click-based editing simplifies the customisation process by eliminating the need to go through all the options to customise a specific field, making it easy for users of all levels of expertise.
The Perks of Generating Personalised Invoices
Personalise your Brand Identity: Every business has a unique brand identity, and customisation options in invoice creation enable you to incorporate your brand elements into your invoices. This level of personalisation ensures that your invoices align with your overall brand image, fostering brand consistency and professionalism.
Professionalism and Credibility: When clients receive a professional-looking invoice, it instils confidence in your business and reinforces your credibility.
Stand Out from the Competition: Customised invoices enhance your brand recognition and create a positive perception of your business, setting you apart from your competitors.
Enhanced Brand Consistency: By using Custom Theme, you can ensure consistency in visual elements across all your branded materials. Consistent branding helps reinforce brand recognition and creates a cohesive experience for your customers.
Improved Communication and Clarity: Besides visual customisation, the Custom Theme feature provides flexibility in tailoring the content and layout of your invoices. Presenting invoices in a structured and easy-to-read format minimises confusion and potential disputes, resulting in smoother payment processes.
Time and Effort Savings: Designing custom invoices from scratch can be time-consuming, especially if you lack graphic design skills. The Custom Theme feature simplifies the process by providing pre-designed invoice templates that can be customised with a few clicks, thus saving time and effort.
Try 'Custom Invoice' Feature Now!
If you haven't tried the new Custom Theme feature, it's not too late. All the Enterprise Plan users can use the feature at no additional cost. Open the myBillBook application, click 'Create Your Own Theme' from the dashboard, and start creating customised invoice templates now.
Haven't found the feature on the dashboard? Don't worry.
Go to 'Settings > Invoice Settings' and click 'Custom Invoice' or 'Create Your Own Theme' to experience the magic.
If you still didn't find the feature, try updating or re-installing the myBillBook application, and you will be all set to explore the most-awaited feature.
Click here for a detailed guide to creating custom invoices using myBillBook.
Talk to Us to Know More About Custom Invoice Feature
Any queries regarding the 'Custom Theme' feature can be clarified by contacting our customer support through Whatsapp or voice call.
Know more about  Billing & Accounting Software for Small Businesses