Billing Software for Plumbing Business
Plumbing billing software automates your repair business's billing and accounting systems and leads to improved profitability and efficiency. You can send estimates and invoices to different residential and commercial plumbing projects using the billing software. Many other useful features, like inventory management, expense tracking, customer management, etc., are offered by myBillBook billing software for plumbing. Continue reading to understand how the invoicing app helps your plumbing business..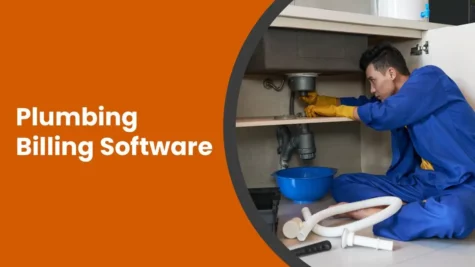 Features of myBillBook Billing Software for Plumbing Business
Go Paperless with e-Invoicing: Say goodbye to hand-written invoices and send professional-looking invoices using myBillBook billing software for plumbing. Whether you're in the field working on a plumbing project or out on personal work, you can send invoices using your phone and share them with your clients through Whatsapp or email.
When you're free, try customising the invoicing by adding your plumbing business logo, contact details, bank account details, etc., to the invoice template to make it look custom designed.
Add Plumbing Items to the Inventory: From a small screwdriver to heavy plumbing equipment, keeping track of the instruments is crucial to executing plumbing projects. Enter all your machinery details, quantity, purchase dates, cost and other information to maintain a record of all the plumbing equipment you own.
Staff Access: Your plumbing company's staff can access the billing software and perform certain tasks on your behalf in your absence. The billing app also allows you to control the kind of information each staff member can access based on their job role.
Manage Customers Efficiently: Add all your customer details to the 'Parties' section and maintain a comprehensive database of your clients. By searching the customer name, you will find the entire history of work orders, invoices, quotes, spare parts installed, etc., for a particular customer. With such a detailed history, you can provide high-quality plumbing services to your clients. myBillBook Mobile App: The billing software for plumbing is available on both desktop and mobile platforms. You can download the Android or iOS app to access it on mobile. A mobile app enables you to access your plumbing business information anywhere and anytime.
FAQs of Billing Software for Plumbing Business
Can I enter my purchase-related information in myBillBook billing software for plumbing?
Yes, you can create purchase invoices, enter payments out, purchase returns, and purchase orders in myBillBook billing software and keep track of all your payment-related information in one place.
Tell about the expense tracking feature of myBillBook plumbing billing software
The expense tracking feature available on myBillBook helps you keep track of your expenses related to your plumbing business. This helps you to keep a check on your expenditure.
What kind of business insights does the myBillBook app provide?
After using the app for some time, the billing app for plumbing will generate various business-related reports like sales reports, purchase reports, expense reports, etc., that will help you access the business performance from time to time.
Know more about Billing Software & Billing Format