Accounting Software for Musicians
Whether you're a freelance musician or own a music band, using accounting software for musicians to manage your accounting tasks would significantly save you time so that you can spend quality time composing your music.
myBillBook is a cloud-based accounting and billing software that helps freelancers and small and medium businesses conduct their business at ease. The accounting app takes care of billing, accounting, and people management tasks allowing creative professionals to focus on their primary job. Here are the features offered by myBillBook accounting software for musicians.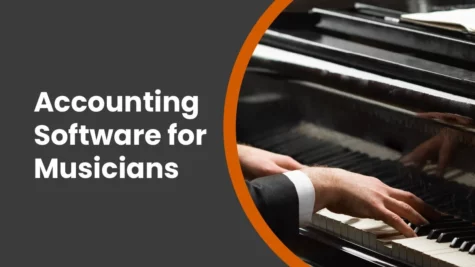 Features of myBillBook Accounting Software for Musicians
Records Financial Transactions: Invoice generation, quotation creation, expense tracking, payment collection, tracking accounts receivable and payable – all these functions are done by myBillBook accounting software for musicians effortlessly. You just need to use the billing software while doing all these operations. It then consolidates everything and helps you keep track of all your financials in one place.
Automates Tasks: Whether it is a recurring invoice or a payment reminder, the accounting software enables you to automate specific tasks, allowing you more free time to concentrate on your main music job.
Makes Data Accessible: When you create quotes and invoices from the accounting software, enter your expense details, and receive payments from your clients, all your financial transactions are recorded by myBillBook. Besides recording all the financial information, the accounting software for musicians also makes it accessible anytime and anywhere.
Cash & Bank: With the 'Cash&Bank' feature, you can add bank accounts to the myBillBook app and make entries about money addition and withdrawals. This way, you can keep track of your financials.
Professional Quotes & Invoices: Your music band can make quotes and invoices look professional using the pre-designed templates provided by myBillBook accounting software. You can also customise the invoices by adding fields related to your music industry.
Get Paid Faster: The accounting software for artists and musicians offers different payment-related features like SmartCollect payments and payment reminders that enable your clients to make payments on time.
Staff Management: If you have a music band, you can use the staff management feature of myBillBook, to mark their attendance, enter advance payments data, manage their payments, and the like. Even if you're not considering your co-musicians as your staff, you can use the feature to track the payments made to them.
FAQs on Accounting Software for Musicians
Can I migrate from my existing musician accounting software to myBillBook?
Yes, you can migrate from any other accounting software to myBillBook without any data loss. While signing in for the first time, the app will ask the same. You can select from which platform you're migrating to transfer the data seamlessly.
Can I send quotations to my clients using myBillBook billing software for musicians?
myBillBook is one of the accounting software for musicians. It allows you to create and share quotations or estimates directly with your clients online. Once the deal is confirmed, you can also convert the quotations into invoices.
Do I need accounting knowledge to use myBillBook accounting software?
You neither need an accountant nor any accounting knowledge to use or manage myBillBook musician accounting software. Like any other app on your mobile, you can understand how to use myBillBook at the very first glance.
How can myBillBook's dairy billing software provide valuable insights to dairy businesses?
myBillBook's dairy billing software provides insightful reports that analys business performance, allowing business owners to make data-driven decisions and identify growth opportunities.
Designed with a user-friendly interface and simple design, the billing software allows you to use it with much less effort. In case, you have queries, 24/7 customer service is always at your disposal.
Is myBillBook accounting software expensive?
myBillBook is designed keeping small and medium businesses in mind. It has different subscription plans to suit every business need. You can visit our pricing page to find a suitable plan for your music business.
Can I use myBillBook software from my mobile?
myBillBook is available for both desktop and mobile applications. You can download Android or iOS applications and use the same login credentials to log in to your account.
Know more about Billing Software & Billing Format