Vegetable Bill Format
Whether you're a wholesale vegetable supplier or a small vegetable store owner, an easy-to-use vegetable bill format makes it convenient to process everyday transactions. With the continuous footfall to the vegetable & fruit stalls, creating and generating bills faster with 100% accuracy is the key to improving customer satisfaction. Provided here is a detailed guide on how to create a vegetable bill format and how billing software helps to conduct faster and more accurate billing.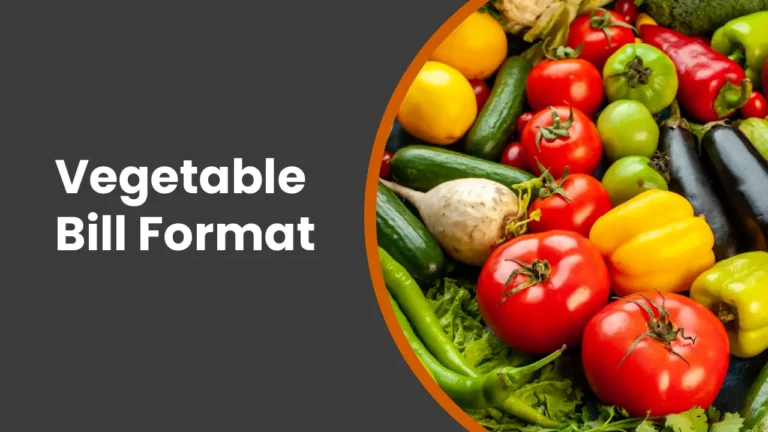 Understanding a Vegetable Bill
A vegetable bill is a document that contains the details of a vegetable purchase or sale transaction. It serves as a record, providing information on the types and quantities of vegetables purchased, prices, taxes, discounts, and other relevant details. The bill acts as proof of the transaction and facilitates accurate accounting and inventory management.
Download myBillBook to Generate Bills
Vegetable Bill Format
A vegetable bill format is a document that contains all the fields required to record a vegetable purchase transaction. When designing a vegetable bill format, it is crucial to include the following fields:
Seller and buyer details (buyer details optional): Name, address, and contact information of both parties involved in the transaction.
Invoice number for GST-registered businesses: A unique identifier for the bill, enabling easy tracking and reference.
Date: The date of the transaction.
Description: A detailed list of vegetables sold, including their names, quantities, and unit prices.
Subtotal: The total value of the vegetables before any taxes or discounts are applied.
Taxes: The applicable taxes, such as GST, CGST, SGST, etc.
Discounts: Any discounts provided, such as promotional offers or negotiated price reductions.
Total amount: The final amount payable, including taxes and discounts
Create a Vegetable Bill Format
With all the required fields in place, it is easy to create a vegetable bill format using the free softwares available. You can either use Microsoft Word or Excel to create vegetable bill format. If you don't have access to the software, you can use Google Docs or Google Sheets, which are completely free to create a vegetable bill format. Refer to a vegetable bill format online and create a bill format for your vegetable store.
Once you create a vegetable bill format, make a copy of the format each time you wish to create a bill. Enter the required details, calculate the bill total manually, take a print out and hand it over to your users. If you don't have a PC in your vegetable store, you can take multiple printouts of the bill format, fill them manually using a pen and hand them over to your customers
Switch from Manual Billing to POS Billing for Effortless Invoice Generation
Considering the frequent customer visits to vegetable shops, don't you think creating manual invoices is a bottleneck for faster billing? Unlike in shopping malls which are equipped with centralised ACs, there is no point for customers to wait in long queues. They might leave their carts and go to the next vegetable vendor or shop online and get their vegetable home delivered.
Imagine having an online application that would generate invoices in seconds. You just need to scan the bar code on the product or simply add the name of the vegetable and quantity, and the software will calculate the price and the total price of all the items. Click on print, and the invoice will be ready in seconds. All this is possible only with billing software with a point of sale (POS) billing feature.
myBillBook is a cloud-based billing software that can be accessed from any smart device. This means you can generate your vegetable shop invoices on your PC, laptop, tablet, or smartphone. Just install the app compatible with the device you are using, log in with your mobile number, and you're all set to generate invoices.
The POS billing feature offered by myBillBook is more useful for retail shops like vegetable and fruit stores. It requires less information to create an invoice. Further, it can also generate multiple invoices at the same time. You can keep the current invoice on hold and create a new invoice if there is any issue with the previous invoice. It allows barcode scanning for faster bill generation. However, you need to generate barcodes for each vegetable separately using the same software.
FAQs on Vegetable Bill Format
Are vegetable bills legally binding?
If the vegetable vendor is a GST-registered business, the vegetable bill is a legally binding document that serves as evidence of a transaction. The bills are crucial for resolving disputes and maintaining accurate financial records.
Can I customise the vegetable bill format?
Using the 'Custom Invoice' theme offered by myBillBook, you can personalise your invoices as per your business requirements.
Can I generate vegetable bills manually without billing software?
While it is possible to create vegetable bills manually using Word or Excel, utilising billing software can significantly streamline the process, reduce errors, and automate calculations.
Is POS billing available in myBillBook billing software?
Yes, myBillBook offers the POS billing feature with options like item first billing, optional party creation, barcode scanning, multiple invoice generation, and keyboard shortcut support.
Do I need to download separate software for the POS feature?
You just need to install myBillBook desktop or mobile app to access the POS feature. No separate software or hardware is required to use the POS billing option.
Know more about Billing Software & Billing Format