Tailor Shop Bill Book Format
Tailors work effortlessly to create custom garments that fit their clients perfectly. However, beyond the artistry of sewing, tailors also need to manage the business side of their operations efficiently. One essential tool for this purpose is the tailor shop bill book, which is necessary for successfully managing the business and keeping track of all the transactions. It aids in your ability to produce well-organised and expert invoices for your clients. This article will explore tailor shop billbook formats, explaining what it is, its components, benefits and format in Word.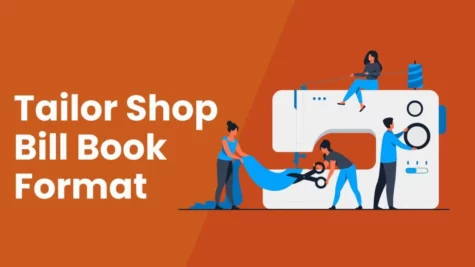 What is a Tailor Shop Bill Book Format?
A tailor shop bill book usually has a set format that includes the customer's details, the shop's name, address, phone number, etc. It also provides the item's description, quantity, price, and additional fees like taxes. The format ensures transparency by displaying a total cost summary and the payment method, along with a space for the customer's signature or acknowledgement. 
Components of a Tailor Shop Bill Book
A typical tailor shop BillBook includes the following components:
Shop name and contact information: The Shop's name, address, phone number, and email are displayed on each bill with the logo.

Unique Serial Number.

Date of Issue 

GSTIN

(Goods and Services Tax Identification Number)

Customer Details include the customer's name, address and contact details.

Description of products and services- Descriptions of the items or services provided (e.g., types of garments, alterations), number of items or hours of the service, including the price per item or hour of service.

Payment Details: Any applicable taxes, such as

GST

or other local taxes, any discounts offered and the final amount after all taxes and discounts. 

Terms and Conditions: All the terms and conditions for tailoring services, such as return policies, delivery times, alteration policies, etc.
Tailor Shop Bill Format in Word
Creating a tailor shop bill format in Microsoft Word has several pros and cons- 
Pros:
Customisation

: Word is an excellent tool to create a bill format from scratch. It offers blank templates and makes it simple to create a bill format. 

Cost-Effective:

Word is affordable because it doesn't require additional software and is typically available on most computers.

Immediate Access:

Instant bill creation and editing make it convenient for daily operations.

Offline Operation:

You can create and amend bills without an internet connection because Word also operates offline.
Cons:
Limited Automation:

Creating computerised calculations and inventory management in Word can take time and effort compared to billing software. 

Risk of Errors

: Errors in calculations and client information are more likely to occur when data is entered manually, which could lead to billing disputes or other financial inconsistencies.

Inconsistent Formatting:

Maintaining consistent formatting across numerous invoices may take some effort, especially if many shop members submit statements.

No Central Database

: A centralised database for customer data and transaction history is needed to manage client relationships and track order histories.
myBillBook Billing Software To Generate Tailor Shop Bills
To overcome the difficulties of using Word for tailor shop bill preparation, consider myBillBook billing software. For companies like tailor shops, specialised billing software offers the following advantages:
Customised Bills and Invoices: Tailor shops can use the templates available on mybillbook or design their custom templates to make the bills according to your company's needs and add a personal touch.
Instant Sharing via Email and WhatsApp: Tailor shops can easily share bills and invoices with customers via email or WhatsApp, which makes it more convenient for both parties.
Easy Creation of Payment Receipts: Tailor shops can rapidly produce payment receipts to verify that customers have paid them. This feature makes the documentation process easier, making it convenient to acknowledge payments and keep a thorough record of all financial activities within the store.
Seamless Management of Accounts Receivable: myBillBook makes it simple to keep track of who owes you and when it's due, and even to set up automatic payment reminders. Tailor shops can use this feature for a healthy cash flow, reducing the risk of untimely payments or unpaid bills.
Easy Management of Stock Inventory: Tailor shops use several fabrics and materials. myBillBook's inventory management feature helps to keep track of their fabric and material inventory with low-stock alerts, and the categorisation of items is also available for better organisation.
Benefits of Using myBillBook for Tailor Shop Bill Format
Using myBillBook for tailor shop BillBook format offers numerous benefits that contribute to efficient management:
Multilingual Support: Multiple language business management is possible with myBillBook. This multilingual support extends beyond merely navigation. However, it is also accessible for all other features, including party addition, item addition, invoice 
generation, etc.
Offline Billing: Ensure continuity of service even when there is no internet connection. myBillBook makes it possible to write bills and manage orders without a connection, making it the perfect solution for tailors working in spots with erratic connectivity.
Multiple Payment Options: When everything is getting digitalised and cashless, it is essential for a business to offer various payment options. Just add the account details in myBillBook and choose the preferred payment option like debit card, credit card, UPI, cash, etc. 
Automatic Calculations: The advantage of effortless and rapid calculations in a tailor shop cannot be overstated. Manual calculations are more time-consuming and prone to errors, leading to customer dissatisfaction and financial discrepancies. However, with the aid of tailor shop billing software, like myBillBook, calculations become swift and error-free. 
A profitable tailoring business depends on having a well-organised billbook format. It promotes customer professionalism and trust while assisting in maintaining correct financial records. Including the abovementioned components in your billbook may streamline your processes and give your customers outstanding service. 
FAQs on Tailor Shop Bill Book Format
Why do tailors need a billbook format?
Tailors need a billbook format to maintain organised records of transactions, provide professional invoices to customers, track payments, manage inventory, and ensure compliance with tax regulations. It helps in running a successful and efficient tailoring business.
Can a tailor shop billbook format be customised to match the shop's branding?
Yes, the tailor shop billbook format can be customised to match the shop's branding. You can include your shop's logo, choose fonts and colours that align with your brand, and design the layout to reflect your shop's identity.
How often should a tailor shop update its billbook format?
Tailor shops should update their billbook format whenever there are changes in pricing, tax rates, contact information, or terms and conditions. Regular updates ensure that your invoices remain accurate and compliant with current regulations.
Is it necessary to keep copies or backups of billbook records?
Yes, keeping copies or backups of billbook records for record-keeping, tax purposes, and potential audits is crucial. Both physical and digital documents should be stored securely.
Know more about other Billing Formats