Ambulance Bill Format
Providing prompt ambulance services is one of the top priorities of any healthcare organisation. Ambulance service is one of the primary emergency medical services and is crucial in providing quality care to patients. However, in addition to providing this service, healthcare centres must also navigate through the complex world of billing and insurance. Understanding the ambulance bill format and its contents is essential for ensuring accurate and timely payments from customers.
This article discusses the different formats of ambulance bills available, including Word, PDF, and Excel, and how to create an effective and accurate ambulance bill. We'll also cover the important information that should be included in an ambulance bill to help you optimise your billing process and maximise revenue for your ambulance service.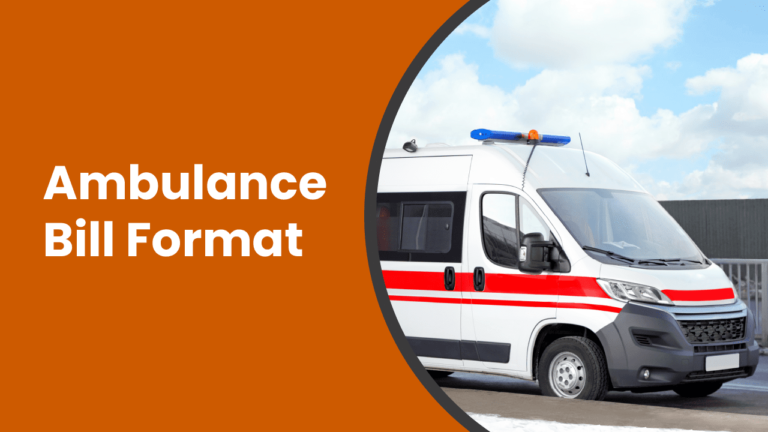 What is an Ambulance Bill?
An ambulance bill is a statement of charges for the transportation of an individual in an ambulance. This bill outlines the cost of the ambulance ride, which can vary depending on a number of factors. It is important to note that ambulance services are typically not covered by insurance, so the patient or their family is responsible for paying the bill.
What is an Ambulance Bill Format?
The ambulance bill format is a standardised way of presenting the charges for an ambulance ride. This ambulance bill format typically includes the name and contact information of the ambulance service, the patient's name and contact information, and the date and time on which the service has been availed.
The bill format of an ambulance also includes a breakdown of the charges, including the base rate for the ambulance ride, any additional charges for equipment or supplies used during the ride, and any mileage charges. The bill will also typically include the total amount due and instructions for payment.
Download myBillBook to Generate Bills
Ambulance Bill Format in Word, Excel, and PDF
Ambulance bill format can be created using various software programs, including Microsoft Word, PDF, and Excel.
Ambulance bill format in Word is a popular choice for creating ambulance bill formats because it is easy to use and widely available. With Word, you can create a professional-looking ambulance bill with various formatting options. However, Word can be limited in complex calculations and data analysis.
Ambulance bill format in Excel is a powerful tool for creating ambulance bills because it can handle complex calculations and data analysis. With Excel, you can insert formulas to calculate the ambulance charges automatically, and you can easily sort and filter data to analyse your billing records. However, Excel can be more difficult to use than Word and may be less widely available.
PDFs are another popular choice for ambulance bill formats because they are easy to share and view. Ambulance bill formats in PDF can be opened on virtually any device and can be printed or saved for future reference. However, PDFs are less customisable than Word & Excel documents, so you may have to settle for a less customisable bill.
Fields to Include in Ambulance Bill Format
When creating an ambulance bill format, several important pieces of information should be included:
Name and contact information of the ambulance service provider
Name and contact information of the patient
Date and time of the ambulance ride
List services like life support, non-medicals, special care, etc.
Breakdown of charges, including the base rate, equipment/supply charges, and mileage charges
Distance from the pick-up point to the hospital
Total amount due
Instructions for payment
Using Billing Software to Create an Ambulance Bill
An easy way to create an ambulance bill is to use billing software. Billing software is designed to automate the billing process, making it faster and more accurate. With billing software, you can easily create professional-looking bills, track billing records, and generate reports.
Many different types of billing software are available, ranging from simple programs for small businesses to complex enterprise-level software for large organisations. When choosing billing software for your ambulance service, consider your specific requirements and budget.
myBillBook is a billing software designed to meet the needs of small, medium and large-sized businesses. The invoicing software helps you to generate ambulance bills from your computer, mobile, PC, or any other smart device. You can also share the bills online and get the payments on time.
FAQs on Ambulance Bill Format
Can I get an itemised bill that breaks down the charges on my ambulance bill format?
You can request an itemised bill that breaks down the charges on your ambulance bill format.
What common errors or mistakes can occur in an ambulance bill format?
Some common errors or mistakes in an ambulance bill format include inaccurate or missing patient information, incorrect dates or times, billing for services that were not provided, and incorrect charges or fees.
How to avoid making errors in an ambulance bill format?
Instead of manual billing, use billing software to generate ambulance bills. Any error in data entry can also be identified easily in the billing software.
How can I ensure that my ambulance bill format complies with legal and regulatory requirements?
Staying up-to-date on billing and coding guidelines changes is important to ensure that your ambulance bill format complies with legal and regulatory requirements. Additionally, it may be helpful to consult with legal or financial experts who can provide guidance and advice on billing compliance.
Is it possible to customise an ambulance bill format to meet the specific needs of my ambulance service?
Yes, many ambulance billing software solutions offer customisation options that allow you to create a bill format that meets the specific needs of your ambulance service. This can include adding or removing fields, changing the layout or design, or adding your logo or branding elements.
Know more about Billing Software & Billing Format