Proforma Invoice Format in Excel
A proforma invoice is a type of invoice issued by a seller before providing the actual invoice. It contains all the details of a tax invoice but is not a legal document hence it is not added to the accounting books. A Proforma invoice is a more formal form of a quotation.
A Proforma invoice format in Excel is a template created in Excel with all the required fields to enter the necessary information to create a proforma invoice. Whenever a seller wants to generate a proforma invoice, he can simply use the template, enter the necessary details, take a print and hand it over to the buyer. He can also share it electronically through e-mail or Whatsapp.
Sample Proforma Invoice Format in Excel
A sample proforma invoice format in Excel is here for free download. You can use this sample invoice directly, make a copy of it and use it whenever necessary. When required, make a copy of the invoice format, fill in the empty fields, save it with a different name and use it either as a print or a soft copy.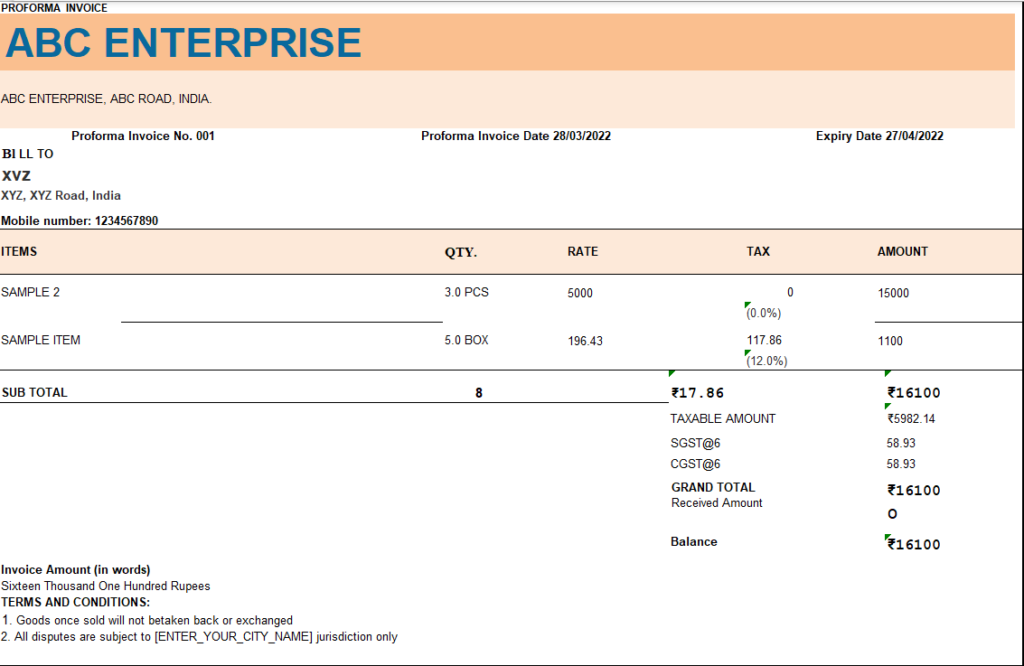 Proforma Invoice Format in Excel – Fields to Include
The following is a list of the fields to create in a proforma invoice format in Excel:
Header – Proforma Invoice or Proforma Order
Seller's Company name, logo, Address, and contact details
Proforma Invoice number (not mandatory)
Date of issue
Prospective buyer's details – name, address, contact details
Description of products/services
Validity of the invoice (Typically 30 – 60 days)
Terms of sale, payment, and delivery
The certifications required (if any) by "Customs Authorities"
Signature of the authorised personnel
Steps to Create Proforma Invoice Format in Excel
If you want to create a proforma invoice template in Excel from scratch, you can follow the steps mentioned here. However, you need to have free access to Microsoft Excel sheets to create the format.
Open a new Excel sheet
Using the sample proforma invoice format, create a table with the required rows and columns.
The fields must accommodate all the details required to create a proforma invoice.
Create fields to enter price, tax, discount and other numeric information.
At the footer, include additional information, such as payment terms, delivery instructions, payment options, etc.
Once you're sure that you have included all the required fields, save the template.
Whenever you wish to create a proforma invoice, make a copy of the saved template, enter the details in the empty fields, save it with a different name and use it.
Drawbacks of using Proforma Invoice Formats in Excel
One major disadvantage of using proforma invoices in Excel is that you cannot customise the invoices or use advanced effects. Also, invoice creation takes a lot of time and effort as everything needs to be done manually. Small customisations are possible, but if you require major changes with respect to design and look, it's a little tough to achieve. Even if you can do it, it requires a lot of hard work.
A better alternative to Excel invoice generation is using billing or invoicing software like myBillBook.
myBillBook is a cloud-based billing and accounting software that helps small and medium businesses generate invoices within a few clicks. Users can simply enter the information in the required fields, and the invoice will be ready in a few seconds. Not just proforma invoices, the billing software, available as desktop and mobile apps, can generate GST invoices, quotations, sales returns, delivery challans, credit notes and the like.
Download myBillBook on your mobile today and enjoy a free trial for 14 days. Experience the app in real-time and if you like it, subscribe to get full access to all its billing and accounting features.
How to Create Export Invoice Format in Excel
Follow the below-given steps to create an export invoice format in Excel.
Start by opening a new Excel document and creating a table with appropriate columns for the invoice information, such as item description, quantity, unit price, and total amount.
Include a header row with the company's name, contact information, and a unique invoice number.
Include a section for the customer's information, including their name, address, and contact details.
Add a section for the shipping details, including the date of shipment, shipping method, and destination address.
Add columns for any taxes or additional charges that may apply to the invoice.
Make sure to include a calculation for the invoice total by adding up all the charges.
Add a footer with additional information, such as payment terms and instructions.
Save the document as a template for future use.
myBillBook for Generating Export Invoices – Sign Up for Our Free Trial Offer Right Now!
myBillBook is a GST billing and accounting software tool that assists in creating polished and professional export invoices easily. Here are some advantages of utilising myBillBook:
User-friendly interface
Customisable export invoices
Automated calculations
Secure data storage
Online access
Available in multiple languages
Sign up for our free trial offer and explore how myBillBook can streamline your export invoice generation process.
FAQs about Proforma Invoice Format
What are the different methods to create proforma invoice format in Excel?
You can create a proforma invoice format from scratch using an empty Excel sheet, or you can use any downloadable invoice format available online. You can make minor changes to the existing formats before using them.
What is the difference between proforma invoice format in Excel and invoice format in Excel?
While invoice format in Excel is a legal document containing all the required information as prescribed by the GST laws, proforma invoice format in Excel is a non-legal document with the basic details required by the buyer before making the purchase.
Are there any GST regulations for the proforma invoice format in Excel?
No. As a proforma invoice is not a legally binding document, no rules are set by GST as to how it should be formatted or what needs to be included in the invoice. Businesses are free to make custom proforma invoice formats based on their requirements.
Does myBillBook help in creating proforma invoices in Excel?
myBillBook may not create invoices in Excel, but it has a custom-made tool that generates proforma invoices. Users can customise the invoices' colour, size, and shape along with the fields. They can add or delete fields based on their business type and requirement.
What are the better alternatives to creating proforma invoices in Excel?
Proforma invoices can also be created in MS Word, PDF, Google Docs, and Google Sheets. If you want an even more efficient tool, you can opt for billing software like myBillBook. The billing software allows instant invoice generation and online sharing in the best ways possible.
Know more about other Billing Templates