Interior Designer's Billing Software
Interior designer's billing software is a tool that helps both freelancer interior designers and interior designing firms to keep their finances organised. From proposal making to payment collection, myBillBook app for interior designers helps manage and record all financial transactions in one place.
The accounting and billing software for designers provides the following features. Continue reading to understand what myBillBook actually offers for your interior designing firm.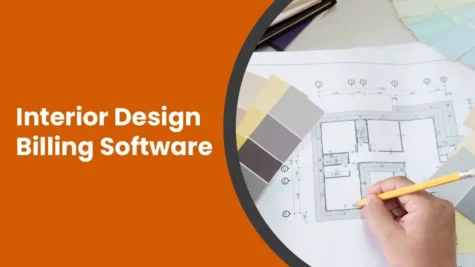 Features of myBillBook Billing Software for Interior Designers
Fast and Accurate GST Invoicing:
Most interior designing businesses are GST registered. To enable such businesses to provide GST-complaint invoices, myBillBook is designed to generate both GST and non-GST invoices. You can choose from eight different GST invoice templates in different colour themes and make your interior design invoice look stylish and professional.
myBillBook also allows you to create error-free invoices by streamlining calculations, thereby reducing back and forth with your clients.
Send Professional Proposals:
Proposals or quotations play an important role in interior design projects. Making your proposals look professional and easy to read while including all the required information is the first step in getting a better impression from clients.
myBillBook billing software for interior designers helps you create proposals quickly and effectively by providing pre-designed templates. Just enter the required information in the fields and share the invoice directly with your clients through Whatsapp or e-mail.
You can also send proforma invoices using myBillBook billing software for interior designers.
Manage Accounting:
You can track your interior designing-related expenses, maintain ledgers, add multiple bank accounts, and enter purchase-related information and other financial transactions in the myBillBook billing application. With all such information, the app provides insights into your finances – money spent, money received, payments due, balance in the account, and the like.
Access Business Info from Anywhere:
myBillBook is a cloud-based invoicing software that is available as a website, desktop app and mobile application (both Android and iOS). Based on your device, you can download the respective app and use the billing software anywhere at any time. You just need to use the same login credentials across the devices.
Comprehensive Reports:
myBillBook provides more than 20 business reports based on your business data and transactions. The reports will help you to get a better idea about how your design business is performing. You can also generate custom reports by using the filters provided by the billing application. You can view project-wise data, transactions within a time frame, profit and loss details, and much more.
Easy, Fast and Secure Online Payments:
With the SmartCollect payments feature available on myBillBook, you can collect payments from your clients instantly. You can include the SmartAccount details on the invoice to help your clients make quick online payments.
The app will also send auto payment reminders to your interior design clients on the set date. myBillBook is ISO certified hence is safe to conduct financial transactions through various payment channels.
Be Tax-Ready:
Tax filing becomes a cakewalk when all your financial data is in one place. The billing software for interior design provides various GST reports, maintains all kinds of invoices in one place and makes your tax filing job easy.
FAQs on Interior Designers
How can myBillBook's dairy billing software help streamline inventory management?
myBillBook's billing software for dairy allows businesses to keep track of their stock levels in real time, ensuring that they always have enough inventory to meet their customers' needs.
What are the accounting benefits of using myBillBook's dairy billing software?
myBillBook's milk billing software simplifies business accounting, making it easy to manage finances, stay on top of expenses and revenues, and maintain financial records.
Can myBillBook's dairy billing software help improve cash flow?
Yes, myBillBook's billing software for dairy speeds up payment processing, enabling businesses to collect payments faster, reduce outstanding balances, and improve their cash flow.
How can myBillBook's dairy billing software provide valuable insights to dairy businesses?
myBillBook's dairy billing software provides insightful reports that analys business performance, allowing business owners to make data-driven decisions and identify growth opportunities.
What delivery management capabilities does myBillBook's dairy billing software have?
myBillBook's milk billing software helps businesses generate delivery challans and manage their delivery processes efficiently, ensuring timely delivery to their customers.
Know more about Billing Software & Billing Format