Mudra Loans for Dairy Farms and Other Government Dairy Schemes
India is the largest milk producer in the world, contributing the highest percentage to global milk production. To encourage and support dairy farming in the country, the Central and State Governments formed various developmental organisations and introduced various financial schemes and incentives to provide financial assistance to dairy farmers.
The National Bank for Agriculture and Rural Development (NABARD) is one such body that provides dairy loans for various infrastructure-development projects to purchase cattle and dairy equipment. In addition to government schemes, several commercial banks and financial institutions in India also offer dairy loans to farmers. This article outlines government-backed dairy loans, including MUDRA loans.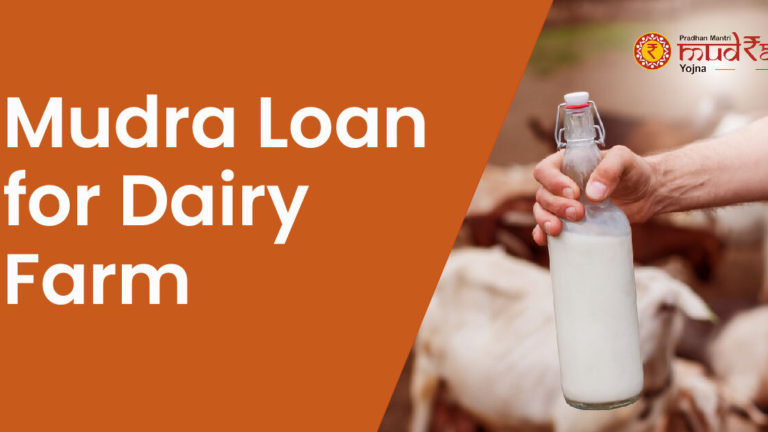 MUDRA Loans for Dairy Farms
Set up by the Government of India, the Micro Units Development and Refinance Agency (MUDRA) supports the development and refinancing activities of micro-enterprises, including dairy farms.  Under the Pradhan Mantri MUDRA Yojana scheme (PMMY), MUDRA provides credit up to Rs.10 lakh for dairy farming-related activities.
Based on dairy business eligibility, the loan amount ranges from Rs.50,000 to Rs.10 lakh. All Public Sector Banks, NBFCs, Regional Rural Banks, MFIs, State Cooperative Banks and Urban Cooperative Banks provide these loans.
MUDRA loans for dairy farms are offered in 3 categories – Shishu, Kishor, and Tarun.
Shishu Scheme provides loans up to Rs.50,000 for aspiring entrepreneurs who wish to start their own dairy farm with lesser funding.
Kishor Scheme provides loans from Rs.50,001 to Rs.5 lakh for already established dairy farms that require additional funds to mobilise their business.
Tarun Scheme provides loans above Rs.5 lakh to Rs.10 lakh for eligible established dairy farms that wish to expand or upgrade their business.
As per the government guidelines, 60% of the MUDRA loans will be provided for establishing new dairy plants.
Animal Husbandry Infrastructure Development Fund
Animal Husbandry Infrastructure Development Fund (AHIDF), with a corpus of Rs.15,000 crore, has been set up under Prime Minister's AtmaNirbhar Bharat Abhiyan program. The Department of Animal Husbandry and Dairying, Ministry of Fisheries, Animal Husbandry and Dairying will implement the AHID fund. encourages the establishment of dairy processing units and infrastructure in all states and union territories.
The objective of the AHIDF scheme for the dairy industry is to
Help increase the milk processing capacity and product diversification and provide greater access for unorganised rural milk to the organised milk market.
Make quality milk available for domestic consumers.
Encourage entrepreneurship and employment generation
Increase the export contribution and promote exports in the milk sector
To make quality feed available to the cattle
Who Can Apply for AHIDF Scheme
Individual entrepreneurs
Private Dairy companies
Micro and Small Dairy enterprises
Farmer Producer Organizations (FPOs) and
Section 8 companies or Non-profit Organisations (NPOs) – are eligible for availing the benefits under the AHIDF Scheme
Dairy Activities Eligible for Availing Benefits Under the AHIDF Scheme
Eligible individuals or businesses can avail loans, incentives and other financial benefits for any of the following activities.
Establishing new dairy processing units
Upgrading or expanding existing dairy units with quality and hygienic milk processing units, packaging infrastructure, or other dairy processing activities.
Establishing new dairy plants and upgrading existing units to manufacture milk products like ice creams, cheese, flavoured milk, milk powder, whey powder, and other milk products.
Assistance will also be provided for purchasing milk processing and packaging units, manufacturing equipment required for dairy processing, quality testing, adulterants and contaminants.
Loan Amount, Margin Money, & Repayment Tenure for Dairy Loans
The eligible applicants can avail loan of up to 90% of the estimated or actual project cost. There is no maximum or minimum cap on the project cost or on the loan amount.
For MSMEs, the borrower's contribution is 10%, Medium Enterprises need to contribute 15%, and for other categories, it could go up to 25% or more.
All Scheduled Banks and National Cooperative Development Corporations (NCDC) will sanction loans under the AHIDF scheme. The interest rate will be fixed by these banks, and as per the RBI guidelines, it should not exceed 200 basis points.
The scheme is covered under the interest subvention scheme through which borrowers can enjoy subsidised interest rates. However, the subsidy is not applicable if the loan is sanctioned for the purchase of land, working capital requirements, and to purchase of old equipment and personal vehicles.
The maximum repayment period allowed under the AHIDF scheme is 8 years, including 2 years moratorium on the principal amount. However, the financing bank will decide the final repayment period depending on the applicant's eligibility.
Documents Required to Apply for AHIDF Dairy Loans
Complete project details and cost, including total cost, net income, and viability of the project.
Identity Proof
Landholding certificate
Education certificate
Training certificate
Income proof
Bank statement
Change of land use
Project site plan
List of machinery and equipment
Processing facility layout plan
All statutory clearances
How to Apply
Interested dairy businesses can apply online through the Udyami Mitra website by submitting the complete project proposal.
Dairy Loans by National Dairy Development Board (NDDB)
The National Dairy Development Board (NDDB) provides financial assistance to dairy cooperatives through Term Loans and Working Capital Loans. The following are 3 types of schemes provided by NDDB for dairy businesses.
Financial assistance and skill development programmes
Term Loan for Producers' Owned Institutions
Working Capital Finance Scheme for Dairy Co-operatives'
Financial Assistance and Skill Development Programmes
Under this scheme, NDDB provides financial assistance for infrastructure activities, skill development, training, extension activities and awareness programmes for dairy businesses.
Milk Unions or Federations, Milk Producer Companies and subsidiaries of NDDB are eligible for the loans.
Loans will be provided for infrastructure development projects like establishment, modernisation, and expansion of milk processing plants, installation of bulk milk coolers, infrastructure for manufacturing of dairy equipment, etc.
Up to 80% of the project cost will be sanctioned as loan, while the borrower should contribute the remaining 20%.
A floating interest rate of 7.85% is applicable from 1 January 2023.
The  NDDB will provide financial assistance for skill development, manpower training and extension activities, and awareness programs for milk producers and consumers. Up to 50% of the approved training cost will be provided.
Repayment tenure of up to 10 years will be provided.
Term Loan for Producers' Owned Institutions (POIs)
NDDB will provide Term Loans up to Rs.10 crore for POIs.
The loans help meet the urgent requirement to purchase equipment and machinery, to modernise or upgrade dairy, cattle feed or feed supplement-related units.
Eligible businesses include Producers' Owned Institutions (POIs) including State Milk Federations, Milk Unions, Multi-State Cooperatives and Milk Producer Companies having positive net worth at the time of applying for the loan.
The scheme is available for a period of 5 years starting from 2021.
Up to 80% of the project cost up to Rs.1 Crore can be availed under the scheme.
Repayment tenure of 5 years including 1 year moratorium is applicable.
Working Capital Finance Scheme for Dairy Co-operatives
Dairy Co-operatives including Milk Unions, Milk Federations, and Milk Producer Companies are eligible for Working Capital Loans by NDDB. The co-operatives can use the loans for their working capital needs when their existing capital gets locked in the form of milk products and raw material stocks.
The funds can be used to purchase commodities to meet the demand for milk and related products, convert surplus milk into conserved commodities, and maintain a minimum stock level for day-to-day operations throughout the year.
The Dairy Co-operatives registered under a State Co-operative Societies Act or Producer Companies
Should not have any outstanding dues to milk producers/member societies.
No default in repayment of loans to NDDB and other financial institutions.
Up to 80% of the working capital requirement will be sanctioned as loan at a floating rate of interest of 7.30% per annum.
A maximum repayment tenure is 12 months from the date of sanction.
Know more about Businesses loans & Ideas