MUDRA Loans for Poultry Farming and Other Government Poultry Loans
Poultry is one of the fastest-growing agricultural segments in India. The country is the third-highest producer of eggs in the world. To further boost the sector, the Government has introduced many financial assistance schemes. The schemes also encourage young and aspiring minds to become entrepreneurs in poultry farming. The Department of Animal Husbandry and Dairying (DAHD) and the Ministry of Fisheries, Animal Husbandry and Dairying implements the financing schemes in collaboration with state-wide financial institutions. Listed here are a few such schemes introduced by DAHD for poultry farming.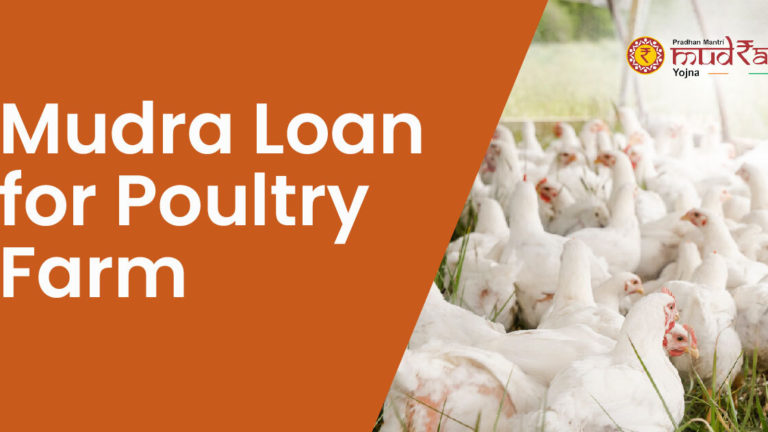 MUDRA Loans for Poultry Farming
The Micro Units Development and Refinance Agency (MUDRA) supports the development and refinancing activities of micro-enterprises, including poultry farms.  Under the Pradhan Mantri MUDRA Yojana scheme (PMMY), MUDRA provides loans up to Rs.10 lakh for poultry farming.
All Public Sector Banks, NBFCs, Regional Rural Banks, MFIs, State Cooperative Banks and Urban Cooperative Banks provide these loans.
MUDRA loans for poultry farms are offered in 3 categories – Shishu, Kishor, and Tarun.
Shishu Scheme provides loans up to Rs.50,000 for aspiring entrepreneurs who wish to start their own poultry farm with lesser funding.
Kishor Scheme provides loans from Rs.50,001 to Rs.5 lakh for already established poultry businesses requiring additional funds to mobilise them.
Tarun Scheme provides loans above Rs.5 lakh to Rs.10 lakh for established poultry farms for further expansion or upgrade.
About 60% of the MUDRA loans will be provided for establishing new poultry units. Women entrepreneurs and people belonging to special categories like SC/ST and EBC can enjoy interest subsidies on MUDRA loans for poultry farms.
Animal Husbandry Infrastructure Development Fund (AHIDF) for Poultry Farming
With a corpus of Rs.15,000 crore, the Animal Husbandry Infrastructure Development Fund (AHIDF) has been set up under Prime Minister's AtmaNirbhar Bharat Abhiyan program. The scheme encourages investments in different animal husbandry-related industries and activities.
As part of its objectives towards the poultry industry, AHIDF –
Ensures quality concentrated feed is available for the poultry industry at affordable prices.
Encourages the establishment of new meat processing units and also the strengthening of existing facilities for poultry in rural, semi-urban and urban areas.
Provides assistance to establish large-scale meat processing facilities.
Establishment of new or upgradation of existing value-addition facilities for meat products like sausages, nuggets, or any other meat products.
To purchase the latest technologically-based poultry farms like

Hatcheries with environmentally controlled facilities
Layer Farms with environmentally controlled systems
Broiler Breeder Farms with environmentally controlled units
Who Can Apply for AHIDF Scheme for Poultry Farming
Individual entrepreneurs
Private Dairy companies
Micro and Small Dairy enterprises
Farmer Producer Organizations (FPOs) and
Section 8 companies or Non-profit Organisations (NPOs) – are eligible for availing the benefits under the AHIDF Scheme.
Loan Amount & Repayment Tenure for Poultry Loans
The eligible applicants can avail loan of up to 90% of the estimated or actual project cost. There is no maximum or minimum cap on the project cost or on the loan amount.
For MSMEs, the borrower's contribution is 10%, Medium Enterprises need to contribute 15%, and for other categories, it could go up to 25% or more.
All Scheduled Banks and National Cooperative Development Corporations (NCDC) will sanction loans under the AHIDF scheme. The banks will fix the interest rate, and as per the RBI guidelines, it should not exceed 200 basis points. The loans are covered under the interest subvention scheme through which borrowers can enjoy subsidised interest rates.
The maximum repayment period is 8 years, including 2 years moratorium on the principal amount. However, the financing bank will decide the final repayment period depending on the applicant's eligibility.
Documents Required to Apply for Poultry Farming Loans
Complete project details and cost, including total cost, net income, and project viability.
Identity Proof
Landholding certificate
Education certificate
Training certificate
Income proof
Bank statement
Change of land use
Project site plan
List of machinery and equipment
Processing facility layout plan
All statutory clearances
How to Apply
Interested businesses can apply online through the Udyami Mitra website by submitting the complete project proposal.
National Livestock Mission (NLM)
The National Live Stock Mission aims to bring the unorganised rural poultry farming sector into the organised sector, promote entrepreneurship in a sustainable manner, establish forward and backward linkages, and popularise different low-cost feeding techniques.
Which Poultry Units are Eligible?
Under the Rural Poultry Entrepreneurship Scheme, the Department of Animal Husbandry and Dairying (DAHD) encourages the establishment of
Poultry Parent Farms
Rural Hatcheries
Brooder‐cum‐Mother units for hatching eggs and chicks with a minimum of 1000 parent layers
Who Can Apply?
Individuals
Self-help groups (SHG)
Farmer's Producers Organisations (FPOs)
Farmer Cooperatives (FCOs)
Joint Liability Groups (JLGs) and
Section 8 companies
Scheme Benefits
Eligible applicants will get a 50% subsidy up to Rs.25 lakh directly deposited in their accounts in two equal instalments.
Poultry Equipment Eligible for Funding 
Construction of 3,000 sqft shed
Electric Brooder
Chick Feeder
Chick Drinker
Adult Feeder
Adult Drinker
Parent stock
Construction of Hatchery Building
Incubator
Hatcher with a Capacity of 500 eggs
Generator Set
The borrowers must have obtained training or experience in managing and operating poultry farms or hired technical experts in the relevant field.
Eligible entrepreneurs and eligible poultry farmers can apply for loans through the National Livestock Mission (NLM) website.
Kisan Credit Card (KCC) for Poultry Farmers
The Department of Animal Husbandry and Dairying extended the Kisan Credit Cards (KCC) for Animal Husbandry, Dairying, and Fisheries farmers in 2021. The main objective of the scheme is to meet the short-term credit requirements of poultry farmers by providing working capital loans and investment loans.
Under the scheme, poultry farmers are eligible to get collateral-free working capital loans up to Rs.2 lakh. Eligible poultry farmers include individuals, joint borrowers, tenant farmers, and joint liability groups.
Two types of credit facilities are available under the KCC scheme –
Applicants without land or large equipment will get a collateral-free credit limit of up to Rs.1.6 lakh.
Applicants with collateral or proof of large equipment will get up to Rs.3 lakh credit limit on Kisan Credit Cards.
For all types of loans, interest subvention up to Rs.2 lakh is applicable.
Eligible applicants can go to the nearest bank, fill in the application form, and submit it to the bank. If all the criteria are met, the banks will issue Kisan Credit Card in 15 days. For KCC, up to Rs.3 lakh processing fee will be waived.
FAQs on Poultry Loans by Government
What are government poultry loans?
The government provides poultry loans to farmers and individuals who want to start or expand a poultry farm. These loans can be used to cover expenses such as equipment, feed, housing, and other necessary costs associated with raising poultry.
Who are eligible for government poultry loans?
Eligibility requirements for government poultry loans include individuals or businesses involved in poultry farming or related activities, joint borrowers, tenant farmers, and joint liability groups.
What kind of collateral is accepted for a poultry working capital loan?
All kinds of residential, commercial, and industrial properties and liquid securities are accepted as collateral to issue working capital loans.
What are the benefits of government poultry loans?
The benefits of government poultry loans may include lower interest rates, longer repayment terms, and more flexible repayment options than traditional loans. Additionally, these loans may provide access to capital that is not available through other sources, allowing individuals and businesses to start or expand their poultry operations.
Are there any downsides to government poultry loans?
Some potential downsides to government poultry loans may include strict eligibility requirements, long processing times, and the need to provide collateral or other forms of security for the loan. Additionally, borrowers may be subject to government regulations and oversight, which could impact their ability to operate their poultry farms as they see fit.
Where to apply for MUDRA poultry farming loans?
Applicants can approach private sector banks, NBFCs, RRBs, MFIs, state cooperative banks and urban cooperative banks or apply online through www.udyamimitra.in.
Know more about Businesses loans & Ideas