Start-Up Business Loans by the Government
To encourage young and aspiring entrepreneurs, the Indian government has introduced many financial assistance schemes or loans by forming special financial institutions like MUDRA, SIDBI, etc. Start-up business loans by the government also provide credit guarantee facilities to encourage young minds to start their entrepreneurship journey. Here is the list of various government business loans for new start-ups.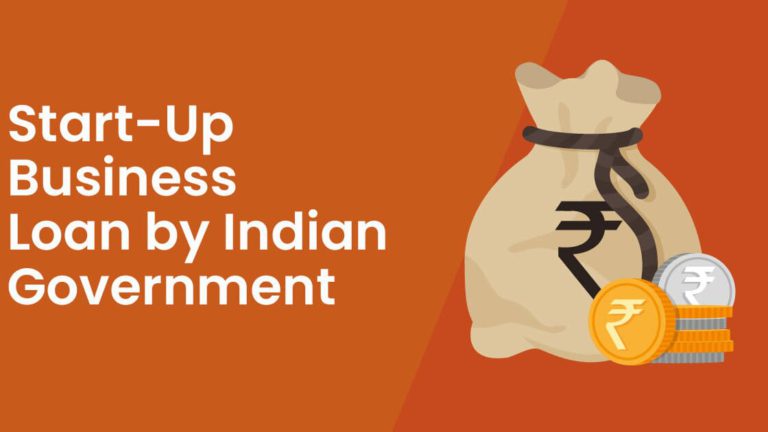 Prime Minister's Employment Generation Programme (PMEGP)
Provides financial aid to establish new micro-enterprises and to generate employment opportunities in rural and urban areas.
A subsidy of 15% to 35% of the project cost is applicable based on the total project cost of up to Rs.50 lakh in the manufacturing sector and Rs.20 lakh in the service sector.
Women entrepreneurs and borrowers belonging to special categories, including SC/ST, minorities, transgenders, ex-servicemen, and aspirational districts/NER, can enjoy a higher subsidy of 35% in rural areas and 25% in urban areas.
Any individual above 18 years of age can apply.
New establishments in non-farming sectors like manufacturing and services are eligible.
Pradhan Mantri MUDRA Yojana (PMMY)
Loans for non-farming businesses involved in manufacturing, processing, trading and services whose credit needs are below Rs.10lakh.
The loans are classified into 3 categories – Shishu, Kishore, and Tarun.

Shishu Scheme  -Loans up to Rs.50,000
Kishore Scheme – Loans from Rs.50,001 to Rs.5 lakh
Tarun Scheme – Loans above Rs. 5 lakh to Rs.10 lakh

Eligible borrowers include individuals, proprietary & partnership firms, public & private limited companies, and other legal entities.
The loans are available as Term Loans, Overdraft facilities, or Composite Loans.
The loan amount must be used for working capital purposes, acquiring capital assets, and marketing-related requirements, not personal purposes.
The maximum tenure of loans is 36 months. OD & CC are repayable on demand.
Credit Guarantee Scheme for Micro & Small Enterprises (CGTMSE)
Credit guarantee support for collateral-free and no third-party guarantee loans up to Rs.2 Crore.
The scheme provides guarantee cover of up to 85% of the sanctioned amount for eligible businesses that have taken loans from eligible institutions.
The extent of cover is 85% for loans up to Rs.5 lakh and 50% for loans from Rs.10 lakh to Rs.1 crore.
The extent of coverage is 80% for women-owned enterprises and businesses in the North East Region (NER).
Stand Up India Scheme
Launched to encourage entrepreneurship and to empower Scheduled Castes (SCs), Scheduled Tribes (STs) and Women.
Loans will be provided to set up a new or greenfield enterprise in manufacturing, services, trading, and agriculture-allied industries.
Collateral-free loans starting from Rs.132.30 lakh to Rs.1 Crore.
The loans are available as Composite Loans and shall be used to meet working capital requirements and to purchase capital assets.
The maximum repayment tenure is 7 years.
Udyogini Scheme
To encourage women to take bank loans instead of taking money from private lenders and other financial institutions that provide loans with high-interest rates.
SC/ST women with an annual family income of less than Rs.2 lakh.
General and special category women with annual family income less than Rs.1.5 lakh.
Age must be between 18 to 55 years
Loan amount varies from Rs. 1 lakh to Rs.3 lakh
A subsidy of 50% of the loan amount is applicable for SC/ST women and 30% for other categories
The government provides 3-6 days of training before releasing the loan amount.
Eligibility to Avail Start-Up Business Loans
Here are some common eligibility details businesses need to fulfil to apply for a start-up business loan. The actual eligibility criteria may differ from one lending institution to another.
Applicant must be above 18 years of age.
Indian nationality holder
Must possess a valid government-issued photo identity and address proof documents
Must have a bank account
Should start a business in the manufacturing, service or trading sector only
For businesses in the manufacturing sector with an investment of Rs.10 lakh and above Rs.5 lakh in the service sector, the applicant must pass at least 7th standard.
Must be ready business idea and the kind of products
Must provide details of capital expenditure, working expenditure, and number of employment opportunities created
Business ideas without capital expenditure are not eligible
Land cost is not covered under the project cost
Documents Required to Apply for a Start-Up Business Loan
One passport-size photograph of the applicant
Certificate of highest education qualification
Detailed project summary report
Social or special category certificate, if applicable
Rural area certificate, if applicable
Aadhaar card
How To Apply For Start-Up Business Loan?
To apply for startup business loans provided by the Government, borrowers need to apply online or visit the respective bank to submit the application and the supporting documents.
FAQs on Start-Up Business Loans
What is the maximum loan available for a start-up business loan?
To establish manufacturing units, a maximum of Rs.50 lakhs and a maximum of Rs.20 lakh for service industries will be provided.
What are all included under the project cost?
Capital Expenditure and working capital are the main components of the project cost.
Which banks will provide start-up business loans backed by the government?
All public sector banks, Regional Rural Banks (RRB), Co-operative Banks, SIDBI and Scheduled Commercial Banks provide start-up business loans.
Do I need to provide any security to avail of start-up business loans?
No collateral is required for businesses with a project cost of Rs.10 lakh.
Do I get 100% project cost as a start-up business loan?
General category applicants must contribute 10% of the project cost, and for special category applicants, it is 5%.
Know more about Businesses loans & Ideas