MUDRA Loans for Women
Micro Units Development and Refinance Agency (MUDRA) is a non-banking financial institution supporting the development and refinancing activities of micro enterprises. Initiated by the Government of India, MUDRA provides micro credit up to Rs.10 lakh for micro and small enterprises. Under the Pradhan Mantri MUDRA Yojana scheme (PMMY), MUDRA provides refinance support to banks, Microfinance institutions (MFIs), and NBFCs, which further provide loans to micro enterprises.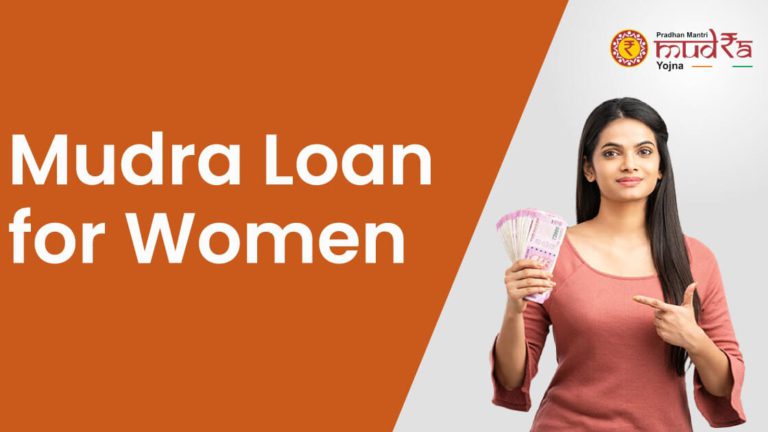 MUDRA Loans for Women
MUDRA loans for women are provided to non-agriculture enterprises in manufacturing, trading, and services. The loan amount ranges from Rs.50,000 to Rs.10 lakh based on the business eligibility. All Public Sector Banks, NBFCs, Regional Rural Banks, MFIs, State Cooperative Banks and Urban Cooperative Banks provide these loans.
For women entrepreneurs, MUDRA currently offers Mahila Udyami Scheme. Business women are also eligible for the PMMY scheme, which provides subsidised interest rates for women applicants.
Pradhan Mantri Mudra Yojana (PMMY) Scheme for Women
PMMY loans are offered for different purposes, primarily resulting in income generation and employment creation.
It offers loans in 3 categories – Shishu, Kishor, and Tarun.
Shishu Scheme provides loans up to Rs.50,000 for aspiring entrepreneurs who wish to start their own business with lesser funding
Kishor Scheme provides loans of Rs.50,001 to Rs.5 lakh for already established businesses that require additional funds to mobilise their enterprise.
Tarun Scheme provides loans above Rs.5 lakh to Rs.10 lakh for eligible established businesses that wish to expand or upgrade.
MUDRA ensures that 60% of the loans will be provided to Shishu category units and the rest to Kishor and Tarun category enterprises. The loans are available as Term Loans, Overdraft facilities, Working Capital Loans and Composite Loans. Applicants must use the loan amount for working capital purposes, acquiring capital assets, and marketing-related activities. The loans can be repaid in 36 equal monthly instalments (EMIs).
Eligible Businesses for MUDRA Loans for Women

Land Transport Related Businesses – To purchase vehicles such as autos, goods transport vehicles, 3-wheelers, e-rickshaws, passenger cars and taxis.
Personal service-related businesses: Saloons, beauty parlours, gyms, boutiques, tailoring shops, dry cleaning shops, cycle and motorcycle repair shops, DTP, xerox shops, medical shops, courier shops, etc.
Food-Related Businesses: Any food manufacturing-related businesses like papad making, pickle making, jam/jelly making, sweet shops, small food stalls, catering and canteen services, cold storage facilities, ice making units, ice cream making units, biscuit, bread and bun making, etc.
Textile-Related Businesses: Handloom, power loom, hand and computerised embroidery work, traditional dyeing and printing, apparel design, knitting, cotton ginning, stitching and other non-garment related businesses like bags, vehicle accessories, furnishing accessories, etc.
Eligibility to Apply for MUDRA Loans for Women
Must be an Indian citizen
Has a business plan in manufacturing, processing, trading or service sector for setting up a new business or to upgrade an existing micro business.
The business plan must generate income and employment.
House wives can also apply for MUDRA loans. They must have a good business plan.
Must require a loan of less than Rs.10 lakh.
Interest Rate on MUDRA Loans for Women
The lending banks decide the interest rates on MUDRA loans. However, the rates have to be kept reasonable as per the MUDRA guidelines.
However, an interest rate reduction of 25bps is applicable for women applicants.
How to Apply for MUDRA Loans for Women
Applicants can approach any private sector bank, NBFC, RRB, MFI, state cooperative bank and urban cooperative bank or can apply online through www.udyamimitra.in
Documents Required to Apply for MUDRA Loans for Women
For Shishu Loans
Identity proof
Residence proof
2 photographs
Business proof
Quotation for machinery and other equipment purchase
Documents required for Kishor/Tarun Loans
Identity proof
Residence proof
2 photographs
Business proof
Quotation for machinery and other equipment purchase
For existing businesses – Unaudited balance sheet for last 2 years or (for loans above Rs.2 lakh)
For new businesses – Projection for one year (for loans above Rs.2 lakh)
Mahila Uddyami Scheme
Another financial assistance scheme under MUDRA loans for house wives is the Mahila Uddyami Scheme. This is a specially designed loan for women industrialists, entrepreneurs, and house wives to start or expand their existing businesses, thereby generating income.
Mahila Uddyami Scheme provides financial assistance to establish a new enterprise, expand or modernise existing business, and acquire fixed assets like plants, furniture, and machinery, to meet working capital requirements like product purchases and day-to-day expenses.
Loan Amount and Margin
A maximum of Rs.10 lakh will be provided under the scheme. However, the loan amount varies based on the requirement and eligibility of the applicant. The loan will be provided as a term loan or overdraft facility.
For loans up to Rs.2 lakh, 100% of the loan amount will be provided. For loans above Rs.2 lakh and up to Rs.5 lakh, 20% of the margin must be borne by the borrower, and for loans above Rs.5 lakh up to Rs.10 lakh, 25% is the margin amount.
Eligibility to Apply for Mahila Uddyami Scheme
Any individual women or women entrepreneur running a registered micro MSME.
Businesses having women entrepreneurs holding a share of not less than 50%.
Preference will be given to women belonging to ST/SC categories and BPL Card Holders.
Women entrepreneurs trained in R-SETIs, Skill Development Institutions, or any other training institute will be given more preference.
Applicant should not be a defaulter in any bank or financial Institution.
Only non-agricultural-based businesses in manufacturing, trading, or service sectors are eligible.
Micro-finance institutions that provide loans for women or groups of women are also eligible.
Joint Liability Groups (JLG), Self-help Groups (SHGs) are also eligible for loans under this scheme.
No collateral is required.
Repayment Schedule of Mahila Uddyami Loans
For term loans, the repayment tenure varies from 3-5 years, including a maximum moratorium period of 3-6 months. For overdraft facilities, the limit shall be sanctioned for a period of 3 years with an annual review of the account.
FAQs on MUDRA Loans for Women
Do I need to submit any collateral for PMMY MUDRA Loans for Women?
Per the RBI norms, MUDRA loans up to Rs.10 lakh do not require security.
Which type of business can apply for PMMY MUDRA loans?
Eligible borrowers for MUDRA loans include individuals, private companies, partnership firms, and companies of any other legal form.
What is the loan processing time for PMMY MUDRA loans for women?
Once all the documents are submitted, and all the formalities are completed, processing the MUDRA loan will take 7 to 10 working days.
Do banks charge any processing fee for PMMY MUDRA loans?
For Shishu loans meant for new business proposals, there is no processing fee. A processing fee of 0.5% of the loan amount is applicable for Kishor and Tarun schemes. However, the fee might vary based on the bank's internal policies.
Do I get 100% of the proposed cost under PMMY MUDRA business loans?
Under the Shishu scheme, the banks might provide 100% of the proposed business cost. For Kishor and Tarun schemes, the applicant or borrower must contribute 10% of the margin money.
What is the repayment schedule of PMMY MUDRA loans?
The repayment tenure for term loans typically varies from 3-5 years, including 6 months moratorium. For OD & CC facilities, the repayment is made on demand.
Know more about Businesses loans & Ideas