Term Loans – Purpose, Types, Features
Term Loan is a type of loan provided to businesses of different sizes. As the name denotes, it has a pre-defined term in which the borrower needs to repay it along with interest in equal monthly instalments or EMIs. In most cases, the repayment tenure is also fixed. The only thing that might change is the interest rate when offered on a floating basis. Here is a detailed guide on Term Loans.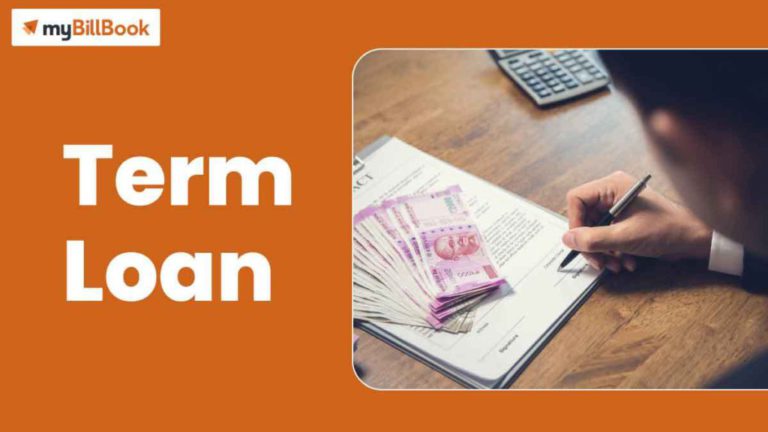 Purpose of Term Loans
Term loans are usually meant for small, medium and large enterprises to help them with their new business plans, expansion and upgradation plans. Businesses can use term loans for the following purposes.
To set up new businesses units – Green Field Projects
To expand or upgrade existing businesses
To acquire commercial assets – Manufacturing Plants, Machinery, etc.
New layout planning to enhance business productivity
For technology upgrades
To repay high costs debts with other banks
To implement energy conservation schemes
To acquire ISO and other commercial certifications
Types of Term Loans
Short Term Loans
A Short Term Loan is a loan procured for sudden or temporary business requirements expenses like expansions, working capital requirements, and operation costs.
Short Term Loans typically have a short repayment period of 12 to 18 months.
The loan amount is also less and typically depends on the borrower's eligibility.
Can be secured or unsecured – secured loans require some form of collateral, while unsecured loans are approved based on the creditworthiness of the business.
Examples of Short Term Loans include Credit Cards, Consumer Loans, Gold Loans, Bridge Loans, Overdraft Facilities, and Demand Loans.
Intermediate or Medium Term Loans
Intermediate-Term Loans are obtained for repairing or renovating existing fixed assets like buildings and manufacturing plants.

These loans are offered for a term of 1 to 3 years.

The interest rate is also slightly higher.

Eligible businesses include MSMEs, businesses with a turnover of Rs.1 Crore to Rs.250 Crore.
Loan amount varies from Rs.25 lakh to Rs. 5 Crore.
Long-term Loans
Long Term loans are typically secured for big-ticket purchases.
Long-term loans come with extended repayment tenures of 3 to 30 years.
The loan amount sanctioned under this loan is also on the higher side.
Typically require collateral, considering the large ticket size.
Examples of Long Term loans include Home Loans, Automobile Loans, Business Loans, etc.
Some long-term loans come with tax benefits.
Compared to the other two types of loans, the interest rate is typically less.
Features of Term Loans
Repayment Period: Term Loan repayment will be fixed based on the applicant's eligibility. Typically, the repayment tenure varies from 12 to 60 months. Borrowers can repay in monthly, quarterly, half-yearly instalments or bullet repayments.
Eligibility to Apply: Companies having turnover of Rs.500 Crores and above are eligible for term loans up to Rs. 25 Crore.
Interest Rate: The interest rate on term loans is fixed or floating based on the lender. The bank will determine the interest percentage, considering the borrower's eligibility.
Margin: Banks provide loan amount up to 75% of the value of fixed assets and the remaining margin amount need to be arranged by the borrower. However, the margin amount varies from case to case.
Security for Term Loans: For term loans up to Rs.10 lakh, banks may not insist on collateral security or third-party guarantee. However, for credit limits above Rs.10 lakh to Rs.200 lakh, security or guarantee might be sought again, depending on the borrower's eligibility. If the loan is eligible under Credit Guarantee Trust for Micro and Small Enterprises (CGTMSE), the security component will be waived as the scheme covers the same.
Advantages of Term Loans
Expense: It is a less expensive medium-term financing source.
Tax Advantage: Because interest on a term loan is deductible, there is a tax advantage on interest.
Adaptable: Term loans are loans between borrowers and lenders. As a result, the terms and circumstances of these loans are not restrictive, allowing for some flexibility.
Assured: Banks and other financial institutions make secure term loans in exchange for collateral.
Regular Income: The borrower has to pay interest and return principal regardless of financial status, ensuring the lender obtains consistent and consistent revenue.
Adaptation: To minimise default, financial institutions may demand borrowers convert term loans to equity. As a result, they may be responsible for the company's affairs.
Disadvantages of Term Loans
The firm is legally required to pay the fixed interest and principal amount to the lenders; failing to which could result in bankruptcy.
Debt financing, particularly term loans, increases the firm's financial leverage, raising the firm's equity cost. As a result, if inflation falls to shallow levels, the actual cost of debt will be higher than projected.
Documents Required for Term Loans
You should keep the following documents handy while applying for a term loan:
Business registration proof
KYC documents
Bank statement for the last six months
Pan card
Aadhaar card
Examples of Term Loans
Long-term loans are small amounts for a long repayment tenure, requiring similar eligibility criteria and documents to other long-term loans. Therefore, they are best suited for the urgent financial needs of customers who wish to pay in small instalments over a substantial repayment period.
Small business loans are for businesses to expand, requiring credit in loans with tenure over three years.
Home loans have tenure beyond three years, and the loan amount is considerable. Therefore, the person needing the loan should submit collaterals to the bank and choose between fixed and floating interest rates.
Car loans have high-interest rates than home loans, with a long-term payment tenure of up to 7 years.
Personal loans have a payback term of more than three years and a not-so-low interest rate because they are unsecured.
Education loans are for those wishing to go for higher studies in India and abroad for an extended period (like three years), especially for courses like engineering and medicine, which can go up to 30 years.
What exactly is a term loan?
A business obtains a term loan, typically from a bank, in which they intend to borrow an amount, and the bank defines that amount.
Why are term loans granted to businesses?
Businesses sometimes want cash for various reasons, and these loans are provided to corporations to cover their cash needs. These requirements could cover operating capital needs or fund a new project. It could also mean purchasing new machinery or constructing a new production facility.
What is an example of a term loan?
A working capital loan is an example of a term loan for businesses that want quick finance to maintain cash flow or pay day-to-day business expenditures.
Is a car loan a term loan?
Yes. A car loan is a term loan because a bank grants it for a set period, such as 5, 10 or 15 years.
Can a company get tax exemptions for money contributed toward loan repayment?
Yes, the interest component of the EMI is tax deductible for a firm that has taken out a term loan. Your loan payment's interest component is something you can deduct as a business cost. As a result, it aids in obtaining tax exemptions for the firm because it is removed from a business's gross income, lowering taxable revenue.
Know more about Businesses loans & Ideas