MSME Loan
The Ministry of Micro, Small and Medium Enterprises (MSMEs) promotes the growth and development of the MSME sector by introducing various schemes and financial assistance programmes in collaboration with respective Ministries, State Governments and other Stakeholders. The MSME schemes benefit both existing and emerging enterprises. Listed here are the popular business loans or financial assistance schemes launched by the Ministry.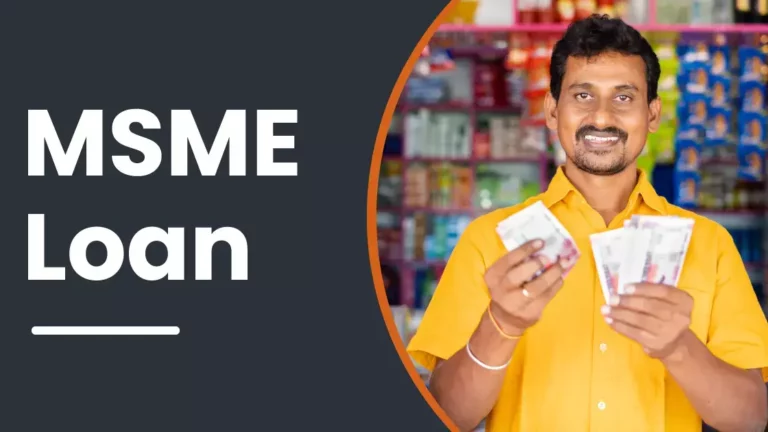 MSME Categorisation
According to Central Government, micro, small and medium enterprises are classified as below.
Business Investment – Not more than Rs.1 Crore
Annual Turnover – Not more than Rs.5 Crore
Business Investment – Not more than Rs.10 Crore
Annual Turnover – Not more than Rs.50 Crore
Business Investment – Not more than Rs.50 Crore
Annual Turnover – Not more than Rs.250 Crore
What are MSME Loans or MSME Business Loans?
MSME loans are financial assistance schemes provided by SIDBI (Small Industries Development Bank of India) in association with nationalised and private banks, Micro Finance Institutions (MFIs), non-banking financial companies (NBFCs) and other financial institutions.
The loan schemes are designed to help new and emerging businesses enjoy collateral-free loans at lower interest rates. Credit guarantee schemes have also been introduced to strengthen the credit delivery system and facilitate the flow of credit to the MSE sector.
Details of MSME Business Loans
Prime Minister's Employment Generation Programme (PMEGP)
Provides financial aid to establish new micro-enterprises and to generate employment opportunities in rural and urban areas.
New establishments in non-farming sectors like manufacturing and services are eligible.
A subsidy of 15% to 35% of the project cost is applicable based on the total project cost of up to Rs.50 lakh in the manufacturing sector and Rs.20 lakh in the service sector.
Women entrepreneurs and borrowers belonging to special categories, including SC/ST, minorities, transgenders, ex-servicemen, and aspirational districts/NER, can enjoy a higher subsidy of 35% in rural areas and 25% in urban areas.
Eligibility
Any individual above 18 years of age can apply.
Interested borrowers can submit the applications at kviconline.gov.in
Top-Up Loan or 2nd Loan for PMEGP/REGP/ MUDRA units
To extend financial support for well-performing PMEGP/REGP/ MUDRA units in manufacturing and trading industries for expanding existing units and upgrading to new technology or equipment.
Entrepreneurs adopting new technology or automation to modernise existing businesses can apply
Term loans up to Rs.1 Crore are provided for proposed expansion or upgradation projects for manufacturing units and Rs.25 lakh for trading units.
A subsidy of 15% of the loan amount is provided for non-NER regions and 20% for NER and Hill States.
Eligibility
All existing PMEGP/REGP/MUDRA units who repaid the first loan in the stipulated period.
The businesses must have been profit-making in the past 3 years
Must be registered under Udyog Aadhar Memorandum (UAM).
The proposed expansion project must provide employment opportunities.
Online applications for the 2nd loan are accepted on PMEGP e-Portal.
Credit Guarantee Scheme for Micro & Small Enterprises (CGTMSE)
Credit guarantee support for collateral-free and no third-party guarantee loans up to Rs.2 Crore.
The scheme provides guarantee cover of up to 85% of the sanctioned amount for eligible businesses that have taken loans from eligible institutions.
The extent of cover is 85% for loans up to Rs.5 lakh and 50% for loans from Rs.10 lakh to Rs.1 crore.
The extent of coverage is 80% for women-owned enterprises and businesses in the North East Region (NER).
Eligibility
All existing and new businesses
Through eligible banks and NBFCs
Scheme of Fund for Regeneration of Traditional Industries (SFURTI)
To help traditional industries and artisans to make more produce and value addition.
The Indian government has allocated Rs.2.5 Crore for up to 500 artisans and Rs.5 Crore for more than 500 artisans.
Under the scheme, a production facility with all the latest machinery will be set up. The raw material will also be provided. Skill development programmes will be arranged.
Eligibility
Experienced artisans from traditional sectors like Handicrafts, Textile, Agro-Processing, Bamboo, Honey, Coir, Khadi, etc.
Online application at sfurti.msme.gov.in
Credit Guarantee Scheme for Subordinate Debt (CGSSD) for Stressed MSMEs
To help promoters of MSMEs that have become non-performing assets (NPA) as of 30th April 2020 or about to become NPA.
Promoters are eligible for a loan amount equal to 50% of their stake or Rs.75 lakh, whichever is lower.
The maximum repayment tenure is 10 years, with a moratorium period of 7 years on the payment of principal.
The scheme will provide a 90% coverage guarantee, with the remaining 10% from the promoter.
Eligibility
Need to apply at eligible banks
Raising and Accelerating MSME Performance (RAMP)
A World Bank-backed Central Sector Scheme to improve access to MSMEs to finance and technology upgradation.
To benefit more than 5.5 lakh MSMEs during 2022-23 to 2026-27 by enhancing their performance by promoting technology upgradation, innovation, digitization, market access, credit, greening initiatives, etc.
Eligibility
Know more about Businesses loans & Ideas