Billing Software for Furniture Shop
Whether you own a small furniture shop or a large retail furniture store, billing software is essential to generate GST-complaint invoices. myBillBook's billing software for furniture shops helps businesses in multiple ways. Furniture shops can create estimates, access readymade invoice templates, track inventory, get daily sale information, manage staff, and do much more with one single app. Not just billing, the myBillBook app also takes care of your accounting needs while letting you focus on your main business.
Let's explore the features of myBillBook billing software for furniture shops that would help you conduct your business easily.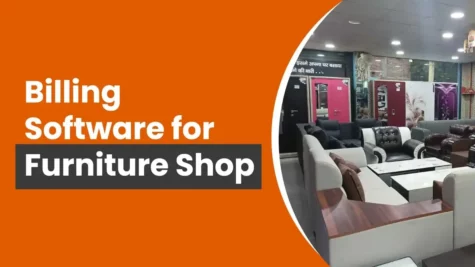 Features of myBillBook Billing Software for Furniture Shops
Readymade Invoice/Quotation Templates: Billing might look simple, but you need the right billing tool to get every number accurate. Enter the right input, and our billing app will take care of the rest of the calculation. Whether it is adding GST, discounts, or a promotional offer, myBillBook does the entire math, brings the final bill amount and creates an invoice in seconds.
If you're bored with the same invoice template, you can choose to pick from 8 different themes. What's more. You can do the same with your quotations or estimates as well.
POS Billing: If you're running a big furniture store with physical checkout counters, you can use the POS Billing feature on the myBillBook app for faster billing. You don't have to install separate software, as the POS billing feature is integrated into myBillBook billing and accounting software. The POS feature allows you to create invoices faster than the regular software and enables multiple bill creation simultaneously.
Stock Management: Managing a furniture store with plenty of stock is difficult. Keeping a manual record of each and every item is not practically possible. The billing software helps you manage the inventory accurately by doing daily stock audits and by generating reports. With up-to-date stock details in hand, you can never lose a sale and assure your customers of 100% stock availability.
Data-driven Analytics: A summary of your furniture store sales, profit and loss, stock summary, low stock summary, item batch report, or any other business-related report can be generated using myBillBook software. As the software has all the data related to your business, it generates reports per your requirement. You can check day-wise, week-wise, month-wise or year-wise data within a few clicks.
Easy to Configure on Multiple Devices: Looking at all the features, don't assume that the myBilBook app is a difficult-to-configure tool or software. The app is easy to download and can be installed on any device compatible with it. You can download it on any Android phone, iOS mobile, Windows desktop, or Mac PC, or it can also be assessed directly through myBillBook website. Once installed, you can log in with your mobile number and start running your business instantly.
FAQS on Billing Software for Furniture Shops
What are the other prominent features offered by myBillBook for furniture businesses?
Besides the features mentioned above, myBillBook furniture software also offers SmartCollects payment feature, E-invoicing, Manage Staff, Staff Attendance & Payroll, and Automated Billing feature. Start a free trial today and experience all these features in real-time.
Can I generate quotations using myBillBook billing software for furniture stores?
Yes, myBillBook allows you to generate quotations using the pre-designed formats. Just enter the information related to the order, and the app will automatically generate quotes in seconds. You can also share them with your customers online through Whatsapp and email.
Can I issue credit and debit notes using myBillBook?
Yes, myBillBook billing software for furnishings allows businesses to generate both credit notes and debit notes.
Can I use barcode scanner with myBillBook furniture billing software?
Yes, myBillBook offers barcode scanning facility to enable faster and more efficient billing. You just need to connect a barcode scanner to the device in which myBillBook is installed and start scanning the products.
Do I need accounting knowledge to use myBillBook billing software?
No, you do not need any accounting knowledge or formal training to use the software.
Know more about Billing Software & Billing Format