Work Order Format
Work Order Formats are essential documents that provide detailed information to various people involved in a project. The more clear and detailed a work order format is the more helpful for the people involved. Creating professional work orders is also a key to the effective execution of the project. This page will help you find different ways to create work order formats and the benefits of using billing software to create work orders.
What is Work Order Format?
A Work Order Format is a document used to specify and authorise tasks, projects, or services. It provides detailed instructions to employees, contractors, or service providers, outlining the scope of work, timelines, costs, and any specific requirements. Work Order Formats are commonly used in fields such as construction, maintenance, repairs, and various service industries.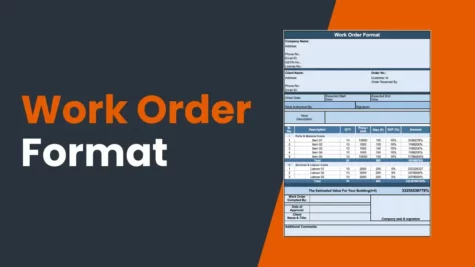 Elements to Include in a Work Order Format
A well-structured Work Order Format typically includes the following elements:
Header Information:
Issuing company's name, address, and contact details.
Work Order number and date of issuance.
Client or customer information.
Scope of Work:
A clear and concise description of the tasks or services to be performed.
Specifications and technical details, if applicable.
Timeline:
Start date and expected completion date.
Milestones and deadlines for specific phases of the project.
Costs and Pricing:
 Breakdown of costs, including labour, materials, and any additional charges.
 Payment terms and conditions.
Terms and Conditions:
Terms of agreement, including warranties, guarantees, and liabilities.
Any special terms or conditions specific to the project.
Authorization:
Signature and contact information of the person authorising the work.
Signature line for acknowledgement by the contractor or service provider.
Attachments:
Any supporting documents, such as blueprints, diagrams, or reference materials.
Work Order Format in Word
Microsoft Word is a widely used tool for creating Work Order Formats. Its user-friendly interface and formatting options make it accessible for businesses of all sizes. Users can create custom templates and easily fill in the details for each work order. You can also create a work order format in Word by following the steps below.
Open Microsoft Word on your computer.
Word offers various templates for creating documents, including work orders. You can select a template that suits your needs or start with a blank document.
Begin with a header section where you can include your company's name, logo, and contact information.
Clearly state the title as 'Work Order' and the date of issuance.
Include details about the client or customer, such as their name, address, and contact information.
Create a section where you describe the scope of work in detail. Use clear and concise language to specify the tasks, services, or projects to be completed.
Use tables or bullet points to outline the project timeline and milestones. Mention the start date, expected completion date, and any critical deadlines.
Create a table for cost breakdown. List the costs associated with labour, materials, equipment, and any additional charges. Include the total cost calculation.
Define the terms and conditions of the work order. Mention warranties, guarantees, payment terms, and any special conditions.
Reserve space for signatures and contact information of the authorised parties, such as the project manager or client representative.
Save the document and print copies as needed. You can also save it as a PDF for electronic sharing.
Work Order Format in Excel
Excel is another versatile tool for creating Work Order Formats, particularly for businesses that require detailed cost calculations and financial tracking. Excel allows users to create tables, calculate totals, and generate cost estimates efficiently. Here is a step-by-step guide to creating a work order format in Excel.
Open Microsoft Excel on your computer.
Start with a blank worksheet. You can create separate worksheets or tabs for different sections of the work order, such as scope of work, cost breakdown, and terms and conditions.
Similar to Word, begin with a header section where you can include your company's details, title, and date.
Dedicate a section for client information, including name, address, and contact details.
Create a table to outline the scope of work. Use columns for task descriptions, timelines, and responsibilities. Excel's table formatting features make it easy to organise this information.
Design a table for cost breakdown. Include columns for labour, materials, equipment, and total costs. Excel's formula functions can help you calculate the total cost automatically.
Use Excel to create a section for terms and conditions, similar to Word.
Include a space for signatures and contact information of authorised parties.
Attach any relevant files or documents to the Excel worksheet for easy reference.
Save the Excel file and share it digitally, or print hard copies for distribution.
Both Word and Excel offer the flexibility to customise your Work Order Format according to your specific needs, whether you require a more document-oriented approach or a data-driven format with extensive calculations.
Work Order Format in PDF
Converting a Work Order Format to PDF is a common practice to ensure its integrity and prevent unauthorised modifications. PDFs also make it easy to share work orders electronically while preserving their original formatting.
Begin by creating the Work Order Format using Word or Excel. Ensure that all the necessary information is included.
Carefully review the document to check for accuracy and completeness. Make any necessary edits or revisions to ensure the work order is clear and comprehensive.
Once you are satisfied with the content of the Work Order Format, convert it to PDF format using 'Save as PDF' or 'Export to PDF' option.
Give the PDF file a clear and descriptive name, such as 'Work_Order_ClientName_Date.pdf.' Choose a location on your computer or cloud storage where you can easily access and manage the PDF file.
Share the PDF Work Order Format with relevant parties via email or Whatsapp, or provide a download link.
Benefits of Using Billing Software to Create Work Order Formats
Employing billing software for generating Work Order Formats offers several advantages:
Efficiency: Billing software streamlines the process of creating, managing, and tracking work orders, saving time and reducing administrative burdens.
Accuracy: Automated calculations and data entry reduce the risk of cost estimation and billing errors.
Consistency: Billing software allows for the creation of standardised templates, ensuring consistency in work orders across projects.
Customisation: Users can tailor Work Order Formats to specific project requirements, adding or removing fields as needed.
Accessibility: Work orders can be accessed and updated remotely, enhancing communication between on-site teams and the office.
FAQs on Work Order Format
Who typically uses Work Order Formats?
Work Order Formats are commonly used by businesses in the construction, maintenance, repairs, and services industries. They are used to communicate project details to employees, contractors, or service providers.
Can a Work Order Format be customised for different projects?
Yes, Work Order Formats can be customised to suit the specific requirements of different projects. You can add or remove fields, adjust cost calculations, and modify terms and conditions as needed.
How should I share a Work Order Format with a client or contractor?
Work Order Formats can be shared electronically via email or cloud storage services. You can also provide a printed copy if necessary.
Know more about other Billing Formats