Solar Quotation Format
The Solar Energy Project Quotation Format is a document that helps your prospective clients understand the cost and details of a solar project. A detailed and well-designed solar energy quotation catches your customer's attention at the very first instance and helps you convert the prospect into a customer without much effort. This page discusses the importance of solar quotation format, what it includes and how myBillBook helps solar businesses generate clear, concise and professional-looking solar quotation formats in seconds.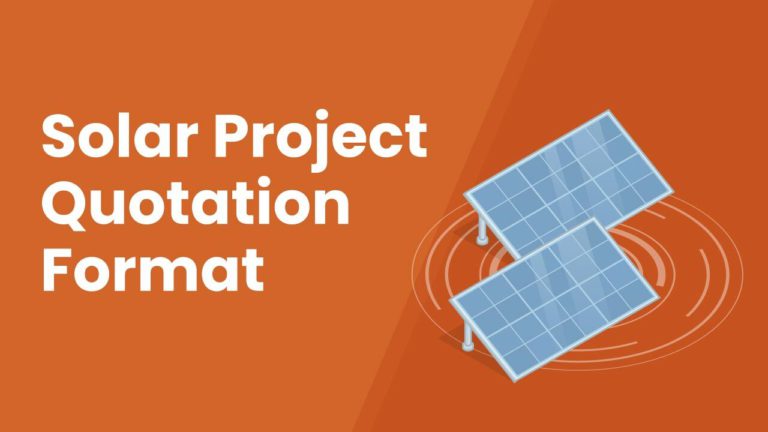 What is Solar Quotation Format
A solar energy project quotation format, or simply solar quotation format or solar proposal, or solar estimate, is a document detailing the costs and specifications of a proposed solar energy project. The format of a solar quote can vary, adapting to the unique identity of each solar company. However, the basic elements remain the same. 
Download myBillBook to Generate Bills
Key Elements to Include in Solar Quotation Format
When creating a solar quotation format, it's important to include the following key elements:
Business Information:

The solar quotation must prominently display your business information, including your business name, address, contact information, contact person, etc.

Client Details:

Collect the necessary details from your prospective client, like full name, contact number, address, e-mail ID, etc., and include the same in the solar quotation format. 

Project Overview

: Begin with a brief overview of the proposed solar project installation. This should include projected costs and anticipated energy savings.

Project Details

: Go into the specifics of the solar energy project. Detail the types and quantities of solar panels, inverters, monitoring systems, and other relevant equipment required to establish a solar plant.

Financial Insights

: Provide a comprehensive financial analysis that forecasts the economic benefits of the solar energy system. Include installation expenses, potential energy bill savings, and expected returns on investment.

Warranty and Care

: Explain the warranties associated with the solar components and tips to maintain them. This builds confidence and transparency with customers.
Choosing Billing Software to Create Unique Solar Quotation Formats
Selecting the right software to generate solar quotations requires careful consideration. Here are some factors to keep in mind.
Customisation Capabilities

: Look for software that allows you to personalise the solar quotation format according to your brand's identity. The ability to add logos, choose colours, and tailor layouts ensures that each quotation reflects your unique business image.

Accuracy and Precision

: Opt for software that offers automated calculations, ensuring that all financial details, from solar panel costs to installation expenses, are accurate. 

Ease of Use

: Choose software with an intuitive interface that simplifies the process of generating solar quotations. This saves time and minimises the risk of errors, allowing you to focus on core business activities.

Data Security

: Prioritize software that employs robust security measures to protect sensitive customer information. This safeguards your clients' data and maintains the integrity of your solar business.

Integration Possibilities

: Consider software that can seamlessly integrate with other tools and software commonly used in the solar industry. This integration enhances the comprehensiveness of your quotations and streamlines data flow.

Feedback and Support

: Opt for software that values user feedback and offers responsive customer support. Regular updates and supportive customer care ensure you can create effective and up-to-date solar quotations.
myBillBook Advantage for Generating Solar Quotation Formats
Tailored Quotation Templates

: With myBillBook, you tap into specialised templates designed to cater specifically to the solar industry. Create solar quotation formats that resonate with your unique solar business identity.

Customised Quotations

: Tailor your solar quotation format effortlessly to reflect your brand's personality. Add your logo, choose brand colours, and fine-tune fonts to create a consistent and professional representation of your solar services.

Precision in Pricing:

Ensure accurate calculations with myBillBook's automated precision. The software calculates every element, from solar panels to labour costs, with meticulous accuracy, presenting a clear and dependable solar quotation.

Effortless Professionalism

: myBillBook streamlines the process of generating solar quotations, saving you valuable time. Embrace professionalism with each quote, reinforcing your reputation as a solar industry expert.

Secured App

: Trust myBillBook's industry-standard security protocols to protect sensitive customer information. With regular security updates and a robust disaster recovery plan, your solar business data remains protected.

User-Friendly Interface

: Enjoy an intuitive user interface that simplifies the quotation generation process. Spend more time on the core aspects of your solar business and less on navigating complex software.
FAQs on Solar Quotation Format Using myBillBook
Why should I use myBillBook for creating solar quotation formats?
myBillBook offers specialized templates designed specifically for the solar industry. This ensures that your solar quotation format is tailored to your business, creating a professional and consistent representation of your solar services.
Can I customise the solar quotation format in myBillBook?
Absolutely, myBillBook offers dedicated customer support and regular updates to its software features, including those related to solar quotations. This ensures that you have access to the latest tools and assistance, helping you create effective and up-to-date solar quotations for your clients.
Can myBillBook help me create solar quotations for both residential and commercial projects?
Yes, myBillBook's versatile templates and customisation options allow you to generate solar quotations for a wide range of projects, whether residential rooftop installations or large-scale commercial ventures.
Does myBillBook provide a breakdown of projected energy savings in the solar quotation format?
myBillBook empowers you to include a detailed breakdown of projected energy savings in the solar quotation format. This information helps your clients understand the long-term benefits of investing in solar energy.
Know more about Billing Software & Billing Format