Packers and Movers Quotation Format
A well-structured quotation format is crucial for any packers and movers business as it helps them to provide clear and precise quotations to their clients. A clear and comprehensive quotation format ensures transparency and enables the clients to make informed decisions. As a Packers and Movers company, a well-designed quotation format helps you to stand out in a competitive market.
This page would help you to understand how myBillBook, an intuitive billing software solution, simplifies and enhances the process of generating quotations tailored to your clients' relocation needs. Discover how myBillBook empowers packers and movers businesses like yours to create accurate and comprehensive quotations that leave a lasting impression.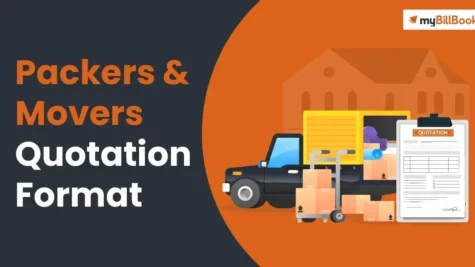 Understanding Packers and Movers Quotation Format
A packers and movers quotation format is a template used to provide quotation details to prospective clients. It is an official document outlining the estimated costs, terms, and conditions of a relocation project. It provides detailed information about the services offered, pricing, payment terms, and any additional charges.
Key Elements to Include in Packers and Movers Quotation Format
Business Details: Start with your Packers & Movers company name, address, contact information, and logo to establish professionalism.
Client Information: Include the client's name, address, contact details, and any specific instructions.
Quotation Number and Date: Assign a unique quotation number and mention the issuance date for future reference.
Services Offered: List the services offered, such as packing, loading, transportation, unloading, and unpacking.
Inventory Details: Provide an itemised list of belongings to be relocated, including quantities, dimensions, and any special handling instructions.
Price Breakdown: Offer a detailed breakdown of costs, including packing materials, transportation charges, labour, and additional services.
Total Cost: Summarize the total cost of the relocation, including taxes and any applicable discounts.
Validity Period: Specify the validity period of the quotation to set clear expectations regarding price changes.
Payment Terms: Outline the payment terms, including the amount and mode of payment, advance payment, and due dates.
Insurance Details: If applicable, include information about insurance coverage for goods during transit.
Transportation Details: Mention the type of vehicle and transportation mode to be used for the relocation.
Terms and Conditions: Include any relevant terms, such as liability limits, cancellation policies, and dispute resolution.
Packers and Movers Quotation Format Using MS Word: Pros and Cons
Creating packers and movers quotations using Word is common for many businesses. While MS Word offers familiarity and basic formatting options, it also has limitations. Let's explore the pros and cons of using MS Word to create packers and movers quotation formats.
Pros:
Familiarity: MS Word is widely known and accessible for creating documents.
Basic Formatting: You can format text, add bullet points and tables, and customise the appearance.
Customisation: You can create layouts and design elements to match your branding.
Sharing: Easily save as PDF or print for sharing with clients.
Cons:
Manual Calculations: Calculating totals, taxes, and discounts requires manual input, increasing the risk of errors in complex quotations.
Time-Consuming Updates: Revising quotations or making changes to individual elements can be time-consuming, especially for recurring services or rates.
Inconsistent Formatting: Collaborating with team members or sharing files across different devices can lead to inconsistent formatting.
Less Professional Look: While MS Word offers basic customisation, it might lack the polished and professional appearance that specialised billing software provides.
Difficulty Tracking Changes: When multiple revisions are required, tracking changes can become cumbersome, leading to confusion.
Limited Mobility: Creating and editing quotations in MS Word is restricted to devices with the software installed, limiting mobility.
Using myBillBook to Generate Packers and Movers Quotations
Creating professional and accurate quotations for your packers and movers business is made effortless with myBillBook, a user-friendly billing software solution. The below-discussed features of myBillBook streamlines the process of crafting appealing packers and movers quotations.
Tailored Templates: myBillBook offers ready-to-use templates designed exclusively for packers and movers. Personalise them with your company's branding, logo, and contact details to give your quotations a professional appearance.
Effortless Data Input: Inputting project details, inventory information, costs, and other specifics is made easy with myBillBook's user-friendly interface. You can itemise all components of the relocation accurately.
Automated Calculations: myBillBook handles automatic calculations, ensuring precise totals, taxes, and discounts. This eliminates manual errors and saves valuable time.
Digital Sharing: Share quotations instantly with your clients through email or messaging platforms directly from myBillBook. This ensures prompt communication and minimises delays.
Swift Revisions: If changes are required in an existing quotation, myBillBook enables you to edit without starting from scratch. You can make instant revisions and share the updated quotation within seconds.
Effortless Conversion to Invoices: Once a client accepts a quotation, myBillBook allows you to convert it into a professional invoice with just a few clicks. All essential details from the quotation, including itemised costs, taxes, and terms, are seamlessly transferred to the invoice.
Quote Duplication: myBillBook's quote duplication feature allows you to duplicate quotations and make necessary adjustments for similar projects. This feature saves time by eliminating the need to recreate quotes from scratch.
Secure Data Storage: All generated quotations are securely stored within myBillBook, providing easy access for future reference or modifications. You can retrieve past quotations, review details, and make necessary revisions.
Using the power of myBillBook, packers and movers businesses can simplify the process of generating quotations, enhance professionalism, and save time while maintaining accuracy. This empowers companies to focus on delivering quality relocation services and building strong client relationships.
FAQs on Packers and Movers Quotation Format
Can I customise the packers and movers quotation templates in myBillBook?
Yes, myBillBook allows you to personalise templates with your company's logo, colours, and branding elements.
Is myBillBook suitable for both small and large packers and movers businesses?
myBillBook caters to companies of all sizes, making quotation generation efficient and professional.
Can I offer different quotes for various types of relocations using myBillBook?
Yes, myBillBook's customisable templates can be tailored to the different relocation services you offer.
Know more about other Billing Formats