Catering Bill Format
A typical catering bill is a comprehensive summary of all the services offered for a particular project. Having a standardised catering bill format helps the food business generate catering business bills with much ease. Also, it saves them time and reduces the scope for errors, thus improving customer satisfaction. Further, a well-designed catering bill format provides a professional image to the catering business and brings a first impression to the clients. Can we achieve all these by creating a catering bill format in Word, Excel, and other tools? Is using billing and accounting software to generate catering bills worth the investment? If you have similar questions, continue reading to get all the answers.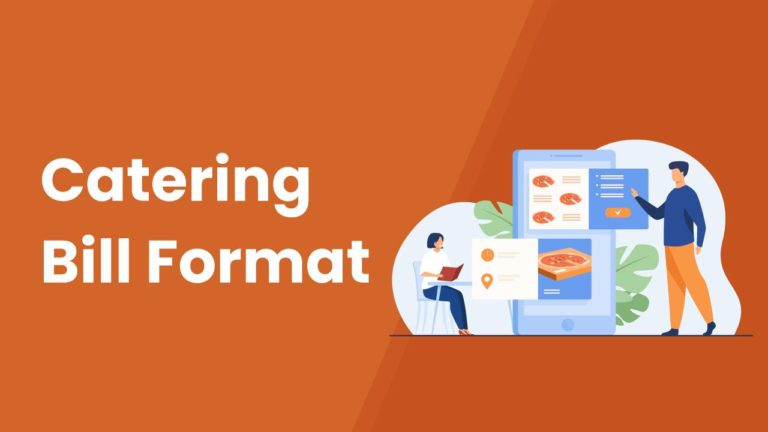 What is the Catering Bill Format
A catering bill format is a standardised template that outlines the details of the services provided, along with the associated costs. It serves as an official transaction record, enabling both parties to track the services availed and the corresponding charges. This format acts as a point of reference for clients, helping them understand the breakdown of costs and facilitating smoother payments.
Download myBillBook to Generate Bills
Essential Contents of a Catering Bill
The following details must be included in a catering bill format to ensure they are comprehensive and provide essential information for the customers. 
Contact Information of both parties

: Include your catering business's name, address, and contact details. Include your client's information as well.

Invoice Number and Date

: Assign a unique invoice number and mention the bill date. 

Description of Services

: Provide a detailed description of the catering services provided, including the type of event, menu items, and any special requests.

Quantity and Unit Price

: List the quantity of each item provided and its corresponding unit price.

Subtotal

: Calculate the subtotal by multiplying the quantity with the unit price for each item.

Taxes and GST

: Mention any applicable surcharges and the Goods and Services Tax (GST) percentage as per Indian regulations.

Total Amount

: Sum up the subtotal and tax amount to arrive at the total payable amount.

Payment Details

: Specify the accepted payment methods and provide the banking details for electronic transfers.
Terms and Conditions: Include any terms and conditions related to payment timelines, cancellations, and refunds.
Catering Bill Format in Word – The Pros and Cons
Creating a catering bill format in Word offers several advantages for catering businesses. Word is a familiar and easily accessible platform, making it convenient for business owners to design and modify their bill templates according to their branding. Additionally, Word allows for detailed customisation, including the specific fields and information required for the catering industry, such as item descriptions, quantities, unit prices, and terms. Overall, using Word to create catering bill formats provides catering businesses greater control over their invoicing process, ensuring professionalism, clarity, and a tailored representation of their services.
While using Word to create catering bill formats offers certain advantages, there are also some drawbacks. One significant limitation is the potential lack of standardised templates tailored explicitly for specific industries, such as catering. This might require manual design and formatting, which can be time-consuming and might not look most professional. Also, Word's capabilities for automated calculations and data validation are more limited compared, potentially increasing the risk of errors in calculations or data entry. Further,  managing and updating numerous bills in Word documents can become cumbersome and disorganised. 
To overcome all these drawbacks, catering businesses can consider investing in dedicated billing and invoicing software that offers greater efficiency, accuracy, and professionalism in the long run. myBillBook is one such billing software that helps businesses of all sizes streamline their billing and accounting process effortlessly. 
Using myBillBook to Create Catering Bill Format
myBillBook is India's No:1 billing and accounting software that offers numerous advantages for catering businesses. 
Ease of Use

: myBillBook provides user-friendly templates that simplify bill creation. You don't have to be an expert in using the software, creating an invoice in myBillBook is as simple as using any other app on your mobile device. 

Customisation

: Tailor bills to suit your catering business's branding by adding logos and customising colours. The

custom invoice

feature available in myBillBook allows you to create custom invoices of your choice. You can add your logo, watermark, custom fields, and other details to make your invoice look unique and professional. 

GST Compliance

: myBillBook offers two different options to create invoices –

GST Bills

and non-GST bills. Choosing GST bills enables you to develop GST-compliant invoices without any extra effort. The software will add the required fields and tax rates to the invoice, aligning it with the GST terms. 

Digital Record Keeping

: Forget the hassle of storing all your manual bills. myBillBook stores all the invoices created using the software and all transactions safely and securely, enabling easy access and reference in the future.

Automated Calculations

: myBillBook automatically calculates subtotals, taxes, and totals, reducing errors and saving time.

Efficient Payments: The software enables you to accept online payments through integrated payment gateways, enhancing convenience for clients.
FAQs on Creating Catering Bills Using myBillBook
What information can I include in my catering bill format using myBillBook?
With myBillBook, you can easily include your catering business's contact details, a unique invoice number, the date of the bill, detailed descriptions of services provided, quantities, unit prices, subtotals, taxes (such as GST), and the final total. You can also outline payment methods and terms and conditions for your services.
Can I personalise the catering bill format in myBillBook?
myBillBook allows you to personalise your catering bill format to align with your branding. You can upload your business logo, choose colours that reflect your company's identity, and format fonts to maintain consistency.
Does myBillBook help me comply with GST regulations in my catering bill format?
Yes, myBillBook provides predefined GST templates, allowing you to easily include GST details in your catering bill format. This ensures compliance with tax regulations and helps clients understand the GST implications on their bills.
Can myBillBook help me keep track of my catering business's financial records?
Yes, myBillBook provides a comprehensive record-keeping feature that allows you to store digital records of all your transactions. This makes accessing and referencing past bills easier, aiding in financial tracking and reporting.
Is myBillBook suitable for both small and large catering businesses?
Whether you're just starting a new catering business or managing a well-established one, myBillBook's features and customisable templates can adapt to your needs, helping you streamline your billing process effectively. The software is scalable to the growing needs of SMBs and MSMEs.
Know more about Billing Software & Billing Format