Travel Bill Format
Travel bill formats are typically used by both travel-related businesses and individuals who wish to file a reimbursement for their travel expenses. Any travel involves various expenses that need proper documentation. A well-structured travel bill format is very important to record each expense properly and present it professionally. A travel bill format must provide a detailed breakdown of costs and serve as a formal record for expense reimbursement. In this article, we will explore what a travel bill is and who uses it, the essential fields to include, different ways to generate a travel bill, the convenience of billing software, and the benefits of using myBillBook to create travel bills.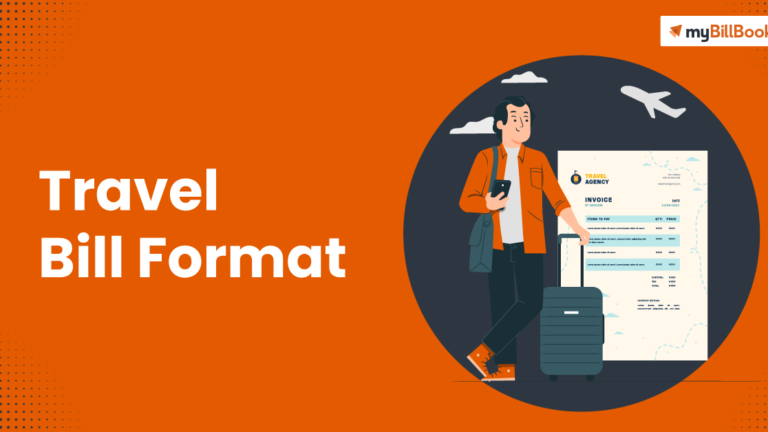 What is a Travel Bill and Who Uses It?
A travel bill is a comprehensive document that outlines the expenses incurred during a journey, including accommodation, transportation, meals, and other related costs. A fixed template or format helps to fill it quickly and easily. A well-structured travel bill format can be used by individuals, employees, or company representatives who undertake business trips, freelancers working on assignments, and travellers seeking reimbursement from their employers or clients.
Download myBillBook to Generate Bills
Fields to Include in a Travel Bill Format
Company details or personal information

Details of the trip, including dates, mode of travel, accommodation details

List of daily expenses, including food, transportation, entry fee and other miscellaneous costs. 

Total Amount

Payment details

Approvals and signatures
Different Ways to Create a Travel Bill Format
Manually

: The traditional approach involves manually drafting a travel bill format. This involves using MS Word, MS Excel, Google Docs, and PDF Makers to create travel bill format. Creating travel invoice formats in Word, Excel, and Google Docs allows you to customise the invoices differently. However, these manual methods are often time-consuming and potentially error-prone due to manual calculations and data entry. Attaching receipts can be cumbersome, particularly for frequent travellers or businesses with many transactions.

Using Billing Software

: Billing software like myBillBook revolutionises travel bill creation. This software provides dedicated templates with pre-designed fields for expense categories, amounts, dates, and descriptions. With automated calculation features, the risk of human error diminishes significantly. Users can conveniently input expense data, and the software instantly generates a professional-looking travel bill. 
While manual methods offer customisation but demand time and vigilance, billing software like myBillBook simplifies the process through automation, ensuring accuracy, efficiency, and a seamless travel bill generation experience.
How Billing Software Makes It Easy to Generate Travel Bills
Billing software simplifies creating travel bills by providing pre-designed templates, automating calculations, and organising expense data. Users can easily input their travel information, upload receipts, and generate accurate travel bills swiftly, reducing paperwork and administrative burden.
Benefits of Using myBillBook to Create Travel Bills
User-Friendly Interface

Customisable Templates

Expense Management

Real-Time Access

Paperless Process

Data Insights

Professional Invoices

Time-Saving

Accurate Calculations
FAQs on Travel Bill Format
Is myBillBook suitable for freelancers and self-employed professionals?
myBillBook caters to the needs of freelancers and self-employed individuals.
Can I track multiple trips with myBillBook?
myBillBook allows users to manage multiple travel bills and expenses simultaneously.
Can I access myBillBook on mobile devices?
myBillBook is available as a mobile app, allowing users to manage expenses on the go.
How does myBillBook assist with expense record-keeping?
myBillBook streamlines expense recording by offering standardised templates, automated calculations, and receipt attachment options. It centralises data, making tracking and retrieval efficient.
Is myBillBook suitable for businesses with frequent travellers?
myBillBook is particularly beneficial for companies with frequent travellers due to its time-saving automation, centralised data storage, and easy access for reimbursement or auditing purposes.
Know more about Billing Software & Billing Format