Billing Software For Gym
Billing software for gyms helps its owners to create invoices for gym memberships, health supplements, personal training programs, or any other services offered in the fitness facility. Whether you're a personal trainer, a gym owner, or a yoga instructor, gym billing software helps you with all your billing and accounting needs.
myBillBook is one such online platform that provides billing and accounting services to many businesses, including gyms, fitness clubs, Zumba institutes, yoga studios, and the like. Besides invoicing and accounting services, the billing software also allows fitness centres to send promotional messages, payment reminders, renewal reminders, greetings, and many more
Let's explore the features offered by myBillBook billing software for gyms to get a better idea about the app and its functionality.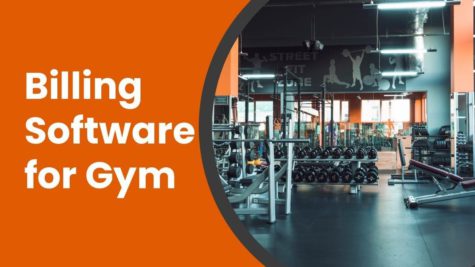 Features of Billing Software For Gym
Generates Customised Invoices: Choose an invoice template from various options available on myBillBook. Vertical alignment or horizontal, bold colours or neutral tones, GST theme or non-GST, you can choose from various options. Creating an invoice aligned with your gym's brand image makes it look unique and professional.
Sends Payment/Renewal Reminders: Once you record your health club's client's information in the billing app, you will receive reminders about payment dues, renewal dates and others. You can send the same reminders to the respective customers through SMS, Whatsapp, and e-mail. No more hesitation in asking your clients about the payments directly. Your job gets done effortlessly.
Accepts online payments: Send your gym clients a link to make a payment while sending reminders. The billing app has the provision to collect payments to linked bank accounts. As most people prefer to make online payments, the reminder along with a link for payments prompts timely renewals and continued memberships.
Generates Reports: myBillBook also generates reports- day-wise, week-wise, month-wise, etc., to help you analyse your fitness business sales, renewals, subscriptions, etc. The reporting feature also helps you to keep track of your finances and business performance.
Login from your mobile: myBillBook is a cloud-based application that is available as a desktop application, mobile app, and web. You can download myBillBook on your mobile – available for Android and iOS, log in with the same credentials and access your gym account. This way, you can access your account on the go anytime.
Interactive Dashboard: Monitor your gym business cash flows, subscription information, payment data, sales report, and everything in one place with the interactive dashboard offered by myBillBook.
Open online store: Another interesting feature of the billing app is the online store. You can open the online store for your yoga studio using the app and add your products like nutrition powders, yoga mats, training garments, etc. Share the link with your clients and let them shop in their comfort.
Start a free trial today: If you want to explore all these features and many others in real time, subscribe to our free trial today. Enjoy the premium benefits for up to 14 days.
FAQs on Billing Software for Gym
How to purchase myBillBook billing software for gym?
myBillBook is a cloud-based software hence you don't have to purchase the license. You can simply download the app, which is available for both mobile and desktop. Take a subscription plan based on your business requirements. Sign-up using your mobile number, enter your business details, and you're all set.
Is myBillBook billing software for gym expensive?
Absolutely not. The subscription plans are priced, keeping small and mid-sized businesses in view. You can choose a plan based on affordability and customise plans per your requirement.
How safe is my data in myBillBook health club billing software?
Don't worry about your client information or other financial information that you enter into the myBillBook application. All the information is end-to-end encrypted and saved in the cloud serves to avoid malware and hacking attacks.
Know more about Billing Software & Billing Format