Secured and Unsecured Business Loans
Secured Loans and Unsecured Loans are two broad categories of Business Loans. As their names suggest, one requires security to borrow a loan, and the other does not, provided the borrower is creditworthy. But that's not all, there are various other things one needs to know to get a better idea about secured and unsecured loans. This guide is a collection of most topics related to the aforementioned loans.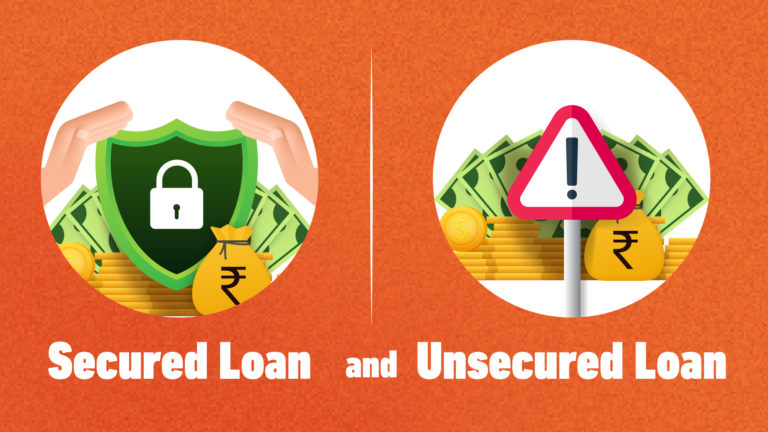 Secured Loans Definition & Purpose
Secured Business Loans, also called Collateral Business Loans, are loans offered to businesses against property, personal guarantee, gold or any other asset of value. These loans will not be issued without any security or collateral. In case of default, the lender gets all the rights to acquire the collateral.
Secured loans are helpful for start-up businesses and businesses without a credit history. These loans help the borrowers obtain capital to start a new business, to expand an existing business, and purchase equipment and machinery, technology upgrades and other infrastructure developments.
Types of Collaterals Accepted for Secured Loans
The type of assets, security, or collateral acceptable for secured loans might vary from one bank to another. Here are some common collaterals accepted as security to issue the loan.
Residential property of the business owner – Individual house, villa, flat in an apartment, standalone building, etc.
Commercial property of the business owner – Commercial Building, Complex or office space.
Industrial property of the business owner – Factories, godowns, manufacturing facilities, warehouses, etc.
Not Acceptable Collateral for Secured Loans
Schools
Hospital Colleges
Hostels
Shopping Malls
Religious places or Places of faith
Third-party properties
Vacant or partially constructed property
Open plot or agricultural land
Features of Secured Loans
High loan amounts: As secured loans are backed by a guarantee, the loan amounts are typically high. However, the amount usually depends on the value of the asset. While some banks provide more than the value of the collateral, others provide up to 80% of the asset value depending on the past credit history of the borrower. Whichever may be the case, compared to unsecured loans, secured loans are typically big in nature. Depending on the business's eligibility, banks can provide credit up to Rs.10 Crore.
Low-interest rates: Due to the secured nature of these loans, the interest rate offered is typically a loan compared to other loan products. The rate is not fixed and varies based on the bank and the lender's creditworthiness.
Longer Repayment Tenures: With large loan amounts come longer tenures, making it easy for businesses to repay the loan in smaller monthly payments. The tenure of secured loans typically varies from 15 to 30 years.
Flexible Repayment Options: Banks provide multiple repayment options for secured loans. Businesses have the option to choose repayment tenure based on their repaying capacity. The lesser the tenure, the lower the interest charged on the principal.
Balance Transfer: Secured loans come with a balance transfer option in which loans from one bank can be transferred to another at lesser interest rates. Businesses can reduce the interest amount by switching their loans to low-interest offering banks.
Top-Up Loans: If the acquired loan amount is insufficient, businesses can opt for a top-up loan facility under which banks will lend additional credit at the same interest rate. However, the approval of a top-up loan depends on the eligibility of the borrower.
Eligibility to Apply for Secured Loans – Who Can Apply
Again, the eligibility criteria differ from bank to bank. The basic eligibility details are mentioned here.
Eligible list of businesses

Self-Employed professionals
Small and mid-sized businesses
Proprietorship firms
Partnership firms
Self-employed professionals
Private or closely held companies
Limited liability companies
Manufacturing Units
Trading Units
Retail and Wholesale businesses, including Kirana stores, general stores, and provisional stores

Must gain profits for the past two financial years
Should not have any accumulated losses
Strong investor background
Applicant must be between the age group of 25 to 65 years
Business must be 3 years or older
Minimum annual turnover required
Documents Required to Apply for a Secured Loan
Duly Filled Secured Loan application form
Know Your Customer (KYC) documents
Income documents
Bank statement
Facility Agreement
Deed of Hypothecation
Demand Promissory Note
Security cheques
Power of Attorney
Guarantee agreement signed by the guarantors
Types Of Secured Business Loans
Loans Secured By Collateral: If the loan is sanctioned against a mortgaged property, it is called Loan secured by Collateral. These loans typically have longer tenure, higher loan amounts, and lower interest rates.
Some banks also accept government securities, fixed deposits, gold, precious metals, and even savings accounts to issue secured loans. These funds cannot be used until the loan is repaid.
Loans Secured By Personal Guarantee: When the business does not have any property to obtain a loan, the personal guarantee of the business owner or the partner will be considered. Any property or assets owned by the guarantor will be pledged as limited or unlimited liability. In case of default, only the loan amount will be recovered from the pledged property.
Self-Securing Business Loans: This kind of loan requires no additional collateral. Like home loans, in which the home itself acts as collateral, self-securing business loans do not require any other collateral. Equipment loans are one such loan.
Unsecured Business Loans
Unsecured Business Loans do not need the borrower to pledge any assets or property as collateral to obtain the loan. Instead, the lender relies on the borrower's creditworthiness and ability to repay the loan based on their income, credit score, and other financial factors.
Unsecured loans can be used to launch a new business, manage or develop an existing enterprise, meet working capital requirements, install new machinery, upgrade to the latest technology, pay overhead costs, or for any other business development activities.
Features of Unsecured Business Loans
No security required: An interesting aspect of an unsecured business loan is that it does not require any security. Hence, the loans are quite helpful for those without any property or assets to pledge.
Eligibility-based Loan Amount: Unlike secured loans in which the asset's value decides the loan amount, unsecured loans are approved based on the creditworthiness and financial history of the applicant. The loan amount is determined based on the borrower's current income and liabilities. Unsecured loan amounts vary from Rs.5 to Rs.30 lakhs based on eligibility.
Interest Rates: Compared to secured loans, unsecured loans have slightly higher interest rates due to the risk involved. Lenders tend to charge a higher interest rate because there is no security for these loans. However, the interest rates stay competitive with the increasing number of financial institutions offering unsecured loans.
Less Documentation: While secured loans require a lot of documents related to the mortgage, the documentation process for unsecured loans is simple and straightforward. The basic KYC documents, income proofs, etc., would be sufficient to avail of the loan.
Quick Disbursal: Due to less documentation and less background verification process, unsecured loans are disbursed in a short time.
Shorter Tenure – Due to the unsecured nature of unsecured loans, the repayment tenure is comparatively less and varies from 12 to 36 months.
Eligibility to Apply for Unsecured Business Loans
Applicant must be an Indian resident.
Should belong to the age group of 25 to 65 years.
Business should be at least 3 years old
Businesses must have an eligible annual turnover
Trusts, charitable organisations and non-profit organisations are not eligible.
List of Documents Required to Apply for Unsecured Business Loan
Basic KYC documents of the business and its owner
Proof of Ownership
Business bank statements
Business registration proof
GST returns
Income tax returns
Loan obligation sheet and sanction letters
FAQs on Secured and Unsecured Loans
What are some examples of secured loans?
Examples of secured loans include mortgages, car loans, and home equity loans.
What are some examples of unsecured loans?
Examples of unsecured loans include business loans and credit cards.
What are the benefits of a secured loan?
The advantages of a secured loan include larger loan amounts, lower interest rates, longer repayment periods, and the ability to obtain financing even with a lower credit score.
What are the disadvantages of a secured loan?
The main disadvantage of a secured loan is the risk of losing the collateral if the borrower is unable to repay the loan. Additionally, the application process for a secured loan can be more time-consuming and complex than for an unsecured loan.
What are the advantages of an unsecured loan?
The advantages of an unsecured loan include not having to provide collateral, a faster and simpler application process, and the ability to obtain financing even with a limited credit history.
What are the disadvantages of an unsecured loan?
The main disadvantage of an unsecured loan is higher interest rates, lower loan amounts, shorter repayment periods, and the possibility of being denied financing due to a low credit score or other financial factors.
I have a low credit score. Can I get a secured loan?
Yes, it is possible to obtain a secured loan with bad credit. In addition, borrowers with bad credit may be charged higher interest rates or required to provide additional collateral to secure the loan.
I have a low credit score. Can I get an unsecured loan?
Borrowers with bad credit may face higher interest rates, lower loan amounts, and shorter repayment periods and may be required to provide additional documentation to demonstrate their ability to repay the loan.
What are the approval times for secured or unsecured loans?
The approval process for a secured or unsecured loan can vary depending on the lender and the type of loan. In general, secured loans may take longer to approve because of the need to verify the collateral and the associated paperwork.
Unsecured loans may be approved more quickly, but the approval time can vary depending on the lender's requirements and the borrower's credit history.
Know more about Businesses loans & Ideas