Goat Farming Loans
Commercial sheep and goat farming has gained importance recently due to its high economic prospects. The demand for goats and their products is increasing yearly, encouraging many farmers, businessmen, youth, and entrepreneurs to start goat farming as a serious business. To encourage such people, the Government of India introduced many financial assistance schemes like MUDRA loans for goat farming in collaboration with other animal husbandry departments. Here are a few such loans offered by the government for goat farming businesses in India.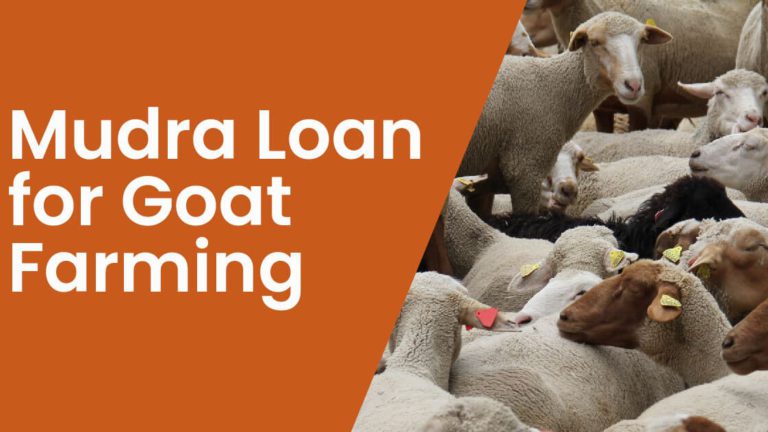 Goat Farming Loans Under PMMY Scheme – MUDRA Loans
Under the Pradhan Mantri MUDRA Yojana scheme (PMMY), the Micro Units Development and Refinance Agency (MUDRA) provide loans up to Rs.10 lakh for allied-agriculture activities like goat farming.
MUDRA loans for goat farming are currently offered by various Public Sector Banks, NBFCs, Regional Rural Banks, MFIs, State Cooperative Banks, and Urban Cooperative Banks.
Goat farming loans by MUDRA are offered in 3 categories – Shishu, Kishor, and Tarun.
Shishu Scheme provides loans up to Rs.50,000 to establish a new or green field goat farming venture.
Kishor Scheme provides loans from Rs.50,001 to Rs.5 lakh for existing goat farming businesses for working capital requirements.
Tarun Scheme provides loans above Rs.5 lakh to Rs.10 lakh to expand or upgrade existing goat farms.
The government encourages new goat farm businesses, with more than 60% of the MUDRA loans locked for greenfield projects. Women and entrepreneurs belonging to SC/ST communities can avail of subsidised interest rates on MUDRA loans for goat rearing.
National Livestock Mission (NLM) – Goat/Sheep Entrepreneurship Scheme
The National Live Stock Mission, under the Goat/Sheep Entrepreneurship Scheme, aims to develop a sustainable business model for sheep and goat farming by incentivising entrepreneurs to develop an integrated rural sheep-goat production system. It also aims to transform the small goat farming sector into an organised business model by promoting entrepreneurship and investment.
Who is Eligible?
Under the Sheep and Goat Entrepreneurship Scheme, the Department of Animal Husbandry and Dairying (DAHD) encourages the establishment of
Sheep and goat breeding units with a minimum of 500 females and 25 males
The ruminants (sheep & goats) must be of high genetic variety used for producing milk, meat and fine wool quality.
Who Can Apply?
Individual Entrepreneurs
Self-help groups (SHGs)
Farmer's Producers Organisations (FPOs)
Farmer Cooperatives (FCOs)
Joint Liability Groups (JLGs) and
Section 8 companies
Scheme Benefits
Eligible applicants will get a one-time capital subsidy of 50% up to Rs.50 lakh directly deposited in their accounts in two equal instalments. The applicants must arrange the remaining amount through bank loans or self-financing.
Goat Farming Equipment Eligible for Funding
Construction of 5,500 sqft housing shed for parent stock
Kid shed & sick pen of 3,500 sqft
To purchase 500 female sheep and goat
To purchase 25 male sheep and goat
Transportation cost
Fodder cultivation for 5 acres
Chaff cutter
Integrated silage-making machine
Equipment and insurance for 525 sheep and goats
Eligibility to Apply for Goat Farming Loans
The applicant must have obtained training or experience in managing and operating in the relevant field.
Must get the loan for the remaining amount sanctioned by the bank/financial institutions.
Should have own land or lease land for establishing the goat farm.
Documents Required to Apply for Goat Farming Loans
The following documents are required
Proof of applicant's share in the project
List of farmers attached to the project
Address proof of the applicant\
Last 3 years' audited financial statements and IT returns for establishment farms
Bank Statements for the last 6 months
Pan/Aadhar card of Chief Promoter
Caste certificate (if applicable)
Training certificate
Experience certificate
Scanned Photo
Scanned signature
Eligible entrepreneurs and eligible farmers can apply for loans through the National Livestock Mission (NLM) website.
FAQs on Goat Farming Loans
How can I get a loan for goat farming in India?
You can approach any nationalised or public sector bank and enquire about the goat farming financial assistance schemes provided by the government.
What is the maximum loan amount for goat farming?
Under the MUDRA scheme, loans up to Rs.10 lakh are offered for goat farming businesses. The NLM scheme provides a 50% subsidy of the total project cost up to Rs.50 lakh for goat and sheep farming enterprises.
What is the interest rate of goat farming loans in India?
There is no fixed interest rate on goat farming loans, and the rate varies with every lender. However, the Reserve Bank of Inda fixed a cap on the maximum interest rate to ensure that banks offer a lower interest rate.
Is the MUDRA loan available for goat farming?
MUDRA loans are available for goat farming under the Sishu, Kishor, and Tarun categories. Loan amounts range from Rs.50,000 to Rs.10 lakhs.
Do I need any training or experience to establish a goat farming business?
To avail of government subsidies and loans, the applicant or the goat farm owner must have prior experience in the relevant field or undergo goat and sheep farming training. Alternatively, you can also hire experts in the relevant field of your business.
Know more about Businesses loans & Ideas