Bike Quotation Format
If you're running a bike shop or in the business of selling bikes, you need to have a good understanding of bike quotations. A bike quotation is an essential document that provides adequate information to your customers and helps them make informed decisions. There are different ways of generating a bike quotation format. Know the easiest way to generate a bike quotation using billing software.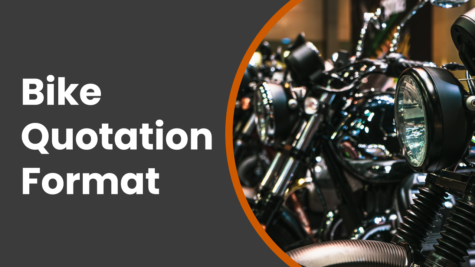 What is a Bike Quotation?
A bike quotation is a document that outlines the details of a bike that you're selling. It's an official estimate that includes the cost of the bike, accessories and any additional features that may be included. It is a formal proposal informing the customer about the bike's details and the price they'll be paying for it. A detailed quotation gives them a clear idea of the total price of the bike, including taxes and other charges.
What is Bike Quotation Format?
A bike quotation format is a template that lists all the fields required to provide a quotation to the bike purchasers. It's the way in which the bike quotation is presented to the customer. There are different bike quotation formats; the one you choose depends on your preference and the software you use. However, regardless of your chosen format, it's important to ensure that the bike quotation is clear, concise, and easy to understand to the customers.
Sample of bike quotation format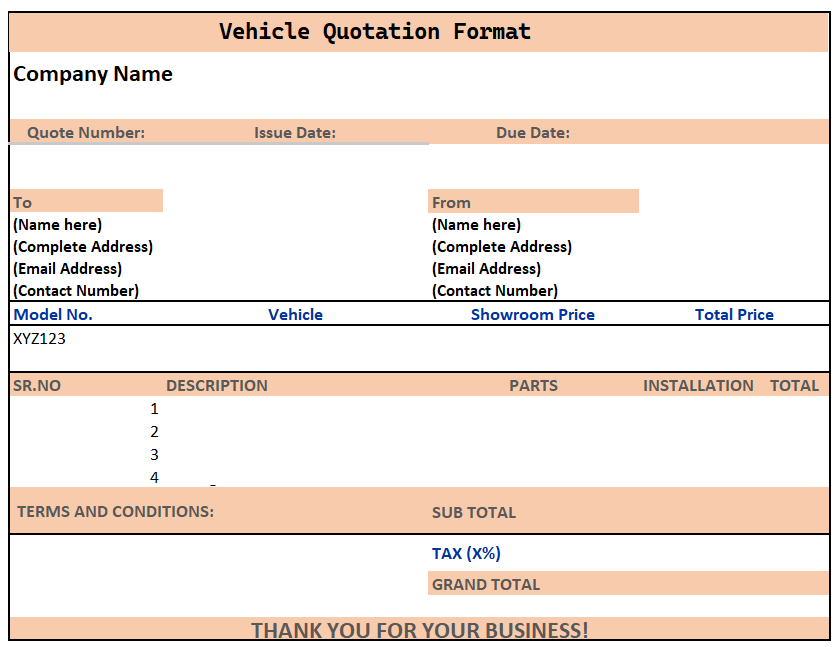 Bike Quotation Format in Word, Excel, and PDF
There are different software applications that you can use to create your bike quotation. Word, Excel, and PDF are some of the most commonly used software applications. Each of these applications has its own advantages and disadvantages.
Bike Quotation Format in Word
MS Word is easy to use and can be customised as per your needs. While creating the bike quotation format in Word, you can add your company logo, change the font style and size, and add tables and images. You can also save your bike quotation in different formats, such as PDF, and email it to your customer.
Bike Quotation Format in Excel
With bike quotation format in Excel, you can easily create tables that outline the details of the bike and the price. With Excel bike quotation, you can also create formulas that calculate the total cost of the bike, including taxes and any discounts.
Bike Quotation Format in PDF
PDF is a secure format that preserves the document's layout and formatting. The bike quotation format in PDF looks professional and can be easily shared with your customer. You can also add your company logo and other branding elements to make your bike quotation stand out. However, if you want to make any changes, you need to consider bike quotations in Word and Excel.
Fields to Include in Bike Quotation
When creating a bike quotation, there are certain fields that you should include. These fields will ensure that your bike quotation is clear and informative and helps the customer make an informed decision.
Bike Details: This includes the make and model of the bike, the colour, and the size. It's important to be specific about the bike you're selling to avoid any confusion.
Price: This includes the bike cost and any applicable taxes or fees.
Accessories: This includes any accessories or features of the bike, such as a helmet, safety guards, mats, grippers, or a lock.
Warranty: This includes the warranty period and what it covers. Be clear about what the customer can expect in case of defects or issues.
Delivery: This includes the delivery method and any associated costs. Make sure about the delivery timeline and any restrictions that may apply.
Payment Terms: This includes the payment method and any associated fees or charges. Be clear about the payment timeline and any penalties for late payments.
Contact Information: This includes your contact information, such as your phone number, email address, and physical address.
Terms & Conditions: This includes any terms and conditions that apply to the sale of the bike, such as return policies or cancellation fees.
Including these fields in your bike quotation helps you manage expectations and ensures that there are no misunderstandings or confusion during the sales process.
Benefits of Using Billing Software to Generate Bike Quotation
Using billing software to generate bike quotations offers several advantages over traditional methods, such as creating quotes manually on paper or using spreadsheets. Some of the advantages of using billing software for bike quotations:
Billing software can automate the quotation process and generate bike quotes quickly and efficiently. This means you can create and send out quotes to potential customers in a matter of minutes rather than hours or days.
With billing software, you can ensure that all the details on the quote are accurate and up-to-date. This reduces the risk of errors, such as incorrect prices or missing information.
Using billing software to generate bike quotes gives your business a professional look and feel. It shows you're up-to-date with technology and have streamlined your operations to provide a better customer experience.
The billing software allows you to create customised quotes that reflect your brand and your business needs. You can add your company logo, colours, and other branding elements to the bike quote, making it more visually appealing to the customer.
Billing software can help you keep track of all the bike quotes you've sent out and their status. This makes it easy to follow up with potential customers and ensures that you don't miss any sales opportunities.
Offers high security to protect your customer's data and ensure it's stored safely. This helps build trust with your customers and shows that you take their privacy seriously.
FAQs on Bike Quotation Format
Can I customise my bike quotation format?
You can customise your bike quotation format to reflect your brand and business needs. You can add your company logo, colours, and other branding elements to the quote to make it more visually appealing and professional.
Is it necessary to include a warranty on a bike quotation?
It's optional to include warranty information in a bike quotation. Including the warranty, however, ensures that the customer knows what to expect in case of any issues or defects with the bike.
How can I make my bike quotation format stand out?
You can make your bike quotation format stand out by adding your company logo, colours, and other branding elements. You can also use a professional-looking template that reflects your business and industry. Additionally, you can customise the quote to highlight the bike's unique features or benefits.
How can I ensure that my bike quotation format is accurate?
To ensure that your bike quotation format is accurate, you should double-check all the details and pricing information before sending it out to the customer. You can also use billing software to help reduce the risk of mistakes.
Can I send a bike quotation format online?
You can send a bike quotation format online through email or Whatsapp. Online bike quotes can be more efficient and convenient for you and the customer. Just be sure to use a secure method of sending the quote to protect sensitive information.
Know more about other Billing Formats