Invoicing Software for Entertainment Industry
The entertainment industry involves a lot of the hustle and bustle. You could be handling an Ad agency, media firm, PR company, production house, Art & Music Studio, Dance studio, or anything of that sort; managing multiple things is not that easy. When it comes to billing and accounting, things before even more difficult without proper tools. Many entertainment firms thus rely on reliable invoicing software that could help manage their billing and accounting tasks more efficiently. 
myBillBook is one such invoicing software for entertainment industry that enables you to conduct various billing, accounting, staff management, tax filing, and money management tasks easily. Listed here are some of the features of the myBillBook invoicing app that are exclusively helpful for your entertainment business.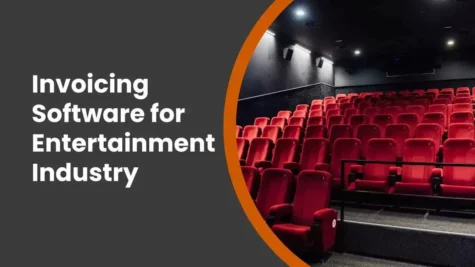 Features of myBillBook Invoicing Software for Entertainment Industry
Easy to Configure
The name software might make you think about installations, configurations, set-ups, etc. But myBillBook billing software for entertainment industry is an exception. Unlike other software like Tally, myBillBook is a cloud-based application. You can install myBillBook as an app on compatible devices like mobiles, laptops, and PCs. Download it from the respective Play Store or App Store, and you're all set to use the software. Hope this helps you save time and focus on your creative business. 
Professional Quotations & Invoices
Your craft involves a lot of creative thinking, and you can trust our creativity for your invoices and quotation formats. We have pre-designed invoice templates using which you can create professional quotations and invoices in seconds. Select from our limited range of invoice templates, include the required information and send them directly to your client's inbox or Whatsapp. If the proposal gets approved, you can convert the quotation into an invoice in a single click. 
Be Up-to-Date with Industry Changes
e-Way billing and e-invoicing are some of the latest developments with respect to billing and invoicing. Whichever billing software you choose, ensure it is updated with the recent industry changes. If you're considering myBillBook, you don't have to worry about this. The invoicing app is updated with all the industry standards and stays competent among its competitors. You can find new features, like e-Way bill generation, e-invoicing, and Automated Billing, in the software and use the ones relevant to your business.
Prompt Payments
With payment-related features like SmartCollect Payment, payment reminders, and Automated billing, you can prompt your entertainment industry clients to make timely payments. The SmartCollect payment feature allows your customers to make online payments through RTGS, IMPS, NEFT, and UPI. You can share the payment link or QR code along with the invoice and make it easy for them to process the payments. 
Track Your Expenses
One of the useful accounting features of myBillBook is Expense Tracking. This feature lets users categorize expenses, add notes and receipts, and track payments. Additionally, users can generate reports to understand their spending habits better, identify areas where they can save money, and plan their budgets accordingly. This helps businesses stay on top of their expenses, manage their finances efficiently, and make informed decisions to grow their business.
Analyse Data
Billing software for the entertainment industry offers real-time insights into business finances. This feature generates comprehensive reports on key metrics, such as revenue, expenses, and profit margins. Users can analyse this data to identify patterns and trends that inform their financial decisions.
FAQs on Invoicing Software for Entertainment Industry
How can customisable invoices benefit my entertainment business?
Customisable invoices allow users to create invoices that align with their branding and business needs. For example, users can add their logo and customise the layout and design to make their invoices visually appealing. They can also add payment terms and other relevant details to make the payment process easy for clients.
Can myBillBook invoicing software for entertainment Industry accept electronic payments?
Yes, myBillBook invoicing software offers a payment processing feature that allows users to receive payments electronically. This makes it easier for clients to pay their invoices and helps businesses manage their cash flow.
How does the analytics and reporting feature help businesses in the entertainment industry?
The analytics and reporting feature gives users real-time insights into their business finances. This feature generates comprehensive reports on key metrics, such as revenue, expenses, and profit margins. This enables users to make informed financial decisions, adjust their strategies, and plan for the future.
How can myBillBook billing software for the entertainment industry help businesses manage their finances?
myBillBook offers features such as customisable invoices, automated reminders, payment processing, analytics and reporting, and a mobile app. These features help businesses manage their finances by streamlining the billing and payment process, providing real-time insights into business finances, and allowing users to access financial data on the go.
What types of businesses in the entertainment industry can benefit from invoicing software?
myBillBook helps a wide range of businesses in the entertainment industry, including event planners, photographers, videographers, musicians, and performers.
Know more about Billing & Accounting Software for Small Businesses