What Is MSME – Meaning, Full Form, Classification & Features
Micro, Small, and Medium Enterprises (MSMEs) form the backbone of India's economy, driving economic growth, employment generation, and fostering inclusive development. These enterprises play a pivotal role in various sectors, from manufacturing and services to agriculture and trade.
MSMEs contribute significantly to India's Gross Domestic Product (GDP), employment, and exports. They provide opportunities for entrepreneurship, innovation, and skill development, particularly in rural and semi-urban areas. With their agility, adaptability, and ability to cater to niche markets, MSMEs contribute to the overall competitiveness and resilience of the Indian economy.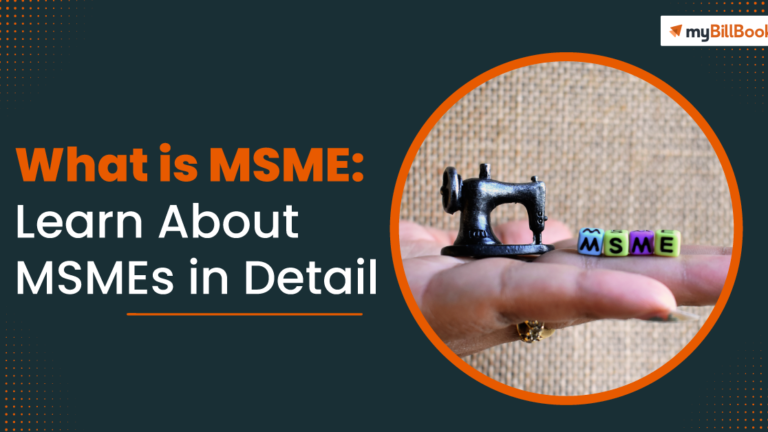 The government of India has recognised the vital role of MSMEs and has implemented several initiatives, schemes, and policy measures to support their growth and development. These include access to finance, capacity-building programs, simplified regulatory processes, and digitalisation initiatives. By nurturing and empowering MSMEs, India can unlock their full potential, driving sustainable economic growth, job creation, and social progress.
Definition and Classification of MSMEs
Classification
Manufacturing Enterprises and Service Enterprises
Micro Enterprises
Small Enterprises
Medium Enterprises
Investment Limit
Up to INR 1 Crore
INR 1 Crore – INR 10 Crore
INR 10 Crore – INR 50 Crore
Turnover Limit
Up to INR 5 Crore
INR 5 Crore – INR 50 Crore
INR 50 Crore – INR 250 Crore
MSMEs are defined based on their investment in plant and machinery or equipment and their annual turnover. The recent revision of the MSME classification, effective from July 1, 2020, categorises them as follows:
Micro Enterprises – With an investment of up to INR 1 crore and turnover of up to INR 5 crore. Micro enterprises are the smallest entities, characterised by a low investment threshold.
Small Enterprises – With an investment between INR 1 crore and INR 10 crore and turnover between INR 5 crore and INR 50 crore. Small enterprises have slightly higher investment and turnover limits compared to micro-enterprises.
Medium Enterprises: With an investment between INR 10 crore and INR 50 crore and turnover between INR 50 crore and INR 250 crore.
The revised classification framework ensures that more businesses can avail of benefits and support provided to MSMEs. It encourages growth, innovation, and competitiveness across the MSME sector in India.
Statistics on MSMEs
The significance of MSMEs in India's economy is substantial. Consider the following statistics:
Huge in Number: The total number of MSMEs in India is approximately 6.33 crores (6,33,88,000). Among these, 3.24 crores (3,24,88,000) MSMEs (51.25%) are located in rural areas, while 3.09 crore MSME0s (48.75%) are situated in urban areas. (Source: MSME Annual Report of 2021-22).
As of November 2022, there are 1.22 crore registered MSMEs in India at Udyam Registration Portal, wherein Micro-enterprises are 1.17 Crore (96.17%), Small enterprises are 4.26 lakhs (3.49%), and Medium enterprises are 39,467 (0.32%).
Employment Generation: MSMEs are the largest employment providers in India, contributing around 12 crore jobs, employing over 40% of the country's workforce.
GDP Contribution: MSMEs make a significant contribution to India's GDP, accounting for approximately 30% of the GDP. They are crucial for sustaining economic growth and reducing regional disparities.
Export Contribution: Indian MSMEs are instrumental in export promotion, accounting for nearly 49% of the country's total exports. They play a pivotal role in earning foreign exchange and boosting the country's trade balance.
Women and MSMEs: The participation of women in MSMEs is on the rise in India. The government has implemented various initiatives, such as the Stand-Up India scheme, to promote women's0 entrepreneurship and provide them with financial and non-financial support.
Importance of MSMEs in India's Economic Growth
MSMEs in India play a crucial role in fostering economic growth and resilience in several ways:
Job Creation and Inclusive Growth: MSMEs are instrumental in job creation, particularly in rural and semi-urban areas. They provide employment opportunities to skilled and unskilled workers, including women and backward sections of society, contributing to inclusive growth.
Industrialisation and Rural Development: MSMEs generate economic activities, promote entrepreneurship, and drive innovation in sectors such as manufacturing, textiles, handicrafts, and agro-based industries.
Export Promotion and Trade Balance: MSMEs contribute significantly to India's export earnings. Their agility, adaptability, and focus on niche products enable them to tap into global markets, bolstering the country's export performance and improving the trade balance.
Technological Advancements and Innovation: MSMEs are hubs of innovation and technological advancements. They adopt new technologies, drive research and development activities, and contribute to the growth of emerging sectors such as information technology, biotechnology, and renewable energy.
Government Initiatives and Support for MSMEs
The Government of India has implemented several initiatives and schemes to support the growth and development of MSMEs. Some notable initiatives include:
Atmanirbhar Bharat Abhiyan: Launched to promote self-reliance and economic resilience, this initiative provides various support measures for MSMEs, including collateral-free loans, equity infusion, and technological upgradation.
Pradhan Mantri Mudra Yojana (PMMY): This scheme facilitates access to finance for MSMEs through MUDRA loans up to INR 10 lakh. It aims to promote entrepreneurship and self-employment.
Digital India Campaign: The government's Digital India initiative promotes digitalisation and technology adoption among MSMEs. It includes measures such as digital skills training, access to e-commerce platforms, and digital payment facilitation.
Credit Guarantee Fund Scheme for Micro and Small Enterprises (CGTMSE): This scheme provides credit guarantees to MSMEs, enabling them to avail of collateral-free credit from financial institutions.
Cluster Development Program: The Cluster Development Program (CDP) focuses on enhancing the competitiveness and productivity of MSMEs through the development of industry clusters. It provides financial assistance for infrastructure development, technology upgradation, and common facility centres.
Technology Upgradation Fund Scheme (TUFS): TUFS provides financial support to MSMEs for upgrading their technology and machinery. It aims to improve their competitiveness by encouraging investments in modernisation, energy conservation, and quality enhancement.
Trade Receivables Discounting System (TReDS): TReDS is an online platform that enables MSMEs to secure financing by discounting their trade receivables. It helps in addressing the issue of delayed payments and provides access to working capital at competitive rates.
National Small Industries Corporation (NSIC) Schemes: NSIC offers various schemes to promote MSMEs, including the Single Point Registration Scheme, under which MSMEs can get registered to avail benefits like access to government tenders and marketing support.
Entrepreneurship Development Programs (EDPs): The government, through various agencies and institutes, conducts Entrepreneurship Development Programs to impart essential skills and knowledge to aspiring entrepreneurs. These programs offer training, mentoring, and guidance on starting and managing MSMEs.
Make in India Initiative: The Make in India initiative aims to transform India into a global manufacturing hub. It provides a conducive environment for MSMEs to thrive by simplifying business regulations, attracting foreign investment, and promoting indigenous manufacturing.
Start-up India Initiative: The Start-up India initiative supports the growth of innovative start-ups, including MSMEs, by providing access to funding, incubation support, and regulatory relaxation. It fosters an entrepreneurial ecosystem that encourages new business ventures and technological advancements.
Credit Linked Capital Subsidy Scheme (CLCSS): CLCSS provides capital subsidies to MSMEs for technology upgradation in specific sectors. It helps MSMEs acquire state-of-the-art technology and machinery, enhancing their productivity and competitiveness.
These initiatives and support schemes reflect the government's commitment to promoting the growth, innovation, and competitiveness of MSMEs in India. By providing access to finance, technology, infrastructure, and skill development, these measures aim to create an enabling environment for MSMEs to thrive and contribute to the country's economic development.
How do I register my business as an MSME?
To register your business as an MSME, you can visit the official Udyam Registration portal (https://udyamregistration.gov.in) and follow the registration process. You will need to provide details such as Aadhaar number, PAN card, and information about your business activities, investment, and turnover.
Which businesses are eligible to register as an MSME?
MSME registration is available to proprietorships, Hindu Undivided Families, Partnership Firms, One Person Companies, Limited Liability Partnerships, Private Limited Companies, Limited Companies, Producer Companies, Associations of Persons, Cooperative societies, and other undertakings.
Which industries come under MSME?
There are two types of industries
Enterprises engaged in manufacturing goods
Enterprises providing services.
What are the benefits of registering as an MSME?
Registering as an MSME offers various benefits, including access to government schemes, subsidies, and support programs. It also provides preference in government procurement, easier access to credit, and protection under the MSME Development Act, 2006.
Is MSME registration mandatory?
No. If you opt to register, your company can benefit from an excise tax exemption program, access special banking programs explicitly designed for MSMEs, and much more.
Is GST registration mandatory for MSME registration?
Yes, as of April 1, 2021, having a PAN and GST number is required.
Know more about Business Ideas