51 Benefits of Using Billing and Accounting Software for Small Businesses
Planning to purchase billing software for your small business? Still doubtful about how far and how well it helps ease your billing and accounting processes? Don't worry, we are here to help you make the right decision. From time-saving automation to real-time insights, we present 51 benefits offered by typical billing software. Go through them to get a better understanding of what billing software actually does for your business.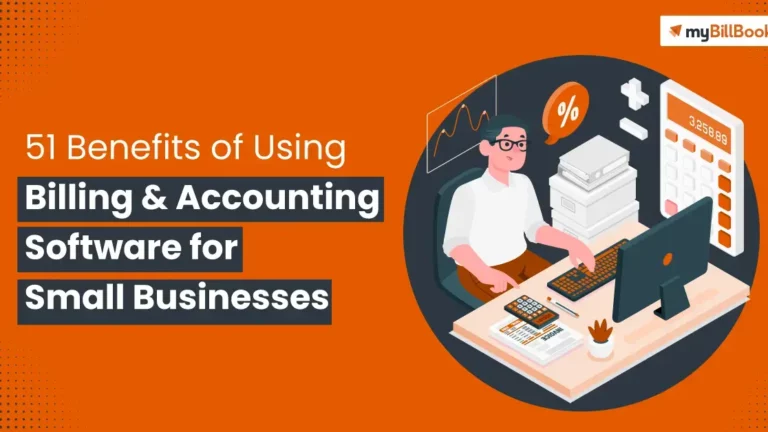 1. Accurate Billing:
Manual billing is often prone to errors in recording as well as calculations. The auto calculation feature of billing software provides accurate calculations with respect to bill totals, GST additions, discount calculations, etc. The automated approach significantly reduces the error percentage and improves the quality of your billing process.
2. Accessible from Anywhere:
With cloud-based applications, your data becomes accessible from anywhere with an active internet connection. This makes it easy for you to access your business information wherever you are.
3. Easy Audit Trails:
Auditing your business records becomes easy with billing software in place. As it promptly records all the business transactions from sales, invoices, expenses, purchases, and the like, auditing becomes a walk on the cake.
4. Helps in Budgeting:
Utilising billing and accounting software can be a great way to establish budgets and track expenses against targets. This useful feature lets you monitor your spending and helps you make informed decisions to ensure financial discipline.
5. Efficient Cash Flow Management:
The software has a cash book that records cash inflows and outflows, giving a precise overview of the company's cash flow. This function assists in monitoring liquidity and managing cash reserves efficiently.
6. Aids in Future Financial Plans:
Effective management of cash flow is vital for small businesses. Accounting software can assist in monitoring cash flow patterns, forecasting potential cash shortages, and planning investments or loan repayments.
7. Collaborative Platform:
Collaboration is a valuable aspect of billing and accounting software. It enables multiple team members to access and work on financial data simultaneously, promoting teamwork and facilitating real-time collaboration for financial tasks.
8. Compliance Tracking:
The software assists businesses in complying with tax laws and regulations by providing timely updates on any tax changes and ensuring precise tax calculations and filings.
9. Cost Control:
By analysing financial data generated by software, small businesses can identify areas where they can save costs and optimise expenses. This not only improves profitability but also helps them maintain financial sustainability.
10. Cost-Effective Solution:
For small businesses, installing billing and accounting software is a cost-effective measure. It eliminates the need for manual bookkeeping, saves time, and reduces the risk of financial errors, resulting in long-term cost savings.
11. Credit Management:
With the help of this software, businesses can effectively manage customer credit by keeping track of all credit transactions and monitoring any outstanding payments. This approach ensures that payments are made on time and minimises the risk of bad debts.
12. Customisation:
Businesses can customise their invoice templates and reports to match their brand identity and meet their specific requirements. Personalised invoices help to enhance professionalism and foster better customer relations.
13. Customer Management:
With this software, businesses can easily keep track of customer information, such as contact details and transaction history, in a centralised database. This helps to ensure efficient customer management and personalised service.
14. Customer Statements:
For small businesses, it's important to provide customers with periodic statements that show their outstanding balances and transaction history. This promotes transparency and helps ensure timely payments.
15. Data Analytics:
Data analytics tools are included in billing and accounting software, which can provide businesses with valuable insights regarding their financial performance, customer behaviours, and market trends. By utilising these insights, businesses can make well-informed decisions.
16. Data Backup:
Our software automatically backs up your financial data to ensure its security and protection against data loss due to hardware failures or any unforeseen circumstances. You can rest assured knowing that even if your PC crashes or you lose your mobile device, all your billing data is securely stored on our servers.
17. Easy Data Import/Export:
It's easy for businesses to transfer financial data between billing software and other platforms, allowing for smooth integration with other business systems and making data exchange a breeze.
18. Data Security:
Billing and accounting software implement strong security measures to safeguard financial data against unauthorised access, ensuring confidentiality and maintaining data integrity.
19. Expense Categorisation:
The software enables businesses to categorise their expenses for more efficient financial tracking and analysis. This feature is useful in identifying significant spending areas and optimising expenditures.
20. Expense Tracking:
By utilising billing and accounting software, small businesses can efficiently monitor and manage their expenses. This method assists in controlling costs and allocating resources more effectively.
21. Faster Payments:
By utilising the software to create and send invoices promptly, customers are able to process payments more quickly, which in turn improves cash flow and reduces the amount of outstanding receivables.
22. Financial Insights:
The software generates detailed financial reports that offer valuable insights into the company's financial performance. This helps business owners make informed decisions based on data and plan future strategies.
23. Forecasting:
By utilising the software's data analytics tools, businesses can analyse historical financial data to make more accurate predictions about future financial trends. This enables them to improve their forecasting and planning processes.
24. GST Filing:
With automated GST calculations and accurate tax reporting, the software simplifies the process of filing GST returns while ensuring compliance with GST regulations.
25. Integration:
Billing and accounting software help businesses to easily integrate with other software and tools, such as CRM or inventory management systems. This can streamline business processes and data exchange, making it easier and more efficient.
26. Inventory Management:
Billing and accounting software provides inventory management capabilities, which allow businesses to monitor inventory levels, oversee stock movements, and regulate expenses relating to inventory.
27. Inventory Tracking:
Businesses can efficiently monitor their stock levels, track inventory movements, and optimise inventory management. By adequately monitoring stock levels and tracking inventory movements, companies can optimise their supply chain and avoid costly stockouts or excess inventory.
28. Invoice Reminders:
Sending automated invoice reminders through the software helps to improve payment collections and reduces the number of overdue invoices. This saves time and effort compared to manually following up with clients for payment.
29. Mobile Accessibility:
By using mobile apps associated with billing software, businesses gain the ability to manage their finances from anywhere at any time. This added convenience and flexibility allow for greater efficiency and productivity, ultimately benefiting the overall success of the business.
30. Multi-currency Support:
If your business operates globally, software that supports multiple currencies ensures smooth transactions when dealing with international clients and partners.
31. Multi-User Access:
Billing software has the ability to allow multiple users to access the system at the same time. Each user has a unique level of access permissions that can be personalised according to their roles. This collaborative feature promotes teamwork and enhances overall productivity.
32. Payment Gateway Integration:
Payment gateway integration offers customers a high level of convenience and helps businesses to optimise their cash flow. Companies can streamline their payment processes, reducing the risk of errors and delays.
33. Payment Reminders:
Sending automated payment reminders to customers helps to encourage timely payments, which in turn reduces the risk of late payments and improves cash flow.
34. Professional Invoices:
Invoices generated with billing software can produce high-quality and polished invoices, which ultimately boosts the credibility and professionalism of a business. By streamlining the invoicing process, businesses can also increase efficiency and accuracy, leading to greater customer satisfaction and trust.
35. Project Accounting:
Certain billing and accounting software provides project accounting functions that enable companies to assign expenses to particular projects and track project expenses independently.
36. Purchase Order Management:
Billing software streamlines the complex purchase order process and enables enhanced order tracking and optimal supplier relationship management. This leads to greater efficiency and improved business outcomes.
37. Receivable Aging:
Through the process of analysing receivables based on their age, organisations can effectively pinpoint accounts that have exceeded their due dates and take prompt measures to recover the outstanding funds. This approach enables businesses to devise practical strategies for the timely and efficient collection of payments.
38. Receivables Management:
The software helps you keep track of customer payments and manage outstanding balances. This can improve your cash flow and reduce the amount of time it takes for accounts receivable to age.
39. Real-Time Updates:
The software provides timely and precise updates on all financial transactions and data, ensuring the information is constantly up-to-date and accurate. This feature allows businesses to make informed decisions based on real-time data, which ultimately leads to better financial management and increased profitability.
40. Scalability:
The best billing software is scalable as it grows and expands without compromising its efficiency and effectiveness. A scalable solution works well for businesses of all sizes, as it can accommodate their evolving needs and demands with ease.
41. Streamlined Billing:
By efficiently organising and managing invoices, companies can improve their billing processes and provide top-notch customer service. Ensuring that invoices are processed accurately and in a timely manner can make all the difference in maintaining a positive reputation and building strong relationships with clients.
42. Subscription Management:
This software assists in managing services that require regular payments and simplifies the process of recurring billing tasks.
43. Tax Compliance:
By automatically calculating and updating taxes, businesses can ensure that they always comply with tax laws and regulations.
44. Tax Reports:
The software generates detailed tax-related reports, making it easier to file taxes correctly and meet compliance requirements.
45. Time-Saving:
By automating billing processes and financial tasks, one can save a significant amount of time that would otherwise be spent on manual bookkeeping and administrative work.
46. User-Friendly Interface: :
Billing and accounting software applications are designed with intuitive interfaces that are user-friendly and demand little to no prior training.
47. Vendor Management:
This tool streamlines supplier management and vendor payment tracking for businesses. It simplifies complex tasks, improves accuracy, monitors performance, and ensures timely payments.
48. Vendor Payments:
Ensuring effective payment protocols for vendors is crucial for maintaining timely payments and building solid relationships with them. By streamlining payment processes, businesses can optimise their vendor management and establish a reputation for reliability and trustworthiness.
49. Financial Insights:
The software generates detailed financial reports that offer valuable insights into the company's financial performance. This helps business owners make informed decisions based on data and plan future strategies.
50. Financial Planning:
With access to accurate financial data and reports, businesses can make informed decisions for long-term financial planning and growth strategies.
51. Transaction History:
The software maintains a comprehensive transaction history, allowing businesses to review past financial activities and analyse trends over time.
Know more about  Billing & Accounting Software for Small Businesses