Wedding Quotation Format for Event Planners
Wedding quotation format is an important document required by any wedding planner or event organiser. Creating well-structured and professional wedding quotations is essential to attract clients and showcase your services. Quotation is the first official document your client receives from your organisation hence it's important to create an impression with a professional-looking wedding quotation. Start impressing clients with enticing and informative wedding quotations that set you apart in the competitive wedding planning industry. This page will help you with the necessary details required to create wedding quotation templates.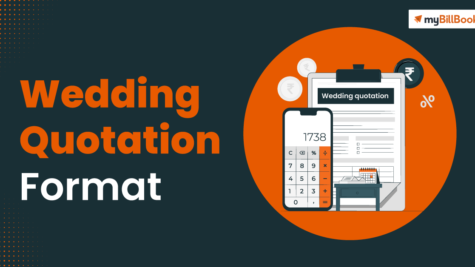 What is a Wedding Quotation Format?
A wedding quotation format is a standardised template that can be used to provide quotations related to the services provided by wedding planners. It provides clear and organised information, including services offered, associated costs, terms, and other essential information related to wedding planning services that would help a potential client choose a wedding planner. The wedding quotation format helps organisers communicate their offerings effectively, ensure transparency, and assist clients in understanding the scope and pricing of their services.
Elements to Include in a Wedding Quotation
Here is the list of elements wedding planners must include in their wedding quotations.
Contact Information: Begin with your business name, address, phone number, and email to facilitate easy communication.
Client Details: Include the name, contact information, and wedding date of the client for personalised identification.
Services Offered: Provide a detailed list of the wedding planning services you offer, such as venue selection, décor arrangement, vendor coordination, food, guest management, and more.
Pricing: Clearly state the costs associated with each service or package. Be transparent about the pricing structure, including any deposit or advance payment requirements.
Terms and Conditions: Outline the terms and conditions of your services, including cancellation policies, payment schedules, and any additional charges that may apply.
Validity: Specify the quotation's validity period to manage expectations and allow for adjustments based on market fluctuations.
Signature: Include a signature column to attest the document.
Using Word, Excel, and PDF to Create Wedding Quotations
Now that you have the various elements to include in a wedding quotation let us check how to create a wedding quotation format using different tools. The popular formats to create any quotation are Wedding Quotation format in Word, Wedding Quotation format in Excel, and Wedding Quotation format in PDF.
Wedding Quotation format in Word:
Utilise Word's customisable templates or create your own design. Incorporate professional fonts, colours, and your company logo to maintain brand consistency. Create a table to include the contents and add the required descriptions. Add a column at the bottom for signature. Save it and use a copy of the template as and when required.
Wedding Quotation Format in Excel:
Use Excel to create a comprehensive pricing table with separate columns for services, quantities, rates, and total costs. Excel's formulas can automate calculations for a clear and accurate breakdown.
Wedding Quotation Format in PDF:
Convert your finalised quotation to PDF for easy sharing and printing. PDF ensures that the formatting remains intact, regardless of the recipient's software or device.
myBillBook to Create Wedding Quotations
Wedding quotations in Word, Excel, and PDF are easy and free to create. But they come with their own set of drawbacks like formatting issues, being time-consuming, calculation errors, taking a lot of storage, etc. One simple solution for all these concerns is to use billing software like myBillBook to generate wedding quotations. myBillBook is a versatile billing software that can be a valuable tool for wedding planners. Let's see the benefits of using billing software.
Instant Quotation Generation
myBillBook enables you to generate quotations instantly. Simply select the desired template, add client details, choose the relevant services, and the software will generate a professional-looking quotation in no time. This saves you valuable time and enhances your efficiency. Once the quote gets approved, you can edit and convert the same into an invoice.
Customisable Quotation Templates
myBillBook provides customisable quotation templates that can be personalised for wedding planners. Choose from a range of pre-built templates or create your own design to align with your brand identity. Incorporate your logo, colours, and fonts to create a professional and personalised look. Also, use the custom invoice feature to create personalised quotation templates.
Easy Cost Calculation
With myBillBook, you can effortlessly calculate costs and pricing for your wedding quotations. The software allows you to input service quantities, rates, discounts, and additional charges, providing an accurate breakdown of costs. This helps you present transparent and itemised pricing to your clients.
Convenient Sharing Options
With myBillBook, you can easily share your quotations with clients digitally. The software allows you to convert quotations into PDF format, making it simple to email or share them through other electronic means. You can also send the quotations directly through Whatsapp.
Data Remains Safe & Secure
myBillBook prioritises the safety and security of your data, ensuring that your information is protected. It employs robust data encryption methods so that your data remains confidential and protected from unauthorised access. The platform is hosted on secure servers with advanced security protocols to prevent unauthorised access, data breaches, and other security threats.
FAQs on Using myBillBook to Create Wedding Quotations
Can I add my custom terms and conditions to the quotations?
Yes, myBillBook allows you to add your own terms and conditions to the wedding quotations. You can include specific policies, payment terms, cancellation policies, or any other relevant information to ensure clarity with your clients.
Can I convert my wedding quotations into invoices?
Yes, myBillBook allows you to convert quotations into invoices in a single click. Once the proposal gets approved, you can make any changes to the quotation using the 'Edit' option and click on 'Convert to Invoice' to transform the same into an invoice.
Can I track and manage multiple quotations simultaneously?
Yes, myBillBook allows you to manage multiple quotations simultaneously. You can easily track the status of each quotation, make edits or updates as needed, and monitor the progress of each potential client.
Can I customise the wedding quotation templates in myBillBook to match my branding?
myBillBook provides customisable wedding quotation templates that allow you to tailor the design to match your branding. Further, the custom invoice feature allows you to create an invoice template of your choice. You can add your wedding planning business's logo and watermark and customise fonts, colours, and layouts to create a professional and personalised look.
Can myBillBook store and organise wedding quotations for easy reference?
Yes, myBillBook offers a convenient storage and organisation feature for wedding quotations. The software allows you to save and categorise your quotations, making it easy to access and reference them whenever needed.
Know more about other Billing Formats