Billing Software for Pest Control Business
Pest control businesses rely on accurate billing processes to maintain profitability and customer satisfaction. That's where pest control billing software comes in. It's designed to streamline the billing process, automate payments, and reduce the risk of errors. In this blog, we'll explore the benefits of using billing software for cleaning pests and why it's becoming an essential tool for pest control businesses of all sizes.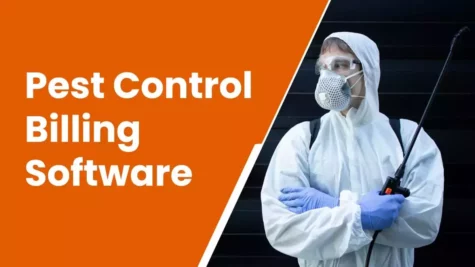 Features of Pest Control Billing Software
Generate GST Invoices with Ease: Generating GST-compliant invoices with billing software and ensuring that your business is legally compliant saves time. It not just saves your time but makes your small business look professional. 
Billing Made Simple: Billing for pest control services can be time-consuming and complicated. However, with billing software, you can simplify this process. Create invoices, send them to your customers and manage your payment status with just a few clicks.
Manage Your Inventory: Pest control businesses use various chemicals, sprays, and equipment. Keeping track of these items is essential for the business. Pest control billing software can help you manage your inventory, know what you have in stock, and update you on stock usage and cost.
Collect Payments Faster: Customer payments can be frustrating, especially for a small business owner. Billing software can speed up payment collection by sending automatic reminders and providing online payment options.
Analyse Business Reports: A billing software for pests provides detailed business reports, allowing you to assess the business's financial health. This information can help you make informed decisions to improve your business operations and profitability.
Access the software from anywhere: With mobile access, pest control technicians can create and send invoices on the go. This feature saves time and increases productivity, as your staff can complete tasks in the field without returning to the office.
FAQs on Pest Control Billing Software
How does pest control billing software simplify logistics operations?
The software enables you to generate e-way bills for your shipments, ensuring that you comply with GST regulations and making your logistics operations more efficient.
Does billing software for pests help me boost my sales?
Yes, the software lets you quickly create and send professional-looking quotations and estimates to your clients. This can help boost your sales and improve customer satisfaction.
Can pest control billing software help me manage my finances?
Yes, the software efficiently manages your accounts payable and accounts receivable. This helps you maintain a healthy cash flow and avoid financial bottlenecks.
How can billing software for cleaning pests help me build strong customer relationships?
The software offers customer relationship management features that enable you to manage all interactions and feedback in one central location. This helps you build and maintain strong relationships with your clients.
Can I export my financial data to other accounting software with pest control billing software?
The software allows you to effortlessly export your financial data to Tally, making accounting and financial management a breeze.
Know more about Billing & Accounting Software for Small Businesses