Invoicing Software for Taxi and Driving Business
For taxi and driving business owners, generating invoices or bills is key to receiving prompt payments. For people hiring a taxi for business purposes, an invoice is a must to claim reimbursements. Even for personal use, people require an invoice to make payments. Adding to it is the digital era in which digital bills and digital payments are most preferred.
To achieve all this, taxi and driving business owners require invoicing software that is easy to use and does everything related to invoice generation. myBillBook is an invoicing software for taxi and driving businesses that provides all the required services. Let's explore its features to learn more about the billing app.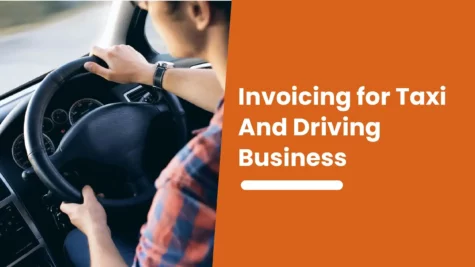 Features of myBillBook Invoicing Software for Taxi and Driving Business
Professional & Tailored Invoices: A custom-made invoice makes your job easier than a regular invoice. You can include fields related to your taxi business and remove irrelevant fields. Can choose different colour combinations, fonts, and styles to make the invoice look unique for your driving business.
Send Faster Estimates & Convert to Invoices: For planned long trips, most passengers prefer to get estimates or quotes from multiple taxi companies before making a final decision. The faster you reach your customer with the quote, the higher your chances of getting the deal.
myBillBook allows you to create professional-looking quotations and send them to your clients in seconds. Once the deal gets approved, you can convert the quotation into invoices in a single click.
Receive Prompt Payments: myBillBook allows your clients to pay online through various payment gateways like IMPS, RTGS, UPI, and net banking. You can send the payment link or the QR code in the invoice, making it easy for the customers to make prompt payments. You can also send payment reminders to collect pending dues if any.
Multi-Staff Access: If your taxi rental company has multiple drivers, you can provide limited access to the same app to most of them. The drivers can use the same login credentials to log in to the app and issue invoices to the passengers once they finish the ride. As all the data gets synced in real-time, you can see all the invoices created by all the drivers instantly.
Also, you can decide the level of access each driver can have, hence can have complete control over your business information.
24/7 Chat and Call Support: This feature is helpful if you need guidance on using the invoicing software. You can ping the customer support team on Whatsapp or call them to get your queries resolved instantly.
FAQs on Billing Invoice for Taxi and Driving Business
Can I use the myBillBook taxi business billing app to track my driver's expenses?
Yes, you can use the 'Expense Tracking' feature of myBillBook to record your driver's expenses. As fuel expenses form the major part of drivers' expenses, they can create an expense entry accordingly in the billing app.
How can I assess my taxi business performance using the data in myBillBook application?
You create invoices, record expenses, receive payments from your clients, record expenses, enter cash in hand & bank data, and do much more. Using this information, the app will generate reports related to sales, expenses, profit and loss, received payments, and the like. You can analyse the data and assess your taxi business performance accordingly.
Can I manage my staff drivers' attendance and payroll using the invoicing app?
Yes, you can manage any of your staff's attendance and payroll using the invoicing app for taxi and driving business.
Know more about  Billing & Accounting Software for Small Businesses