Furniture Bill Format
A furniture business can have numerous daily transactions because there is a massive industry demand for good-quality furniture items for both retail and commercial furniture. In order to effectively meet this demand, it becomes imperative to establish a transparent and comprehensive furniture bill format, facilitating seamless transactions while upholding a credible business identity. As your business meets the needs of the furniture market, let myBillBook meet your needs for the invoices you generate regularly!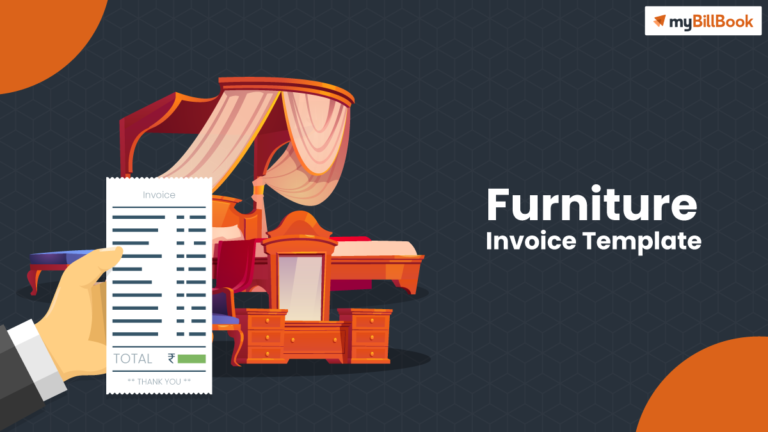 What is the Furniture Bill Format?
Furniture Bill Format is a structured document used by furniture stores or sellers to bill their customers for retail and commercial furniture sales. This format typically contains fields to include each item's unit price and quantity, seller and buyer's details, applicable taxes, discounts, total amount payable and payment terms. Furniture businesses use these bill formats to create professional bills for their customers.
Download myBillBook to Generate Bills
myBillBook to Generate Furniture Bill Format
With myBillBook invoicing software, furniture businesses can conveniently generate and download as many furniture invoices in a day as required for free. In addition to the free downloadable invoices, you can choose from various templates depending on your business requirements. Choose the furniture bill format that best meets your needs and further customise it to synchronise with your brand image!
Details to Include in Furniture Bill Format 
Business Name & Logo

: The furniture bill format must include a business name and logo to make it more professional-looking.

Business details:

The furniture bill format includes your business name and logo.

Contact information:

It includes business address, official email and contact number.

Invoice Number:

The furniture bill book must include a unique invoice number assigned to each bill, which helps to track it.

Invoice Date:

The date on which the bill is issued.

Product Description:

This is a detailed description of the furniture sold, including quantity, size, colour, etc.

Taxes:

The applicable taxes are included with the rates.

Discounts:

Any discounts or promotional offers applied, along with the reduced amount

Total Amount Payable:

The final amount after considering taxes and discounts.
Terms and Conditions: It includes all the terms and conditions applicable to the bill.
What is the Need to Issue the Furniture Bill Format?
Convenience:
A billing template is more convenient for generating bills in the furniture business than the complicated manual invoicing method. It helps you to create the bills within minutes using furniture bill formats.
Time-Saving:
The furniture bill format saves billing time for your furniture business by quickly generating bills, automated tax calculation and inventory management. It saves time by not only generating invoices but also sharing them online.
Proof of Payment:
The bill issued by the businessman also serves as proof of ownership and payment to avoid any ownership-related issues.
Setting Terms: 
The furniture bill book format includes details about your purchase terms, like payment method, due date, and any discounts or promotions on your order. These terms help to avoid any misunderstandings or disputes in future. 
Proof of Transaction: 
The Furniture bill format is a legal document that serves as proof of purchase, which can be used for future reference. It includes all the essential details of the purchase.
Benefits of Using myBillBook for Generating Furniture Bills
Accuracy: The furniture business requires accurate and error-free invoices, which can be generated using myBillBook's furniture bill formats, as it ensures that all essential details are included, reducing the chances of errors.
Simple and convenient: Manual invoicing is time-consuming and prone to error. Businesses now avoid manual invoicing as technological advancement has made generating furniture business invoices more convenient and straightforward. myBillBook billing software is very convenient and simple to use, which helps you create invoices in simple steps using their furniture bill formats available.
Offline Billing: myBillBook can operate in offline mode with fewer features in addition to online mode. The software's offline mode allows furniture business owners to make and update bills without an internet connection for GST and non-GST transactions. The real-time sync feature stores all offline invoice data once the desktop application or mobile app is connected to the internet.
Easy tax filing: The furniture bill format available on myBillBook is GST-friendly. This means that you can use duplicate invoices while filing taxes. myBillBook offers easy GST billing by auto-populating all the fields like GSTIN, GST rate, HSN/SAC code, etc. You can also automate GST calculations applicable to various products using various templates. 
High level of customisation: myBillBook provides a wide range of furniture invoices templates. You can choose the template that matches all your requirements criteria. Also, you can customise it using different themes and colours. Not only that, myBillBook allows you to integrate your brand logo to create a highly personalised invoice. 
Efficient account management: Furniture business owners can manage and track their finances with myBillBook. Users can track growth and keep track of all cash, bank, and credit transactions. It also automatically notifies clients when payments are due to facilitate quicker payments. Additionally, companies can input supplier bills into the software and pay them on the due date. In order to avoid missing a payment deadline, the software also permits scheduling payments.
Online Store: myBillBook allows furniture businesses to open their online store on the application itself, which has its inventory, accepts online orders, and executes all other operations digitally. 
Payment Reminders and Alerts: myBillBook accounting software allows users to set up reminders and alerts, ensuring that their furniture businesses receive timely payments and reducing the risk of delayed or missed payments.
Easy to download and printable invoices: myBillBook offers 8+ GST invoice templates; you can choose from them for generating furniture bills for your furniture business, which are ready to use and easy to download, save or print on A4 or A5-sized sheets. 
Simple designs: The furniture bill format available on myBillBook software has simple designs with customisation options. You can select any template with easy editing options and then customise it as per your furniture business needs. 
Shareable via Whatsapp: Furniture bill formats available can be saved, downloaded, printed and shared with customers through Whatsapp. 
Professional invoices: The templates available are highly professional so that furniture business owners can create professional-looking invoices in just a few clicks.
How to Choose the Best Furniture Bill Format 
If you need clarification about which invoice template to use for your furniture business, myBillBook has you covered!
You can decide the best invoice template for your furniture business based on the following points: 
Invoice details:

When choosing a furniture bill format for your furniture business, you can provide a detailed description of each item sold. This can include the furniture's name, size, material, colour, and any other relevant specifications.

Clear Pricing Structure

: Choose a template that clearly outlines the pricing structure, including the cost of each furniture item, any applicable taxes, and any additional charges such as delivery or installation fees.

Colours and themes:

Depending on your aesthetic choices, you can choose your furniture bill format templates from the ones available on myBillBook. If you want your business invoice to represent your brand identity, select the invoice that can incorporate your logo and colours well.

Space for Discounts and Promotions

: Look for a template with space to mention any discounts or promotions offered to the customer. This ensures transparency and helps customers understand the final amount due after applying discounts. myBillBook provides a customisation option so businesses can customise their bills as per their business requirements.

Payment type and time: Depending on the nature of the transaction, you can choose among the various furniture invoices available for small businesses. There can be separate invoices for credit transactions or recurring transactions. With myBillBook, you can keep such invoice formats ready for different types of transactions.
Types of Furniture Invoices for Small Business
Here are the most used invoices by a small/medium furniture business that can be generated using myBillBook: 
Standard furniture invoice:

A standard invoice for a furniture business is the most basic invoice used to bill customers for furniture purchases. It includes essential details such as the seller's information, buyer's information, invoice number, invoice date, description of furniture items, unit prices, total amount, taxes, discounts, payment terms, and terms and conditions.

Credit note:

A credit memo or a

credit note

is used when a customer returns furniture or requests a refund. This documents the amount credited to the customer's account for future purchases.

Debit note:

A debit memo or a

debit note

is issued when a customer owes some money to the furniture business. It includes the details of the amount and date of payment due.  

Recurring invoice:

A

recurring invoice

can be used when a furniture business has customers with repeat orders. It shows the monthly standing order and helps track payments per the customer and business agreement.

Consolidated invoice: A consolidated invoice can be issued in case of multiple furniture orders from the same customer, summarising all purchases in one document.
FAQs on Travel Bill Format
What is a furniture bill format?
A Furniture bill format is a document issued to record the details of commercial and residential furniture sales. It typically includes information such as the seller's and buyer's details, a description of the furniture, its quantity, price, taxes, discounts, and the total amount payable.
How can I create a furniture bill?
You can create a furniture bill using myBillBook's specialised billing software, which is available online and offline and offers templates for creating professional furniture bills.
Why is a furniture bill important?
A furniture bill is necessary for both financial and legal reasons. It acts as a transaction record, specifies the terms and circumstances of the sale, and offers both the seller and the buyer clarity and transparency. Additionally, it is necessary for taxation, accounting, and warranty claims.
How do I make an invoice for furniture?
A furniture invoice is used to bill the purchase of residential or business furnishings using a furniture invoice. The unit price and quantity for each item should be calculated line by line and included in the invoice. Any shipping, delivery, setup, or other fees might be added after the subtotal has been computed.
Can I customise the furniture bill format to suit my business needs?
myBillBook allows you to customise the furniture bill format according to your business requirements. You can include your company logo, customise the layout, and add specific terms and conditions that align with your business policies.
Know more about Billing Software & Billing Format